Wedge Wire Sieve Bend Screen Filter for Fish Farming
| | |
| --- | --- |
| Category: | Wedge Wire Application |
| Material: | stainless steel 304,304L,304HC,316,316L,321,430 or as per your request. |
| Properties: | Sieve Bend Screen |
| Application: | water treatment, oilfield, mining, food industry, chemical industry, papermaking industry, decoration. |
if you are interested in receiving more information or have a question regarding any of our products please fill out the form above and we will contact you within 24-48 hours.

Email:sales@ubowedgewire.com

Author: Jane
Details of Wedge Wire Sieve Bend Screen Filter for Fish Farming
Wedge wire sieve bend screen filters are ideal for sizing and dewatering applications to remove solids from liquids, or in solid/solid separation for dry feed situations.
Wedge wire sieve bend screen filter can be manufactured in a variety of widths, arc lengths, apertures or wedge wires to suit the flow rate and material being separated. Although most applications require Static Sieve Bends, "Cross Flow", "With Flow" and "Vibrating" Sieve Bends can also be manufactured.
Characteristic for Wedge Wire Sieve Bend Screen Filter for Fish Farming:
Low Headroom - only 1.1 metres (44") tall for the 900 mm arc length unit.
Energy Efficient - operates with no moving parts and with no energy input.
Space Efficient - treats up to 122 litres per second per square metre of floor space.
Quiet Operation - no moving parts means no mechanical or electrical vibrations.
Accurate Sizing - can be used for sizing solid particles down to 0.2 mm (0.008").
Low Maintenance - the profile wire screen resists clogging by near-size particles, and the all-stainless steel construction ensures a long, corrosion-free installation.
Easy Screen Replacement - a typical screen can be replaced in 10 minutes with no tools.
Applications for Wedge Wire Sieve Bend Screen Filter for Fish Farming:
Fish Diversion Screen Panels
Flooring for malt kiln, germination and grain drying
Food Processing
Hatchery Screens
Mineral Processing
Surface water intake screens
Vibrating or Static intake screens
Advantages for Wedge Wire Sieve Bend Screen Filter for Fish Farming:
1) Production process continuity: V-shaped profile wires creating slots which enlarge inwardly and therefore avoid clogging and minimize downtime.
2) Low maintenance costs: Separation at the screen surface which can easily cleaned by scraping or back washing.
3) Maximum process output: Precise and continuous slot openings resulting in accurate separation without loss off media.
4) Low operational costs: Large open area with an effective flow, high yield and a low pressure drop (dP)
5) Long live: Welded at each intersection creating a strong and durable screen.
6) Reduced installation costs: supporting constructions eliminating costly support media and enabling a maximum flexibility in the design of components.
7) Chemical and thermal resistant: A variety of corrosion resistant stainless steel materials and many exotic alloys suitable for high temperatures and pressures.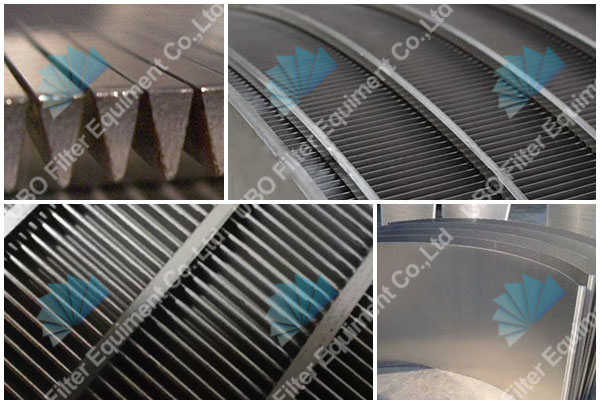 Specifications of Wedge Wire Sieve Bend Screen Filter for Fish Farming: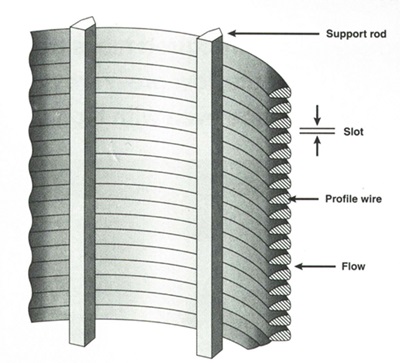 Surface Profile

Material

10S

S304,S316L Hastelloy, Monel alloy of nickel

and titanium, and other stainless steel

11SL

22S

4S

50SL
S304,S316L Hastelloy, Monel alloy of nickel

and titanium, and other stainless steel



Packaging and Transportation of Wedge Wire Sieve Bend Screen Filter for Fish Farming: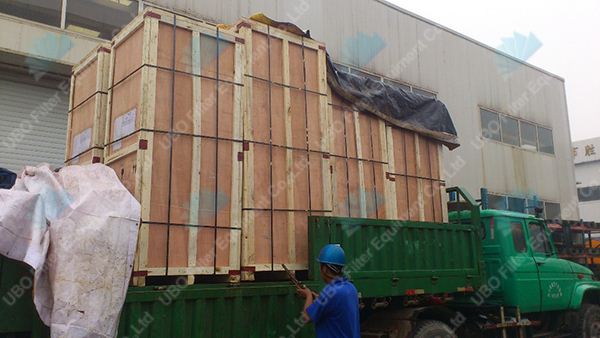 You may also be interested in the following product(s)