Wedge wire Cross-Flow Sieve Panels
| | |
| --- | --- |
| Category: | Wedge Wire Application |
| Material: | Stainless steel 302,304,304L,316,316L |
| Properties: | Wedge Wire Screen Panel |
| Application: | water treatment equipment, environment protection,the sea water desalination,water softening treatment,oil and chemical processing |
if you are interested in receiving more information or have a question regarding any of our products please fill out the form above and we will contact you within 24-48 hours.

Email:sales@ubowedgewire.com

Author: Jane
Details of Wedge wire Cross-Flow Sieve Panels
Wedge-wire screens can be fabricated in a range of both flat panels and tubes. Wedge-wire and support profiles are resistance welded with accurate slot dimensions. The screens can be mechanically and electropolished, and given additional surface hardening treatments. Further support structures and fastening brackets, can be added. Tubes can have various end piece connections and additional internal strengthening. Thin wire tubes can be made for the support of other filter media

Applications for Wedge wire Cross-Flow Sieve Panels:
The screen can be parts of deep well pumps or submersible pumps;can be used for water treatment equipment, environment protection,the sea water desalination,water softening treatment,oil and chemical processing; terminal filtration for petrolic products,filtration for chemical acid and soda liquid,for alcohol and other organic solvents recycle filtration.
Features for Wedge wire Cross-Flow Sieve Panels:
Accurate slot gap,high efficiency performance, stable structure, anti-high temperature,anti-corrosive,good mechanical properties, long lasting and durable,safe and reliable,various field can be applied.
Advantages for Wedge wire Cross-Flow Sieve Panels:
1.Better filter function. The V-shape section plane of water well screens(Johnson screens) creates the continuous slot, which can avoid blockage and make sure of the unimpeded water.
2. Prolong life of well. The consecutive slot of water well screens(Johnson screens) have wider open area, and it can reduce the speed of the water entering to avoid the sand entering the screen under the great pressure, so it can control sand better, which can increase the water yield and prolong service time of the well.
3.Long service life. Wire and support rods are all-welded, which makes water well screens(Johnson screens) more robust and longer life.
4.High pressure-resistant. The longitudinal support rods and the continuous slot make the water well screens(Johnson screens) have more excellent pressure-resistant performance.
5.Customized. Specifications and end connections of water well screens(Johnson type screens) can be fabricated according to customers' requirements.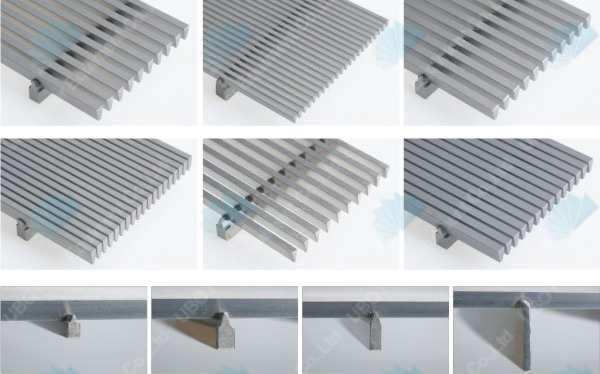 Specifications of Wedge wire Cross-Flow Sieve Panels: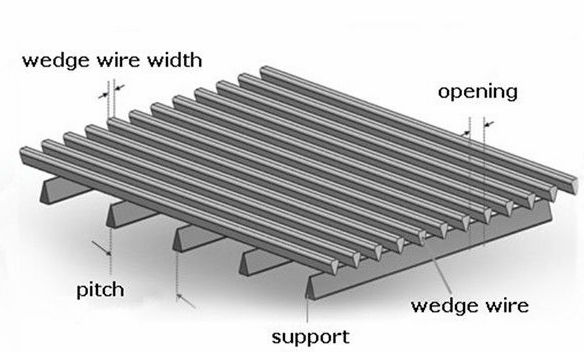 Size

(inch)

O.D

(mm)

Slot

(inch)

Collapse Strength

(Psi)

Tensile Weight

(Ton)

Wrap(thick*deep)

(mm)

Rods

(mm)

4

117

0.04

395

6

2.2*3.0

3.8mm/22

4

114.3

0.04

395

6

2.3*3.0

3.8mm/22

6

168.3

0.04

252

8

2.3*3.5

3.8mm/32

8

219.1

0.01

399

10.5

3.0*5.0

3.8mm/48

8

219.1

0.02

370

10.5

3.0*5.0

3.8mm/48

8

219.1

0.04

323

10.5

3.0*5.0

3.8mm/48

10

273.1

0.01

206

11

3.0*5.0

3.8mm/50

10

273.1

0.02

191

11

3.0*5.0

3.8mm/50

10

273.1

0.04

167

11

3.0*5.0

3.8mm/50
Packaging and Transportation of Wedge wire Cross-Flow Sieve Panels: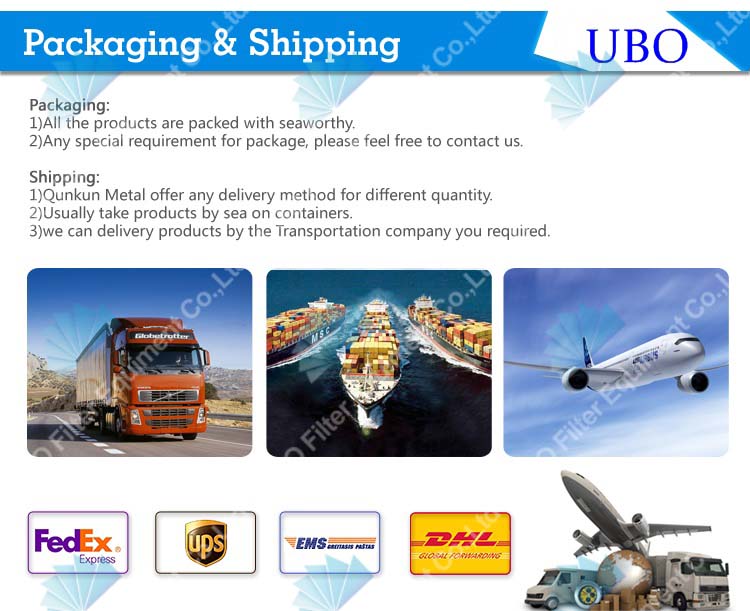 You may also be interested in the following product(s)