SS wedge wire filter screen tube for industry
| | |
| --- | --- |
| Category: | Wedge Wire Application |
| Material: | stainless steel 304,316,316L |
| Properties: | wedge wire screen |
| Application: | water,oil,gas,industry filtration etc. |
if you are interested in receiving more information or have a question regarding any of our products please fill out the form above and we will contact you within 24-48 hours.

Email:sales@ubowedgewire.com

Author: Maria
Details of SS wedge wire filter screen tube for industry
SS wedge wire filter screen tube is also called wedge wire water screen, water well screen, water well screen pipe, well screen filter, Wedge Wire Screen filter Stainless steel Pipes, Cartridge type Wedge Wire, Cartridge filter, 304 V wire pipes for water filtration, water treatment sieve, Screen Pipes, All welded continuous slot screen, Filter element for water /oil treatment.

SS wedge wire filter screen tube is composed of a surface profile that is spirally wrapped around axial support profiles and attached to each other by resistance welding. Wedge wire screen have the unique advantages of very accurate, narrow slot openings and perfect roundness all in one. Our wedge wire screen can be provided with the necessary end pieces for attachments and/or reinforcements.
Features of SS wedge wire filter screen tube for industry
The Continuous slot screens are made of V-shape wire or wedge shape wire around an internal array of longitudinal support rods. Each joint point of these wire is fusion welded, the V or wedge shaped profile wire wraps around the support rods over the full length of the screen creating a continuous slot opening. Therefore the screen allows water or oil to enter the well freely in ample quantities while keeps the majority of sand and gravel out of the well at the same time.
Advantages of SS wedge wire filter screen tube for industry
Non clogging: "V" shaped profile wire, avoids clogging, is self-cleaning and ensures an uninterrupted flow. Sand grains make only two point contact and do not wedge in the screen's inwardly enlarging slot.

Large open area: This allows more water to enter at much lesser frictional head loss and the efficiency of well is improved appreciably.

High Strength: It takes stainless steel as main raw material, then is welded at high temperature, which guarantee high strength to bear big water pressure, hereby it has long life span.
Usages of SS wedge wire filter screen tube for industry

1) Widely used in vairous kinds of medium filtering

2) As the fitting using in the water-treating equipment ( the environment protection; the sea water transforms into the industrial water and life use water desalination treatment; running water treatment; softening treatment;

3) The petroleum industry: the petroleum product terminal filters and the chemical acid; the alkali liquid filters, the ethyl alcohol;

4) The organic solution recycling filter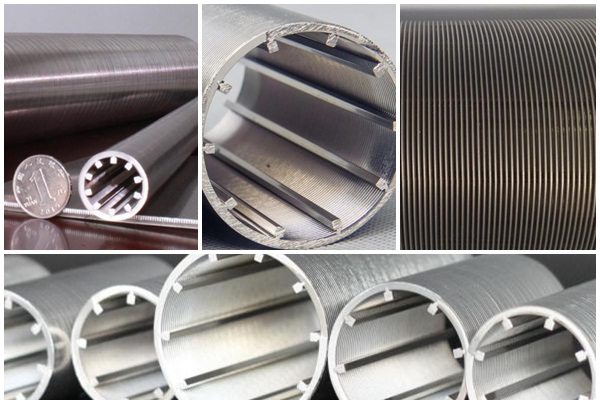 Specifications of SS wedge wire filter screen tube for industry:
Sizes : Right from 4" dia to 36" dia & above
Slot : From 0.15 to 1.5mm & above
Lengths : 10 ft, 20 ft up to 40 ft in single piece construction
Material of Construction : Stainless Steel—300 Series, Duplex & Super Duplex Stainless Steels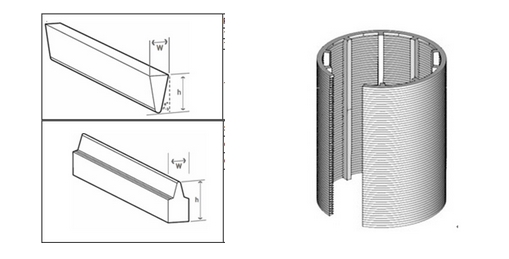 Screen Size


Inside Diameter


Outside Diameter


OD of Female Threaded End


in


mm


In


mm


in


mm


In


mm


2


51


2


51


25/8


67


23/4


70


3


76


3


76


35/8


92


33/4


95


4


102


4


102


45/8


117


43/4


121


5


127


5


127


55/8


143


53/4


146


6


152


6


152


65/8


168


7


178


8


203


8


203


85/8


219


91/4


235


10


254


10


254


103/4


273


113/8


289


12


305


12


305


123/4


324


133/8


340


14


356


131/8


333


14


356


_


_


16


406


15


381


16


406


_


_


20


508


18 3/4


476


20


508


_


_




Packaging and Transportation of SS wedge wire filter screen tube for industry: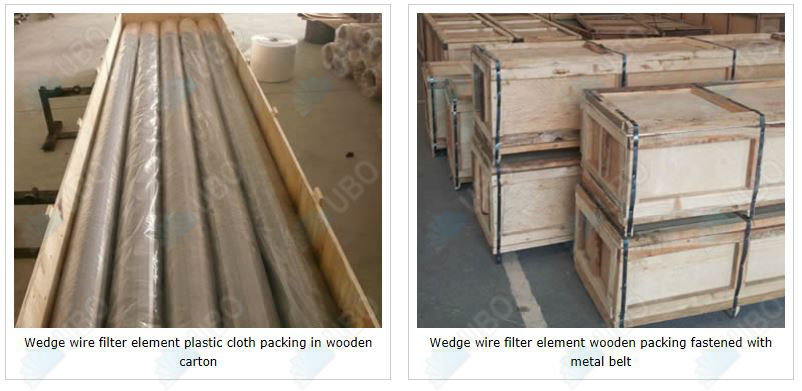 You may also be interested in the following product(s)