What is wedge wire screen
Wedge Wire Screen is a multi-functional screen that we are uniquely positioned to supply.
This is a multipurpose screen with characteristics of toughness and clogging resistance where slit / slot (mesh) suitable for the application are formed by arranging "wedge wires" with a triangle shape at equal intervals. They can be used for filtration, solid-liquid separation, classification, dewatering, concentration, etc. regardless of industry or location.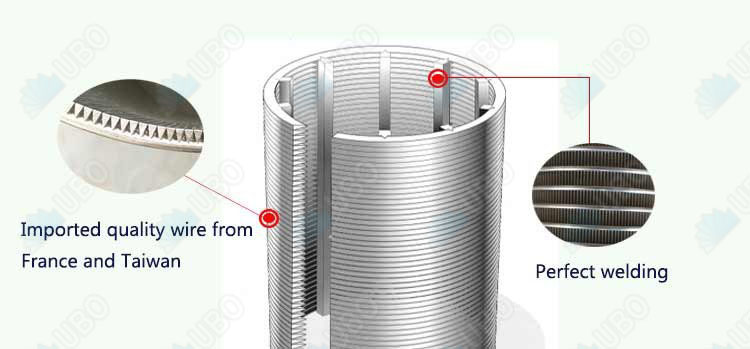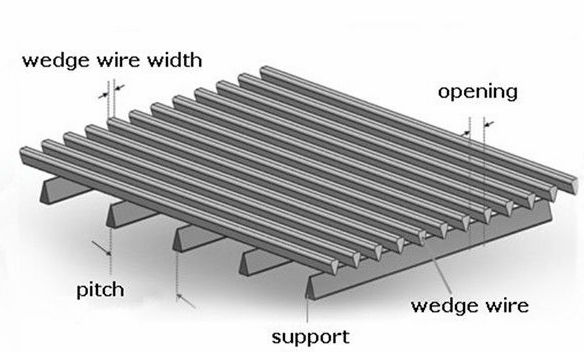 Features of Wedge Wire Screen
Less clogging, good dewatering The " triangle shape," which is the biggest feature of the Wedge Wire Screen, means that as solids pass through, the contact points are small and the tips of the slits are widened, such that solids are less likely to clog, and even they do clog, there is a strong backwashing effect, resulting in excellent maintainability.

①Screen formation with wire diameter larger than the slit is possible.
②Because the screen surface is smooth, the degree of wear is constant.
③The standard material is stainless steel (SUS304, 316L).

Therefore, Wedge Wire Screen feature higher strength and durability than filters such as wire mesh, perforated plates or filter cloths, and depending on the usage environment and material, they can be used almost indefinitely without replacement, reducing running costs. In addition, we are also able to produce Wedge Wire Screen using special materials such as titanium or duplex stainless steel. High strength, high durability
Broad flexibility in design Because many processing variations are possible, Wedge Wire Screen can be manufactured in various shapes such as flat, cylindrical or conical.
Applications of wedge wire screen
Machine parts such as filtration equipment, centrifugal separators, dewatering machines and vibration sieve machines, intake of river water / seawater, retention of activated carbon / ion exchange resin / catalysts / filter material, etc., prevention of outflow of carrier, strainer elements, etc.