well-point screen filter for water treatment
| | |
| --- | --- |
| Category: | Wedge Wire Application |
| Material: | Stainless steel 302,304,304L,316,316L |
| Properties: | Wedge Wire Pipe |
| Application: | Fine chemicals,beer,oil,lubricating oil,fuel,plastic,electroplating,ceramics, pharmaceutical,sugar,paper,oil,gas |
if you are interested in receiving more information or have a question regarding any of our products please fill out the form above and we will contact you within 24-48 hours.

Email:sales@ubowedgewire.com
Details of well-point screen filter for water treatment
Wedge Wire Water Well Screens consist of V-shape profile wire and the longitudinal support rods. Each intersecting point of these wires is fusion welded, so Water Well Screens has sturdy constriction and good mechanical property. The V-shape section plane can avoid blockage and make sure of the unimpeded water.

The consecutive slot have more open area, and it can reduce the speed of the water entering to avoid the sand entering the Water Well Screens under the great pressure, so it can filter sand better. Meanwhile, the slot of Water Well Screens can change according to the real condition of the earth.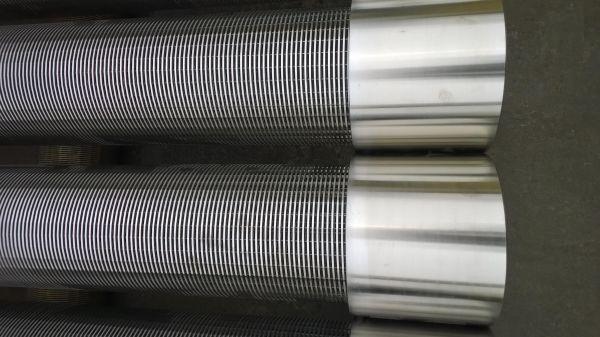 Applications for well-point screen filter for water treatment:
Well point screen filters are used in fine chemicals, beer, oil, lubricating oil, fuel, plastic, electroplating, ceramics, pharmaceutical, sugar, paper, oil, gas, water, sand, environmental protection, petroleum, metallurgy, powder, medicine, purification, drilling liquid purification, screening,mining, coal,petroleum, fertilizer, grain, salt, and other industrial filtration, adsorption and precious metal catalysts such as solid recycling.
Features for well-point screen filter for water treatment:
1) Screens with high open area are more suitable for the construction of high-quality water wells, oil wells and gas wells.
2) Low cost operation
Screens with high open area shall favor groundwater infiltration. Abundant water shall reduce the water level's down, thus to save energy consumption.
3) Reduce the abrasion of the pump
Under the same condition, high open area can make the speed of groundwater's entering into the screen much slower than any other filtration apparatus, which will avoid sand's entering into screen because of high pressure, thus reduce the abrasion of the pump.
4) Extend the life span of wells
Comparatively, groundwater's entering into screen with higher open area is much easier than the entering into lower open area screen. The slow water flow shall extend the life span of wells.
Advantages for well-point screen filter for water treatment:
Arrangement of the longitudinal support rods and the successive slots provide higher compressive property wedge wires are spirally wound around a cage of longitudinal support rods in succession which formed high-density uniformed slots and avoid clogging. So that the high production efficiency and long life service of the well are guaranteed adoption of the wedge wires made a V profile slot. This design ensures the fluent of water filtration and more effective.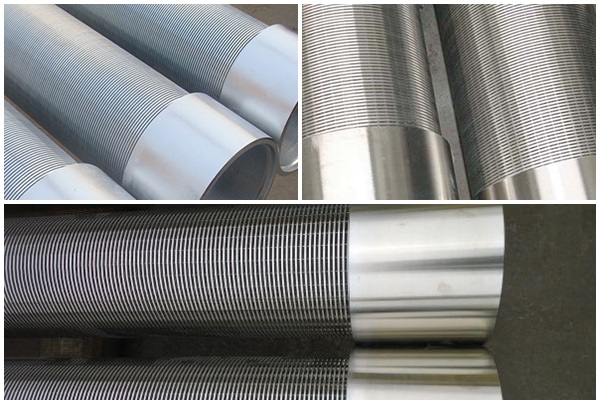 Specifications of well-point screen filter for water treatment: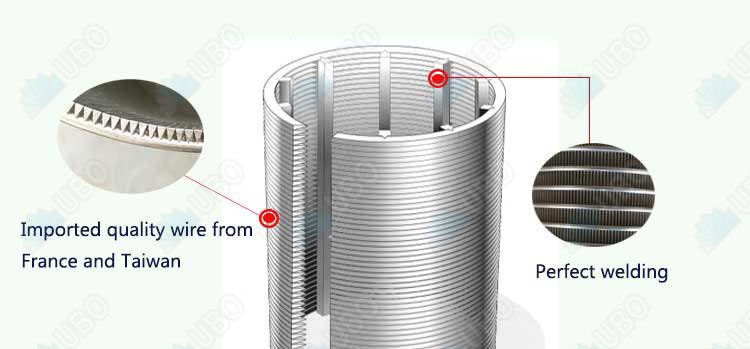 Specification (wedge wire):

Width(mm): 1.50 1.80 2.30 3.00 3.30 3.70 Height(mm): 2.20 2.50 2.70 3.60 4.30 4.70 5.60 6.30 7.00

Specification (support rod):

Width(mm): 2.30 3.00 3.30 3.70 Height(mm): 2.70 3.60 4.70 5.60 6.30 Round: From 2.50mm to 6.0mm

Note: other specifications available as per request

Slot size

0.10, 0.15, 0.20, 0.25, 0.30…… 6.00mm also achieved upon request.

Material:

galvanized low carton (LCG), stainless steel (304,316 etc.)

Length

up to 6 meters.

Diameter

from 25mm to 1200mm.

End connection

Plain beveled ends, flanged or threaded couplings
Packaging and Transportation of well-point screen filter for water treatment: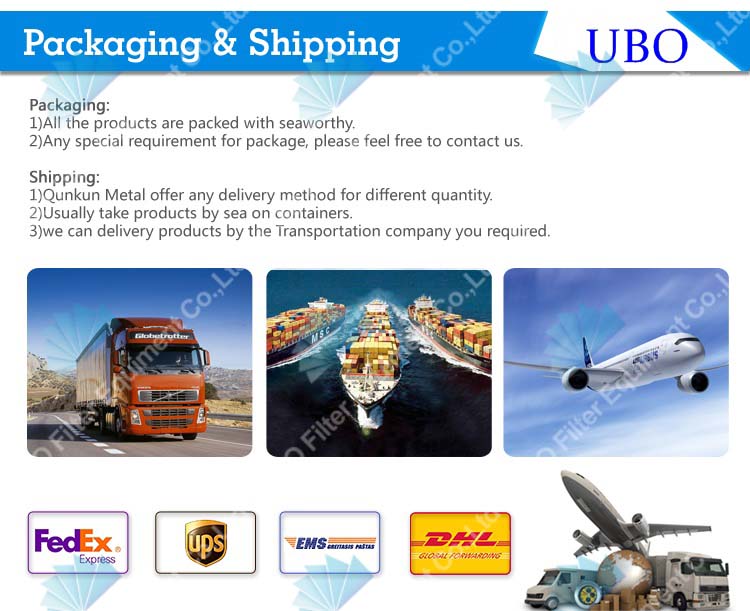 You may also be interested in the following product(s)