Wedge Wire Screen Hub Lateral for Filtration
| | |
| --- | --- |
| Category: | Wedge Wire Application |
| Material: | stainless steel 302,304,304L,316,316L |
| Properties: | wedge wire screen |
| Application: | water filtration,liquid filtration,industry filtration |
if you are interested in receiving more information or have a question regarding any of our products please fill out the form above and we will contact you within 24-48 hours.

Email:sales@ubowedgewire.com
Details of Wedge Wire Screen Hub Lateral for Filtration
The collector and distributor systems including header laterals, hub laterals and inlet/outlet baskets, which allow designers to provide uniform flow through treatment media at a wide range of flow rates and for a variety of vessel sizes and shapes.

The system of collection and distribution is composed of a central tube, or alternatively a hub, equipped with several laterals to ensure perfect distribution of flow.
The hub lateral has two type: threaded ending wedge wire screen lateral and flange ending wedge wire screen lateral. Threaded ending wedge wire screen laterals are composed of a solid cap on one end and a threaded pipe connection on the other end. The flange ending wedge wire screen lateral is composed of solid cap on one end and a flange. The different design make it possible to suit different applications and machines.
UBO Screens collector and distributor systems provide uniform, effective distribution and collection.
Features of Wedge Wire Screen Hub Lateral for Filtration
-- Extra strength
Wire wrapped screen combines high strength and superior corrosion resistance for unsurpassed durability during installation or retrieval. The stainless steel wrap wire— Firmly welded to every rib wire— Is designed not to shift or unwind in the unlikely event should it be damaged downhole

-- Large inlet area
Wedge wire screen has a much larger inlet area than conventional wire-wrapped screens. No solder strips, weld beads or lugs are present to block flow. Plus, a larger inlet area results in lower entrance velocity for produced fluids, reducing the potential for screen erosion.

-- Filtration assurance
With precise gauge control for reliability, gauge spacing of the screen is permanent. Weld strength and wire orientation are controlled to ensure the gauge required is the gauge delivered down hole.
Application of Wedge Wire Screen Hub Lateral for Filtration
Hub lateral systems are important components of ion exchange units, media filters, sand filters, carbon strip vessels, carbon towers, clay filters, and in many water and wastewater treatment applications.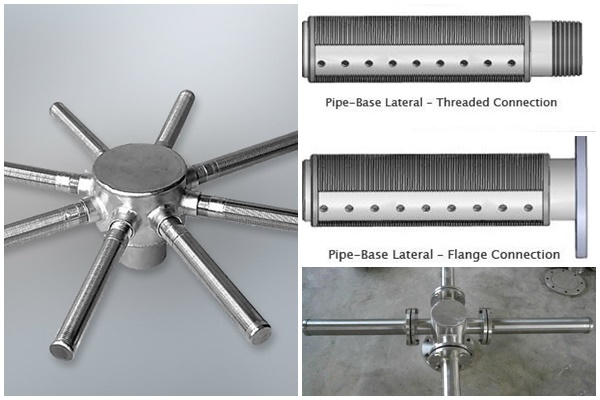 Specifications of Wedge Wire Screen Hub Lateral for Filtration: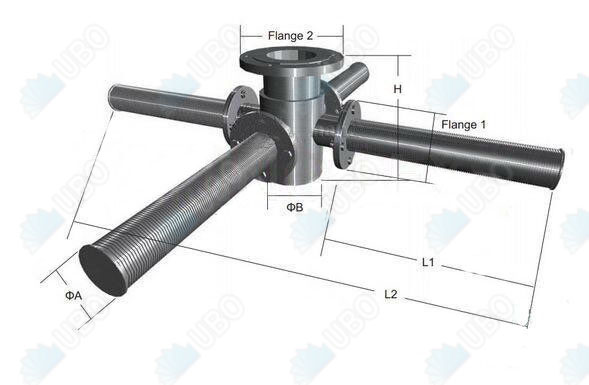 Material: stainless steel or as your request
Type: hub lateral
Connection: flange or thread
Type

Slots

ФA

ФB

L2

L1

H

Pipe No

Flange1 DN

Flange2 DN

AME

0.05

0.1

0.2

0.3

0.5

1

32

40

57

76

89

76

89

108

133

159

219

1100

1280

1500

1700

1800

2000

2500

3200

420

480

600

680

720

300

250

200

150

6

8

10

12

25

32

40

50

65

80

50

65

80

100

125

150
Packaging and Transportation of Wedge Wire Screen Hub Lateral for Filtration:
You may also be interested in the following product(s)