Stainless steel water slot well screen for filtration
| | |
| --- | --- |
| Category: | Wedge Wire Application |
| Material: | stainless steel 304,304L,304HC,316,316L,321,430 or as per your request. |
| Properties: | wedge wire screen |
| Application: | water-treatment, water well drilling ,oil well drilling ,mineral processing, coal-cleaning plant |
if you are interested in receiving more information or have a question regarding any of our products please fill out the form above and we will contact you within 24-48 hours.

Email:sales@ubowedgewire.com

Author: Maria
Details of Stainless steel water slot well screen for filtration
Stainless steel water slot well screens are made from V shaped profile wire, which is spirally wound around a cage of longitudinal support rods. Each intersection point of these wires is fusion welded, with an unique welding process. The pitch of winding gives different spacing between two adjacent turns of wire. This spacing gives passage for water to enter. The entire process is completed on fully computerized machines. V Wire Screen offers great strength, precision, long service life and a wide range.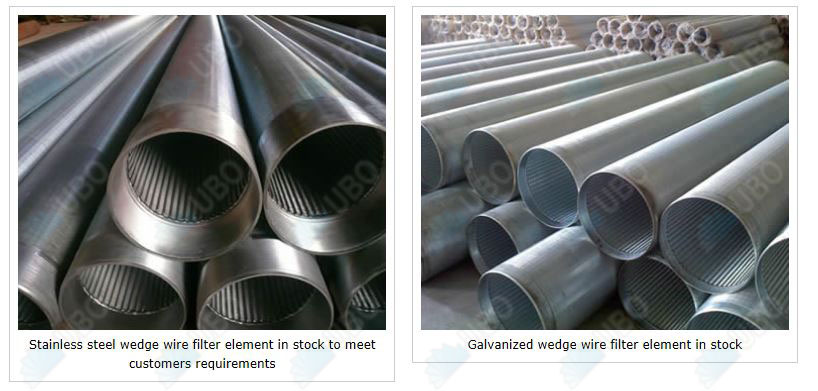 Advantages of Stainless Steel Water Slot Well Screen for Filtration
• High mechanical strength to withstand greater pressure difference.
• The homogeneous filtration gap forms a relatively homogeneous cake to facilitate backwash regeneration.
• Wedged gap can improve backwash regeneration capacity.
• Pressure, temperature, aging and corrosion—resistant, suitable for all kinds of fluids.
• Metal wedged wire mesh is adopted as filter element and has the advantages, such as, high mechanical strength, high g reater pressure difference, easy cleaning, and regeneration. Al most two—dimensional filter mesh have no par— ticle packing dead space, the wedged gap can gather energy when backwashing, with good resuIt.
Applications of Stainless Steel Water Slot Well Screen for Filtration
Stainless steel water slot well screens are usually used as the water filter equipment. They are used in the deep well pump, submersible pump systems, they can also be used in water treatment equipment, environmental protection, the water of the sea into the industrial water and domestic water desalination treatment, water treatment, water softening treatment, oil chemical industry: the terminal filtration of oil products and chemical acid, alkali liquid filtration, alcohol and other organic solution of recycling.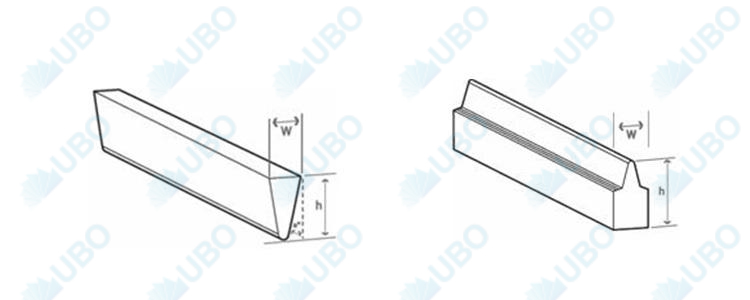 Specifications of Stainless steel water slot well screen for filtration:
Size

(inch)

O.D

(mm)

Slot

(inch)

Collapse Strength

(Psi)

Tensile Weight

(Ton)

Wrap(thick*deep)

(mm)

Rods

(mm)

4

117

0.04

395

6

2.2*3.0

3.8mm/22

4

114.3

0.04

395

6

2.3*3.0

3.8mm/22

6

168.3

0.04

252

8

2.3*3.5

3.8mm/32

8

219.1

0.01

399

10.5

3.0*5.0

3.8mm/48

8

219.1

0.02

370

10.5

3.0*5.0

3.8mm/48

8

219.1

0.04

323

10.5

3.0*5.0

3.8mm/48

10

273.1

0.01

206

11

3.0*5.0

3.8mm/50

10

273.1

0.02

191

11

3.0*5.0

3.8mm/50

10

273.1

0.04

167

11

3.0*5.0

3.8mm/50
Packaging and Transportation of Stainless steel water slot well screen for filtration: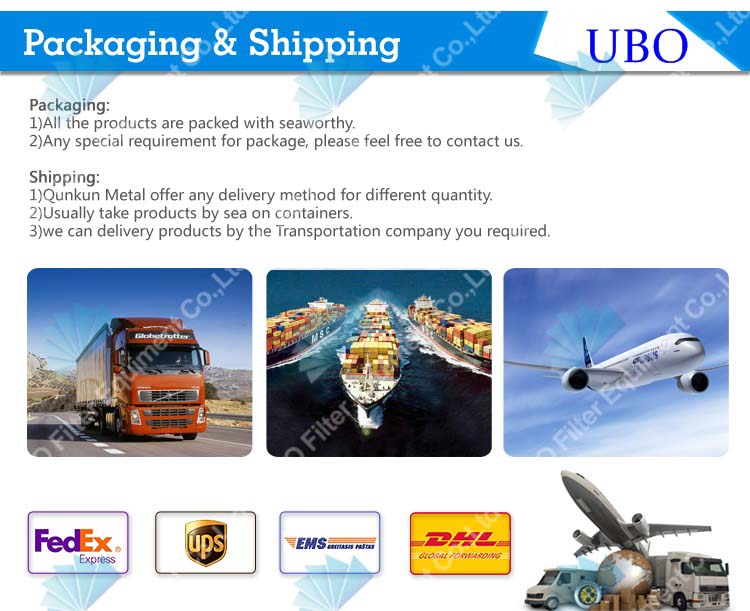 You may also be interested in the following product(s)