Stainless Steel V Wire Wrapped Cylinder Screen Manufacturer
| | |
| --- | --- |
| Category: | Wedge Wire Application |
| Material: | stainless steel 304,304L,304HC,316,316L,321,430 or as per your request. |
| Properties: | Wedge Wire Pipe |
| Application: | the water-treating equipment, the environmental protection, the sea water transforms into the industrial water |
if you are interested in receiving more information or have a question regarding any of our products please fill out the form above and we will contact you within 24-48 hours.

Email:sales@ubowedgewire.com
Details of Stainless Steel V Wire Wrapped Cylinder Screen Manufacturer
Wedge Wire v wire Screens consist of V-shape profile wire and the longitudinal support rods.the wire is welded to the rods and produces a rigid unit that has high strength and minimum weight.
Application for V Wire Wrapped Cylinder Screen:
The wedge wire water well screen is used throughout the world for water, oil, and gas wells, and for environmental well completions. It is the dominant screen type used in the water well industry.
Features for V Wire Wrapped Cylinder Screen:
The Wedge Wire type water well screen is made up of rods and warp. The rod can be round wire, triangular wire or trapezoid wire. The warp is triangular wire (V-shaped wire). Water well screens have a structure and high open area, as well as accurate slot dimension. At the same time, water well screen have heat-resisting, anti-corrosive, good machine capability, last long, safety and reliability and so on characteristics. It can be used in many kinds of medium filtering.
Advantages for V Wire Wrapped Cylinder Screen:
1) Screens with high open area are more suitable for the construction of high-quality water wells, oil wells and gas wells.
2) Low cost operation Screens with high open area shall favor groundwater infiltration. Abundant water shall reduce the water level's down, thus to save energy consumption.
3) Reduce the abrasion of the pump
Under the same condition, high open area can make the speed of groundwater's entering into the screen much slower than any other filtration apparatus, which will avoid sand's entering into screen because of high pressure, thus reduce the abrasion of the pump.
4) Extend the life span of wells
Comparatively, groundwater's entering into screen with higher open area is much easier than the entering into lower open area screen. The slow water flow shall extend the life span of wells.

Wedge Wire Profiles
Wedge Wire Screens Wedge Wire Profile wires range in widths from 0.020in.(0.508mm)to 0.195in.(4.953)and heights ranging from 0.040 in. (1.016 mm) to 0.363 in. (9.220 mm). Other wire shapes (Tri-Wire, Iso-Wire, Iso-Grizzly Wire, Grizzly-Wire, and more) also available.



Common Shaped Support Rods
Wedge Wire Screens shaped support rods range in widths from 0.029 in. (0.737 mm) to 0.151 in. (3.835 mm) and heights ranging from 0.102 in. (2.591 mm) to 0.120 in. (3.048 mm).

Open area calculations
To calculate the open area of a certain screen, use the simple formula provided

Open Area (%) = Slot Size * 100
Slot size + Wire width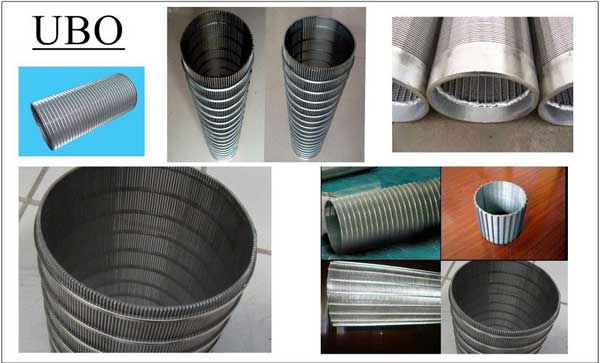 Specifications of Stainless Steel V Wire Wrapped Cylinder Screen Manufacturer: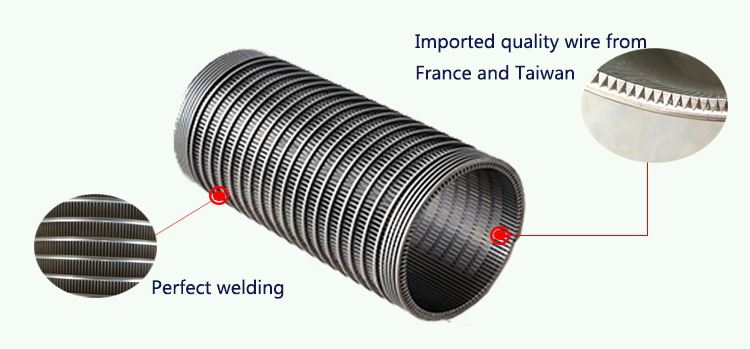 size

inner diameter

outer diameter

25/8

67

35/8

45/8

55/8

65/8

85/8

103/4

123/4
Packaging and Transportation of Stainless Steel V Wire Wrapped Cylinder Screen Manufacturer:
Package: in wood case
Delivery Time: 5-25 days
You may also be interested in the following product(s)