Desalination water softener equipment
| | |
| --- | --- |
| Category: | Wedge Wire Application |
| Material: | stainless steel 304,304L,304HC,316,316L,321,430 or as per your request. |
| Properties: | Wedge Wire Cylinder |
| Application: | filters, strainers, architectural screens, water treatment underdrains, media support grids and overlays, infiltration gallery screens |
if you are interested in receiving more information or have a question regarding any of our products please fill out the form above and we will contact you within 24-48 hours.

Email:sales@ubowedgewire.com

Author: Jane
Details of Desalination water softener equipment
Wedge Wire Wedge Wire screen pipes are very effective in wells of this type since they can be manufactured with very small slot size and yet still maintain the necessary open area to minimize friction head loss. Most Wedge Wire Wedge Wire screen pipe is manufactured from stainless steel rather than carbon steel in order to avoid problems which often leads to accelerated corrosion.
Application for Desalination water softener equipment:
This screen pipe is applied to oil sol ution containing wax oil and asphalt or with high viscosity, it is widely applied in water treatment coarse and precise filtration of various industries, such as, power oil wells, gas wells, chemical, mining, paper making, environmental protection, metallurgy, sand—proof, decorative.
Product Characteristics for Desalination water softener equipment:
1. It has high mechanical strength, can bear large pressure drop.
2. It has equal slots for filtering, can form equally distributed filter cake, easy to clean for reuse.
3. The wedge type slot can improve backflushing and regeneration performance.
4. It has resistance to pressure, temperature, aging, corrosion, can be applied for different kinds of fluid.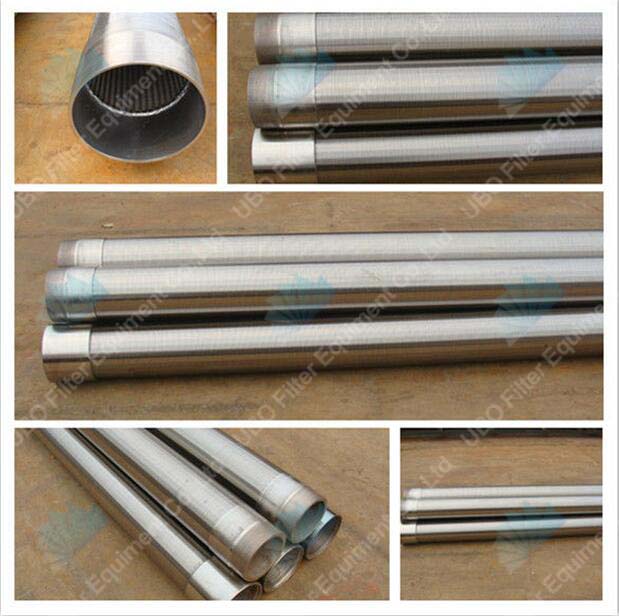 Specifications of Desalination water softener equipment: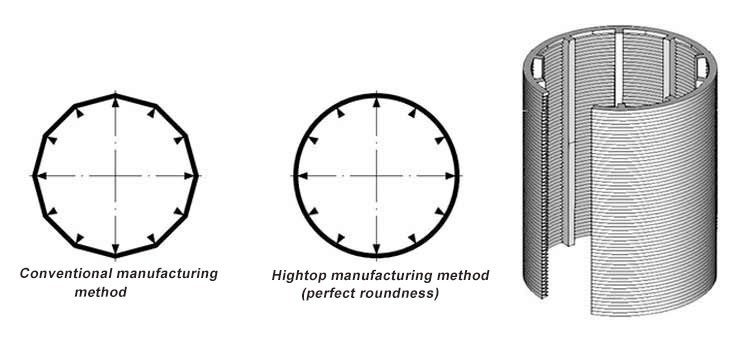 Size

(inch)

O.D

(mm)

Slot

(inch)

Collapse Strength

(Psi)

Tensile Weight

(Ton)

Wrap(thick*deep)

(mm)

Rods

(mm)

4

117

0.04

395

6

2.2*3.0

3.8mm/22

4

114.3

0.04

395

6

2.3*3.0

3.8mm/22

6

168.3

0.04

252

8

2.3*3.5

3.8mm/32

8

219.1

0.01

399

10.5

3.0*5.0

3.8mm/48

8

219.1

0.02

370

10.5

3.0*5.0

3.8mm/48

8

219.1

0.04

323

10.5

3.0*5.0

3.8mm/48

10

273.1

0.01

206

11

3.0*5.0

3.8mm/50

10

273.1

0.02

191

11

3.0*5.0

3.8mm/50

10

273.1

0.04

167

11

3.0*5.0

3.8mm/50
Packaging and Transportation of Desalination water softener equipment: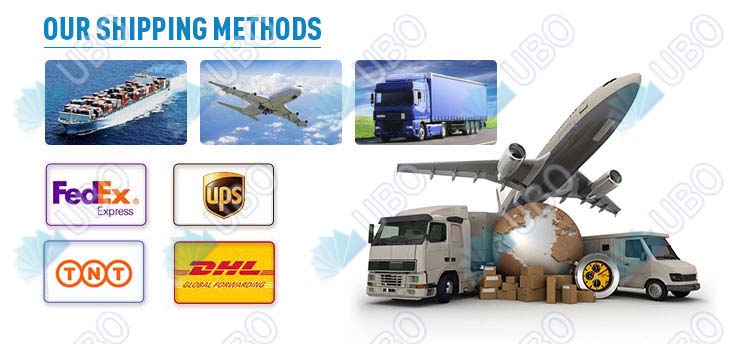 You may also be interested in the following product(s)