V-wire Pressure Screen Slotted Basket
| | |
| --- | --- |
| Category: | Wedge Wire Screen Basket |
| Material: | stainless steel 304,304L,304HC,316,316L,321,430 or as per your request. |
| Properties: | Wedge Wire Screen Basket |
| Application: | filters, strainers, architectural screens, water treatment underdrains, media support grids and overlays, infiltration gallery screens |
if you are interested in receiving more information or have a question regarding any of our products please fill out the form above and we will contact you within 24-48 hours.

Email:sales@ubowedgewire.com

Author: Jane
Details of V-wire Pressure Screen Slotted Basket
stainless steel screen basket and profile screens are all custom made. Length, width, shape and spacing of profile wire are engineered to meet your special job requirements. And the individual wire on the working surface of the wedge wire screen or stainless steel screen can be manufactured at various angles to better serve your needs.
Application for V-wire Pressure Screen Slotted Basket:
Screen basket is mainly used in centrifuge dewatering, widely used in coal, chemical, and metallurgical industries. Screen basket is a key part of centrifuge .It is high-speed rotating parts. When work, the basket should not only bear the vibration load, but also bear the impact of coal and water. So it requires relatively high strength and precision.
Features for V-wire Pressure Screen Slotted Basket:
variety and full range of sizes meet the requirements of different coals type, different coals quality; size accurately, the error is small, fixed bolt hole does not appear the wrong eye, partial eye phenomena, to make installment saving time and effort ; welding quality is good, solid structure, does not appear screen welding open, cracking phenomena; uniform screen sewn, smooth screen surface, high opening rate.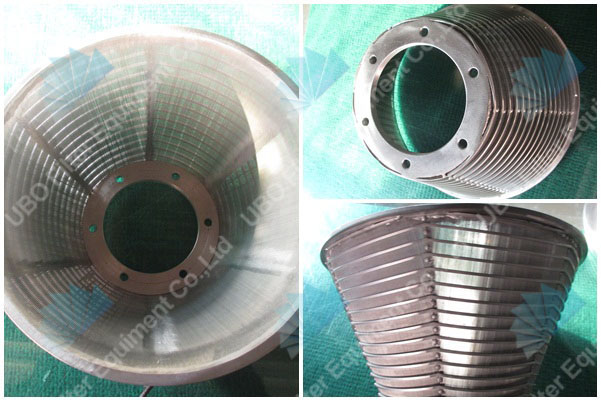 Specifications of V-wire Pressure Screen Slotted Basket:

Triangle wire size:
Triangle wire
Width
1.5mm
2.2mm
2.8mm
3.1mm
3.4mm
5.0mm
height
4.0mm
4.5mm
5.0mm
6.0mm
7.5mm
10.0mm
Slot
0.10mm-10mm
Support rod size:
Support rod
Width
1.0mm
1.5mm
1.8mm
2.7mm
3.2mm
3.6mm
height
2.0mm
2.5mm
3.0mm
4.2mm
5.3mm
5.7mm
Slot
0.2mm-5mm
Packaging and Transportation of V-wire Pressure Screen Slotted Basket:
Package: in wood case
Delivery Time: 5-25 days
You may also be interested in the following product(s)