Stainless steel Centrifuge Conical Basket
| | |
| --- | --- |
| Category: | Wedge Wire Screen Basket |
| Material: | stainless steel 304,304L,304HC,316,316L,321,430 or as per your request. |
| Properties: | Wedge Wire Screen Basket |
| Application: | filters, strainers, architectural screens, water treatment underdrains, media support grids and overlays, infiltration gallery screens |
if you are interested in receiving more information or have a question regarding any of our products please fill out the form above and we will contact you within 24-48 hours.

Email:sales@ubowedgewire.com

Author: Jane
Details of Stainless steel Centrifuge Conical Basket
Stainless steel screen basket and profile screens are all custom made. Length, width, shape and spacing of profile wire are engineered to meet your special job requirements. And the individual wire on the working surface of the wedge wire screen or stainless steel screen can be manufactured at various angles to better serve your needs.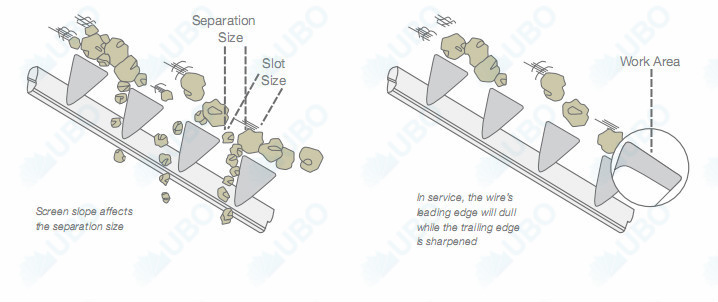 Applications for Stainless Steel Centrifuge Conical Basket:
Screen basket is mainly used in centrifuge dewatering, widely used in coal, chemical, and metallurgical industries. Screen basket is a key part of centrifuge. It is high-speed rotating parts. When work, the basket should not only bear the vibration load, but also bear the impact of coal and water. So it requires relatively high strength and precision.
Features for Stainless Steel Centrifuge Conical Basket:
1) Combining the latest technology and years experience into a a whole.
2) Key components introduced abroad, lone service life, low maintenance cost.
3) All parts contact with material are stainless steel, no material contamination.
4) Sieve basket is calibrated through dynamic equilibrium by domestic authority body.
5) Sieve made from laser perforating on titanium alloy plate.
6) To facilitate the automatic design for centrifugal sieve group, CIP system and chain automatic control can be easily realized.
7) Advanced surface treatment technology ensuring the good looking and resistance of oil and dirt.
8) Nozzles tested by strict examination in pressure and flow rate
9) Big capacity, low power consumption, stable operation, high starch extraction rate and easy installation.
10) Widely used for starch extraction in starch processing factory
Work Principle for Stainless Steel Centrifuge Conical Basket:
The equipment screen mesh is a cylinder, material, after handling by screw feeder, mixing and atomization into a screen cage, so that the material also driven by centrifugal force and cyclone by rotating the blade, forcing material injection over the screen cage, fine material discharge from fine outlet, the coarse material which can not cross the screen cage, discharged from the coarse outlet.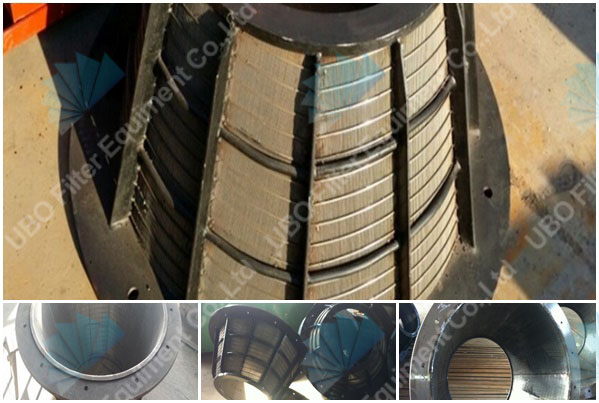 Specifications of Stainless steel Centrifuge Conical Basket: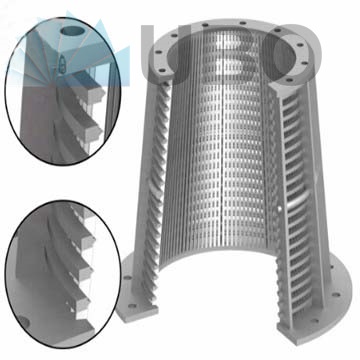 Specification

mm

Inside Diameter

mm

Outside Diameter

mm

Slot Number

Bar

60

63.1

76

18

73

75.8

89

20

89

91.7

105

24

102

104.4

117

28

114

117.2

130

30

127

130.3

143

34

140

142.7

155

36

168

171.6

184

44

178

181.1

194

46

194

197.2

210

50

219

222.7

235

56

245

248.5

261

58

273

278.0

291

66

340

345.0

358

80

419

424.0

437

100
Packaging and Transportation of Stainless steel Centrifuge Conical Basket:
Delivery Time: 5-25 days.
You may also be interested in the following product(s)