stainless steel wedge wire screen plate for liquid filtration
| | |
| --- | --- |
| Category: | Wedge Wire Application |
| Material: | stainless steel 304,304L,304HC,316,316L,321,430 or as per your request. |
| Properties: | wedge wire screen |
| Application: | water treatment, oilfield, mining, food industry, chemical industry, papermaking industry, decoration. |
if you are interested in receiving more information or have a question regarding any of our products please fill out the form above and we will contact you within 24-48 hours.

Email:sales@ubowedgewire.com
Details of stainless steel wedge wire screen plate for liquid filtration
The wedge wire screen panels have continuous slot openings that widen inwardly. This makes the screen self-cleaning by allowing "near slot size" particles to pass through the screen rather than plug the opening. And the products are made by continuously winding a wrap wire onto a frame of support rods. This is done on precision built, electronically controlled machinery which ensures consistently high strength, precise slot openings and product durability.
UBO can custom make any Wedge Wire Screen Panel to fit any customer's specified width and length requirements. The quality of workmanship that comes with constructing the panels, superior materials used and high precision slots ensure that our panels will meet even the most demanding applications in the industry
Usages of stainless steel wedge wire screen plate for liquid filtration
Flat panel screen can be parts of deep well pumps or submersible pumps; can be used for water treatment equipment, environment protection, the sea water desalination, water softening treatment, oil and chemical processing; terminal filtration for petroleum products, filtration for chemical acid and soda liquid, for alcohol and other organic solvents recycle filtration.
Advantages of stainless steel wedge wire screen plate for liquid filtration
Non-clogging: Wedge wires are often produced in a variety of sizes and depending on the head width and profile depth, the v-shape creates slots that inwardly enlarges, minimizing and avoiding clogs caused by solid particles.
Quick and Easy Maintenance: Cleaning of the screen via mechanical scraping or back flushing is easy because of its surface screen.
Accurate and Precise Slot Sizes: As screens are easily customized, it is easier to create precise slot sizes that will meet the customer's specifications.
Extended Usage: Because of the welded structure of the screen, it is capable of self-supporting itself resulting in a durable and stronger screen that would last longer than other materials. Low Cost. The structured pattern provides an effective flow resulting in high yield and lower pressure drop.
Resistance to Chemical Corrosion: Wedge wire screen are made of stainless steel material, resulting in corrosion resistance from chemicals and high temperatures, making these the excellent choice as compared to other screen materials.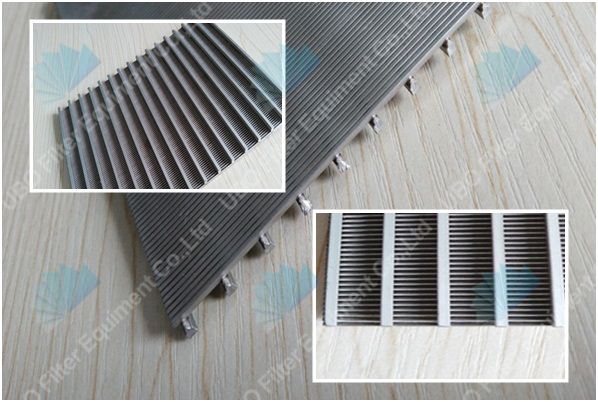 Specifications of stainless steel wedge wire screen plate for liquid filtration:
Panel Screen Standard Specifications:
Slot size (mm): 0.025mm 0.10, 0.15, 0.2, 0.25, 0.30-3mm
Open area: up to 60%
Material: low carbon, low carbon galvanized steel (LCG) steel , stainless steel (304 etc.) Lengths up to 6 meters
Diameter: ranging from 25 to 800mm
End connection: plain beveled ends for butt welding or threaded
Material: Low Carbon Galvanized ( LCG ) and Stainless Steel (SS)
Slot (mm): 0.025 0.1、0.25、0.50、0.75、1.00、1.50、2.00、3.00 and so on.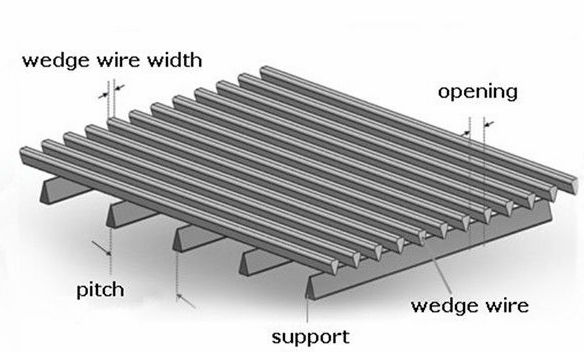 Packaging and Transportation of stainless steel wedge wire screen plate for liquid filtration: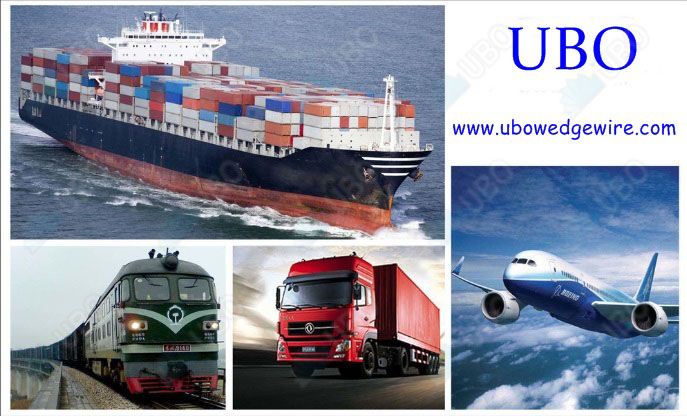 You may also be interested in the following product(s)