stainless screen baskets for dewatering screw press
| | |
| --- | --- |
| Category: | Wedge Wire Application |
| Material: | SS 304,316,316L, Stainless steel and carbon steel. |
| Properties: | Wedge Wire Pipe |
| Application: | waste water filtration, pulp and paper as well as mineral processing applications |
if you are interested in receiving more information or have a question regarding any of our products please fill out the form above and we will contact you within 24-48 hours.

Email:sales@ubowedgewire.com
Details of stainless screen baskets for dewatering screw press
Stainless steel wedge wire screen cylinders offer a high capacity, cost effective method of solids/liquids separation utilizing stainless steel wedge wire as the screening medium.
Each unit is designed to suit the specific requirements for the customers. Consisting of a basic outer casing, which can be manufactured in mild steel or stainless steel, each unit incorporates a distribution chamber and feed weir; over which the effluent passes onto the wedge wire panel which is set at right angles to the flow to enable the separating process to commence.
Features for wedge wire screen baskets for dewatering screw press:
-- High filtering, sizing, dewatering performance.
-- Good mechanical properties.
-- Great capacity than the traditional vibrating screens.
-- Corrosion and rust resistance.
-- High temperature resistance.
-- Low maintenance. It is easy to clean and need less maintenance.
-- Non-clogging.
-- Long and durable service life.
-- Easy to install and replace.
Applications for wedge wire screen baskets for dewatering screw press:
The wedge wire screen cylinders can be used as rotary screens.
Wedge wire screen cylinders are widely used in the mine, coal, mineral and other applications for heavy duty and high load filtering, sizing and screening.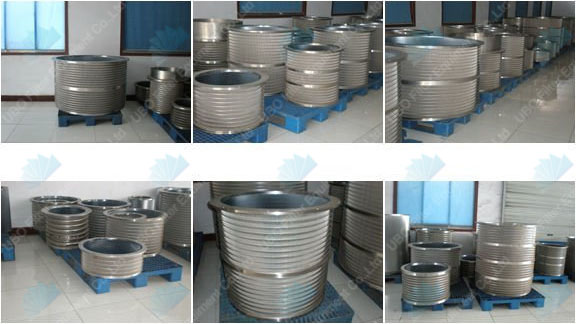 Specifications of stainless screen baskets for dewatering screw press: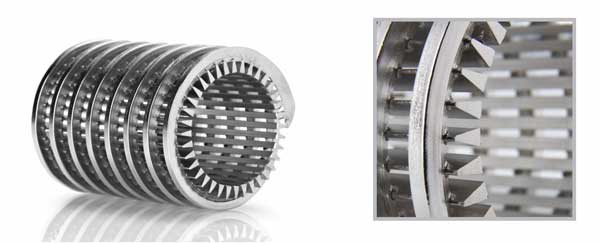 Outside Diameter

Profile wire

Rod wire

Rod quantity

Slot size

Length

DN

Inch

mm

mm

mm

mm

mm

20

3/4

26.9

1.5*2

2*3

12

0.1~0.25

45~3000

25

1

33.7

1.5*2

2*3

14

0.1~0.25

45~3000

32

1-1/4

42.4

1.5*2

2*3

16

0.1~0.25

45~3000

40

1-1/2

48.3

1.5*2

2*3

16

0.1~0.25

45~3000

50

2

60.3

1.5*2

2*3

18

0.1~0.5

45~3000

65

2-1/23

76.1

1.5*2

2*3

20

0.1~0.5

45~3000

80

3

88.9

1.8*2.5

2*3

24

0.1~0.5

1000~6000

100

4

114.3

1.8*2.5

2*3

30

0.5~2

1000~6000

125

5

139.7

2.3*2.7

2*3

36

0.5~2

1000~6000

150

6

168.3

2.3*2.7

3*5

44

0.5~2

1000~6000

200

8

219.1

3.3*3.5

3*4.7

56

0.5~2

1000~6000

250

10

273

3.3*3.5

4*6

66

0.5~2

1000~6000

300

12

323.9

3.3*4.7

4*6

72

0.5~2

1000~6000

350

14

355.6

3.7*5

4*6

80

0.5~2

1000~6000

400

16

406.4

1.5*2

2*3

94

0.1*2

1000~6000

450

18

457

2*3

4*5

112

0.1*2

500~400

500

20

508

2*3

4*5

124

0.1*2

500~400

550

22

559

2*3

4*5

140

0.1*2

500~400

600

24

610

2*3

4*5

156

0.1*2

500~400

Siot:0.1mm~2mm Tolerance:0.05
Packaging and Transportation of stainless screen baskets for dewatering screw press: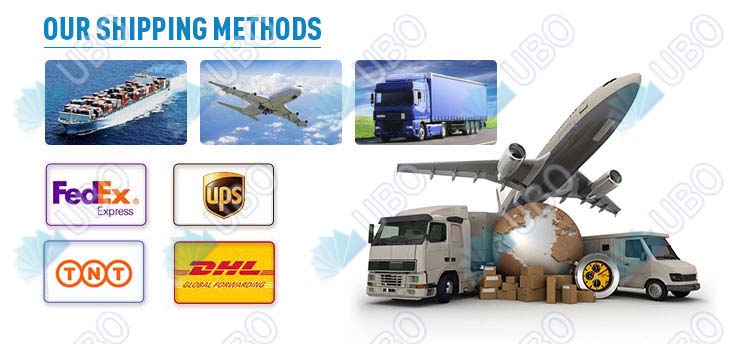 You may also be interested in the following product(s)