Wire mesh v wire wedge wire stainless steel suction mesh water well pipe screen
| | |
| --- | --- |
| Category: | Wedge Wire Application |
| Material: | SS 304,316,316L, Stainless steel and carbon steel. |
| Properties: | Stainless Steel Pipe |
| Application: | water treatment, oilfield, mining, food industry, chemical industry, papermaking industry, decoration. |
if you are interested in receiving more information or have a question regarding any of our products please fill out the form above and we will contact you within 24-48 hours.

Email:sales@ubowedgewire.com
Details of Wire mesh v wire wedge wire stainless steel suction mesh water well pipe screen
Wedge Wire Screen water well pipes are made from V shaped profile wire, which is spirally wound around a cage of longitudinal support rods. Each intersection point of these wires is fusion welded, with an unique welding process. This spacing gives passage for water to enter . The entire process is completed on fully computerized machines. The pitch of winding gives different spacing between two adjacent turns of wire
Features for Wedge Wire Screen Water Well Pipes:
Wedge Wire screen have the features of great strength, precision, long service life and a wide range of applications in the field of process and engineering such as waste water treatment, sugar juice filtration, crude oil and natural gas production and vessel internals solving problems of solid / liquid and solid / gas separation, filtration of oils, greases, water, fuels, paints, food products, liquid cooling agents, and chemicals etc.
Advantages for Wedge Wire Screen Water Well Pipes:
1) It has high mechanical strength, can bear large pressure drop.
2) It has equal slots for filtering, can form equally distributed filter cake, easy to clean for reuse
3) The wedge type slot can improve back flushing and regeneration performance.
4) It has resistance to pressure, temperature, aging, corrosion, can be applied for different kinds of fluid.
Application for Wedge Wire Screen Water Well Pipes: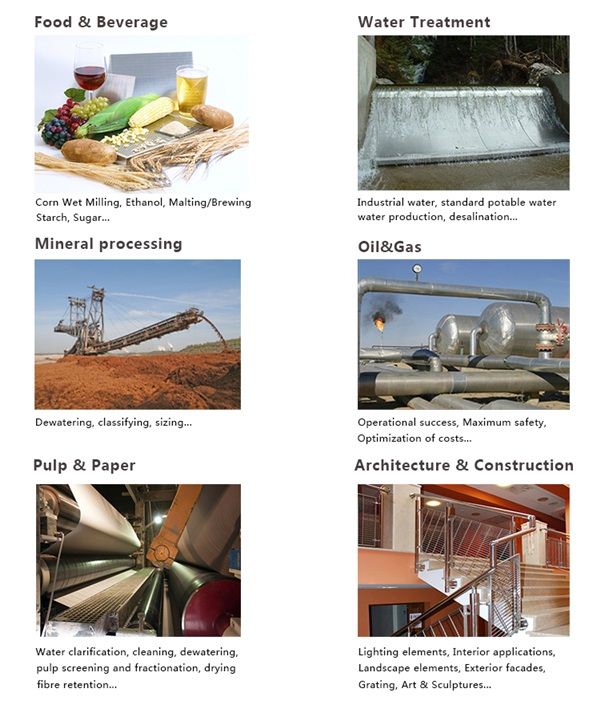 Specifications of Wire mesh v wire wedge wire stainless steel suction mesh water well pipe screen: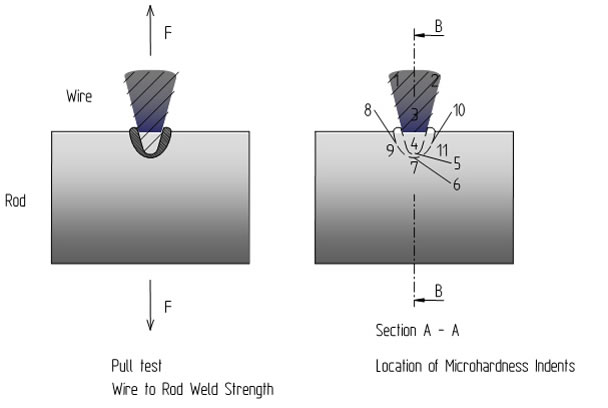 Outside Diameter

Profile

wire

Rod

wire

Rod

quantity

Slot

size

Length

DN

Inch

mm

mm

mm

mm

mm

20

3/4

26.9

1.5*2

2*3

12

0.1~0.25

45~3000

25

1

33.7

1.5*2

2*3

14

0.1~0.25

45~3000

32

1~1/4

42.4

1.5*2

2*3

16

0.1~0.25

45~3000

40

1~1/2

48.3

1.5*2

2*3

16

0.1~0.25

45~3000

50

2

60.3

1.5*2

2*3

18

0.1~0.5

45~3000

65

2~2/2

76.1

1.5*2

2*3

20

0.1~0.5

45~3000

80

3

88.9

1.8*2.5

2*3

24

0.1~0.5

45~3000

100

4

114.3

1.8*2.5

2*3

30

0.5~2

1000~6000

125

5

139.7

2.3*2.7

2*3

36

0.5~2

1000~6000

150

6

168.3

2.3*2.7

3*5

44

0.5~2

1000~6000

200

8

219.1

3.3*4.5

3*4.7

56

0.5~2

1000~6000

250

10

273

3.3*4.5

4*6

66

0.5~2

1000~6000

300

12

323.9

3.3*4.7

4*6

72

0.5~2

1000~6000

350

14

355.6

3.7*5

4*6

80

0.5~2

1000~6000

400

16

406.4

1.5*2

2*3

94

0.1~2

1000~6000

450

18

457

2*3

4*5

112

0.1~2

500~400

500

20

508

2*3

4*5

124

0.1~2

500~400

550

22

559

2*3

4*5

140

0.1~2

500~400

600

24

610

2*3

4*5

156

0.1~2

500~400

Siot:0.1mm~2mm Tolerance:0.05
Packaging and Transportation of Wire mesh v wire wedge wire stainless steel suction mesh water well pipe screen: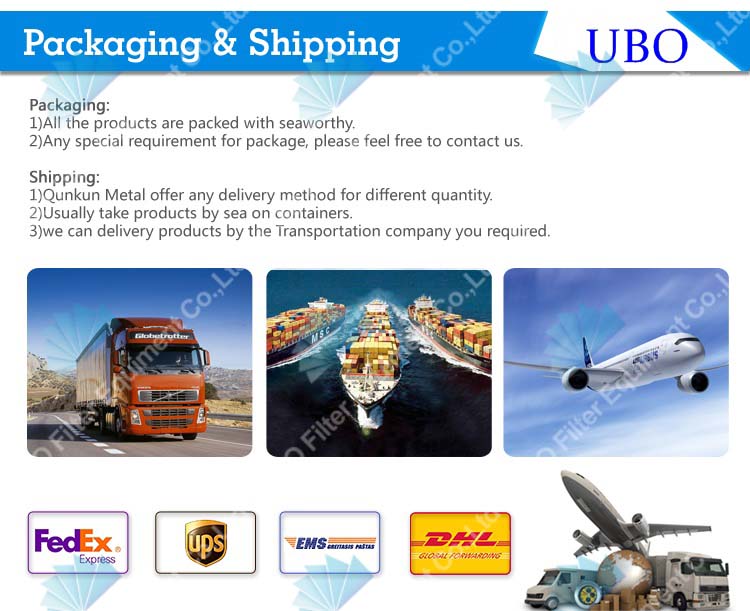 You may also be interested in the following product(s)