drum sieve mesh for food processing
| | |
| --- | --- |
| Category: | Wedge Wire Pipe&Cylinder |
| Material: | stainless steel 304,304L,304HC,316,316L,321,430 or as per your request. |
| Properties: | Wedge Wire Cylinder |
| Application: | filters, strainers, architectural screens, water treatment underdrains, media support grids and overlays, infiltration gallery screens |
if you are interested in receiving more information or have a question regarding any of our products please fill out the form above and we will contact you within 24-48 hours.

Email:sales@ubowedgewire.com

Author: Jane
Details of drum sieve mesh for food processing
SS v wire wedge wire screen drum screens are made from V shaped profile wire, which is spirally wound around a cage of longitudinal support rods. Each intersection point of these wires is fusion welded, with an unique welding process. The pitch of winding gives different spacing between two adjacent turns of wire. This spacing gives passage for water to enter. The entire process is completed on fully computerized machines. V Wire Screen offers great strength, precision, long service life and a wide range.
Application for drum sieve mesh for food processing:
Our products are widely used for wine-making, malting, paper-making, mining, crement-producing, food-processing, oil-refining, painting as well as the industries of cigarette, sugar, foodstuff, noise-sliencer, environmental protection, agricultural machine, chemical industry and pharmacy industry.
Advantages for drum sieve mesh for food processing:
1. Many wing pieces, no winding, highly efficient rotary drum type rotor.
2. Pulp consistency can reach 2.5~4%, reduce water consumption and fiber loss of production process.
3. Heavy impurity discharge tube, ensure the security of the sieve drum operation.
4. Advanced structure, strong and durable, easy dismounting, low energy consumption, less wastage fiber.
5. Equipped with automatic oiling and mechanical seal water monitoring device, high degree of automation.
6. Compact structure, small power, high output.
7. 1 year warranty and best after-sale service
Working Principle for drum sieve mesh for food processing:
GTS Series wedge wire screen drum screen utilize Mechanical method, compose a screen surface by sieve bar form into pore. Classify by its weight 3 joint shaft inside trommel is higher than surface, to push up big size material so as to increase classify rate. And the inclination will help it advance, enter crusher finally. Size smaller pore will down through the pore and acquire the final product.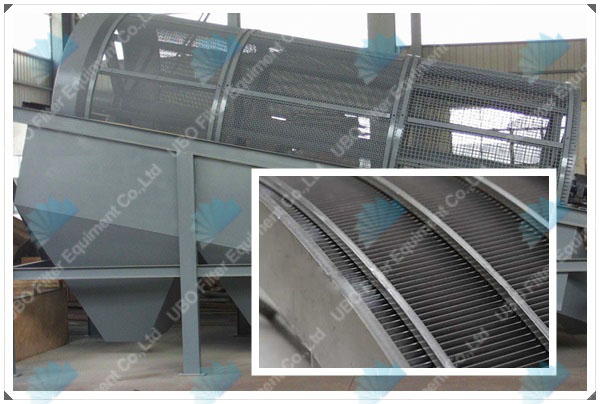 Specifications of drum sieve mesh for food processing: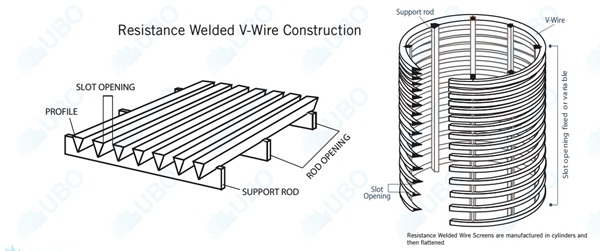 Screen Area

(m2)

Sieve hole size (mm)

Seam Size (mm)

Screen Hole (T/D)

Screen Slot (T/D)

Inlet pulp consistency (%)

Motor Power (Kw)

0.3

Φ1.6~Φ3.5

0.1~0.55

50~80

30~50

1~4

22~55

0.6

Φ1.6~Φ3.5

0.1~0.55

90~160

60~100

1~4

30~75

0.9

Φ1.6~Φ3.5

0.1~0.55

135~250

90~150

1~4

37~90

1.2

Φ1.6~Φ3.5

0.1~0.55

180~320

120~190

1~4

45~110

1.5

Φ1.6~Φ3.5

0.1~0.55

200~380

140~230

1~4

55~132

2

Φ1.6~Φ3.5

0.1~0.55

260~500

220~300

1~4

75~160

3

Φ1.6~Φ3.5

0.1~0.55

400~700

300~450

1~4

90~22
Packaging and Transportation of drum sieve mesh for food processing: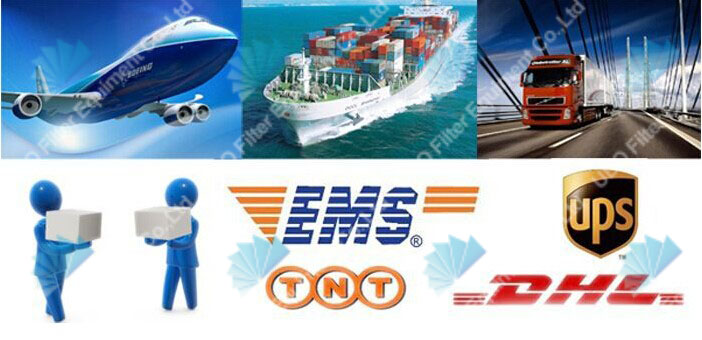 You may also be interested in the following product(s)