Water Well Stainless Steel Wedge Wire Screen Tube
| | |
| --- | --- |
| Category: | Wedge Wire Pipe&Cylinder |
| Material: | SS 304,316,316L, Stainless steel and carbon steel. |
| Properties: | Wedge Wire Wedge Wire Screen |
| Application: | the water-treating equipment, the environmental protection, the sea water transforms into the industrial water |
if you are interested in receiving more information or have a question regarding any of our products please fill out the form above and we will contact you within 24-48 hours.

Email:sales@ubowedgewire.com
Details of Water Well Stainless Steel Wedge Wire Screen Tube
Water Well Screen Tube is made up of rods and warp, the rod can be round wire,triangular wire and trapezoid wire. The wire is welded to the rods and produces a rigid unit that has high strength and minimum weight. The warp is triangular wire(v-shape wire). The water well screens have a structure and high open area;as well as accurate slot dimension.
Wedge Wire filter screen stainless steel wire have heat -resistant,anti-corrosive,good machine capability,last long ,safety and reliability and so on.

Advantages for Water Well Screen Wedge Wire Screen Tube:
When compared to conventional slotted pipe, Water Well Screens have superior open area due to their continuous slot openings. The benefits of which will:
Reduce energy consumption and increase water flow.
Reduce erosion of entry surfaces and increase well life.
Allow a uniform and efficient well development.
Reduce significantly potential pump damage and subsequent maintenance costs.
A continuous slot opening which significantly increases the available open area, thus providing greater access to the water bearing zone (the aquifer)
A "V" shaped profile wire which avoids clogging and ensures an uninterrupted flow.
A uniform and efficient well development due to the continuous slot opening.
Usage for Water Well Screen Wedge Wire Screen Tube:
Water well screen tube is a kind of filtered water tubing with the perforation. It can use with the deep well pump, dive the water pump, also may use in the water-treating equipment, the environmental protection, the sea water transforms into the industrial water and life use water desalination treatment, running water treatment, water softening treatment, the petroleum industry:
The petroleum product terminal filters and the chemical acid, the alkali liquid filters, the ethyl alcohol and so on the organic solution recycling filters.
Features for Water Well Screen Wedge Wire Screen Tube:
Its' material is stainless steel. The profile wire wraps around internal array of longitudinal support rods.Each intersecting point of these wires is fusion welded.
The profile wire wraps around the support rods over the full length of the screen creating a continuous slot opening. So the screen can allow water and oil to enter the well freely. And at the same time, it keeps the majority of the sand and gravel out of the well. The length and the thickness are according to the customers' requirements.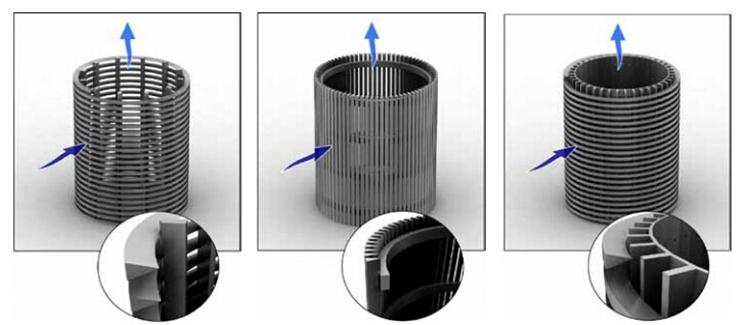 Specifications of Water Well Stainless Steel Wedge Wire Screen Tube: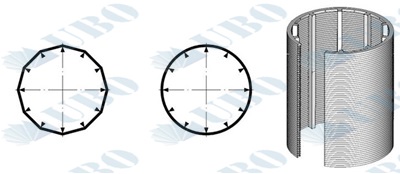 Packaging and Transportation of Water Well Stainless Steel Wedge Wire Screen Tube: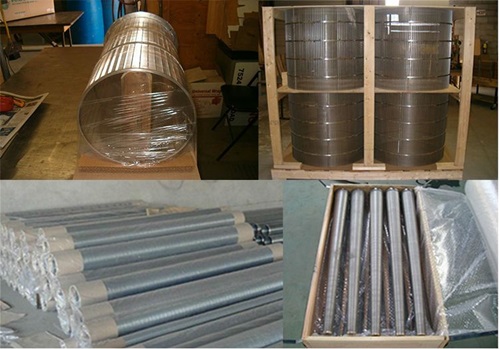 You may also be interested in the following product(s)