Rotary drum wedge screen cylinders
| | |
| --- | --- |
| Category: | Wedge Wire Pipe&Cylinder |
| Material: | stainless steel 304,304L,304HC,316,316L,321,430 or as per your request. |
| Properties: | wedge wire screen |
| Application: | water-treatment , water well drilling ,oil well drilling ,mineral processing, coal-cleaning plant |
if you are interested in receiving more information or have a question regarding any of our products please fill out the form above and we will contact you within 24-48 hours.

Email:sales@ubowedgewire.com
Details of Rotary drum wedge screen cylinders
Rotary drum wedge screen cylinders are used as rotary screens, collectors such as screen laterals and nozzles, resin traps, in-line strainers,water intake screens, well screens, as well as many other applications involving liquid / solids separation.

Rotary drum wedge screen cylinders are manufactured in various diameters from 1/2" pipe size to 36" diameter. Screen cylinders can be fabricated into much larger sizes. Each intersection of wedge wire and support rod is welded for strength and durability. Variou wedge wire and support rod combinations can be used to produce the best screen design.
Wedge Wire screen cylinders can be designed with slot openings and wires running radially on the outside surface of the screen cylinder or they can be positioned axially on the inside of the cylinder(Below) .

Advantages of Rotary drum wedge screen cylinders
Free Clearance : The wedge-shaped sections of the wire from aperatures that become progressively wider in a downward direction, thus ensuring rapid flow of material through them. Clogged and blinded aperatures are reduced to an absolute minium.
Lateral Strength : In our opinion no form of screening surface witl i apertures as fine as those of wedge wire screens, can compare with the mechanical strength and working efficiency of wedge wire.
Percentage Open Area : For a given aperature size, wedge wire screens have a much larger percentage of open area than conventinal sieves.
Wearing Life : Owing to a greater wearing area being provided by hat top surfaces, wedge wire screens retain their aperature for a longer duration than round wire screens.
Some other advantages of Looped type of wedge wire screens over other type of screens and also other type of wedge wires are :
Self Supporting High Abrasition resistance Low pressure drop High resistance to Vibration
Looped Wedge Wire Screen construction is particularly recommended when high Vibration resistance and fine accurate aperture are needed.
Applications of Rotary drum wedge screen cylinders
Rotary drum wedge screen cylinders can be employed in almost all industrial processes which require very fine and uniformly accurate aperture, combining rapid discharge of material and high mechanical strength. Some of the specialized applications of these screens are given below -
Wedge wire screen used in industries for water, oil filtration equipments like

Filteration Equipments
Filtration Systems.
Filters.
Wedge Wire Screen.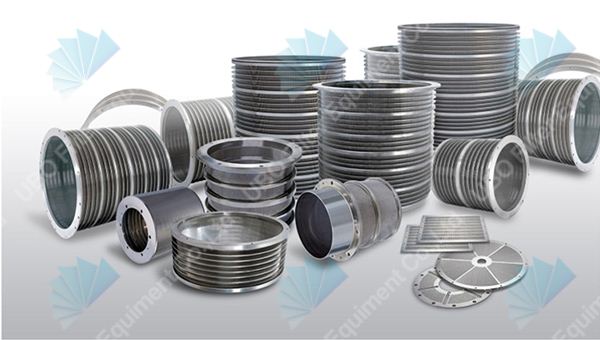 Specifications of Rotary drum wedge screen cylinders:
| | | | | | | | |
| --- | --- | --- | --- | --- | --- | --- | --- |
| Model | Mixed Juice Capacity (t/hr) | Drum Diameter (mm) | Drum Length (mm) | Drive (KW) | Feed (inlet) Size | Discharge (outlet)Size | Approx. Mass (kg) |
| WT610 | 40 | 600 | 1000 | 1.5 | DN100 | DN150 | 535 |
| WT615 | 73 | 600 | 1500 | 1.5 | DN100 | DN150 | 650 |
| WT1015 | 99 | 1000 | 1500 | 2.5 | DN150 | DN200 | 1050 |
| WT1018 | 132 | 1000 | 1800 | 2.5 | DN150 | DN200 | 1170 |
| WT1518 | 165 | 1500 | 1800 | 4.0 | DN200 | DN250 | 1775 |
| WT1521 | 214 | 1500 | 2100 | 4.0 | DN250 | DN300 | 1940 |
| WT1824 | 264 | 1500 | 1400 | 5.5 | DN250 | DN300 | 2130 |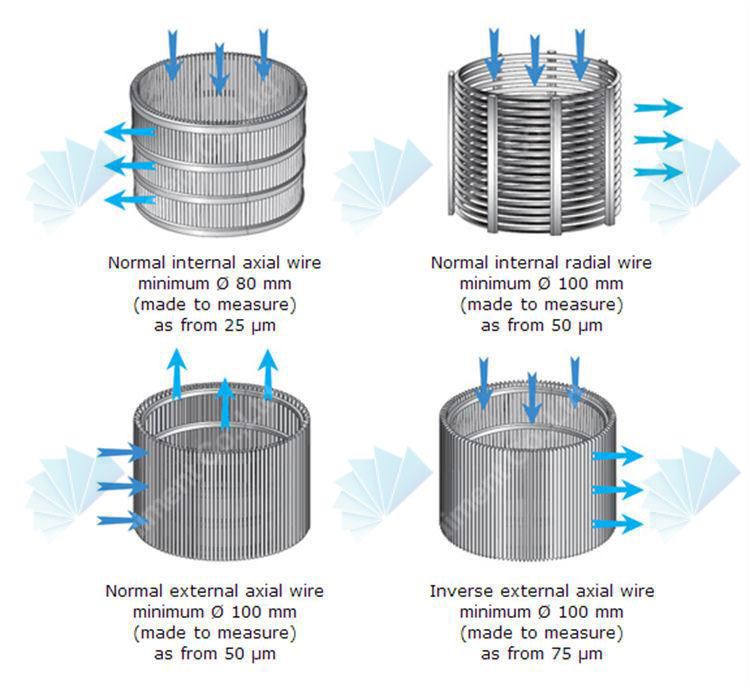 Packaging and Transportation of Rotary drum wedge screen cylinders: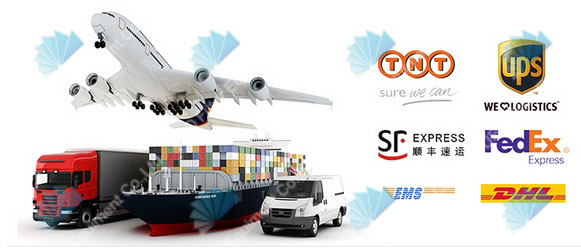 You may also be interested in the following product(s)