stainless steel wedge wire sieve bend seam
| | |
| --- | --- |
| Category: | Sieve Bend Screen |
| Material: | SS 304,316,316L, Stainless steel and carbon steel. |
| Properties: | Wedge wire screen |
| Application: | oil, gas, water wells by the sand filled, can prevent formation sand to protect downhole and surface equipment |
if you are interested in receiving more information or have a question regarding any of our products please fill out the form above and we will contact you within 24-48 hours.

Email:sales@ubowedgewire.com
Details of stainless steel wedge wire sieve bend seam
Sieve plate is easy to penetrate, having good wear-resisting and corrosion resistance. With Trapezoidal cross-section, even gap, stable welding quality, large opening area, long life time, high strength and high load capacity, it can be made into various shapes. The dimensions, wire diameter, slot and frame structure can be customized
The main used of stainless steel wedge wire sieve bend seam:
Malt equipment: uses for malt plant selection machine, germination couch and drying oven of used, with high ventilation efficiency, good heat dissipation advantages.
Beer machinery: uses for brewery filtration tank of use, with high opening rate, long life and other advantages.
Mining machinery: uses for coal preparation for desliming and dewatering of the coal preparation plant
Environmental protection: uses for oil, gas, water wells by the sand filled, can prevent formation sand to protect downhole and surface equipment.
Chemical and other: uses for sugar factory, paper mill for wastewater treatment; fertilizer plant for materials was filtered, dehydrated and various types of paint room for supporting the use; food factory for starch filter; uses for grain storage ventilation.
Feature of stainless steel wedge wire sieve bend seam:
Reduced costs, since wedge wire screens have a very long life.
Greater resistance to stresses of different pressure and temperature.
Maximum effective flow area & operating efficiency is maintained.
Costly downtime for cleaning plugged screens is minimize.
Advantages of stainless steel wedge wire sieve bend seam:
1. high porosity
Trapezoidal (wedge) wire wound on the support bar of circular type arrangement form a continuous high-density uniform gap, to ensure that the porosity and no clogging of screens.
2.Good pressure resistance.
According to the actual needs of longitudinal strut arrangement of design and connectivity gaps in the form of screens, which makes the products have a high compression performance.
3.Low operating costs
High porosity of the filter pipe is more conducive to groundwater infiltration. Plenty of deep water to make the water level drop is reduced, thus reducing energy consumption. Especially suitable for water wells fine sand and silt formation.
4. reduce pump wear
Under the same conditions, higher porosity makes speed of infiltration of groundwater drainage pipe to be slower than the speed of infiltration of other filtering device, thus avoiding sand into the drainage pipe in the larger pressure, reduce the pump wear.
5.extend the life of wells
In contrast, groundwater infiltration high porosity for filter pipe more easier, low flow rate, extend the life of the well.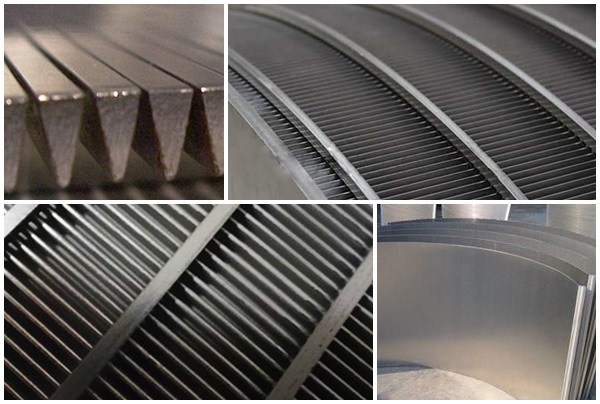 Specifications of stainless steel wedge wire sieve bend seam: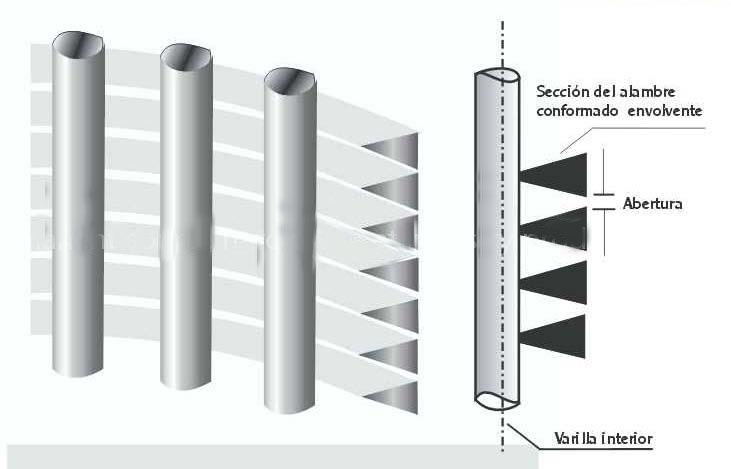 Screen Area

(m2)

Sieve hole size (mm)

Seam Size (mm)

Screen Hole (T/D)

Screen Slot (T/D)

Inlet pulp consistency (%)

Motor Power (Kw)

0.3

Φ1.6~Φ3.5

0.1~0.55

50~80

30~50

1~4

22~55

0.6

Φ1.6~Φ3.5

0.1~0.55

90~160

60~100

1~4

30~75

0.9

Φ1.6~Φ3.5

0.1~0.55

135~250

90~150

1~4

37~90

1.2

Φ1.6~Φ3.5

0.1~0.55

180~320

120~190

1~4

45~110

1.5

Φ1.6~Φ3.5

0.1~0.55

200~380

140~230

1~4

55~132

2

Φ1.6~Φ3.5

0.1~0.55

260~500

220~300

1~4

75~160

3

Φ1.6~Φ3.5

0.1~0.55

400~700

300~450

1~4

90~220

4

Φ1.6~Φ3.5

0.1~0.55

500~1000

350~730

1~4

132~280
Packaging and Transportation of stainless steel wedge wire sieve bend seam: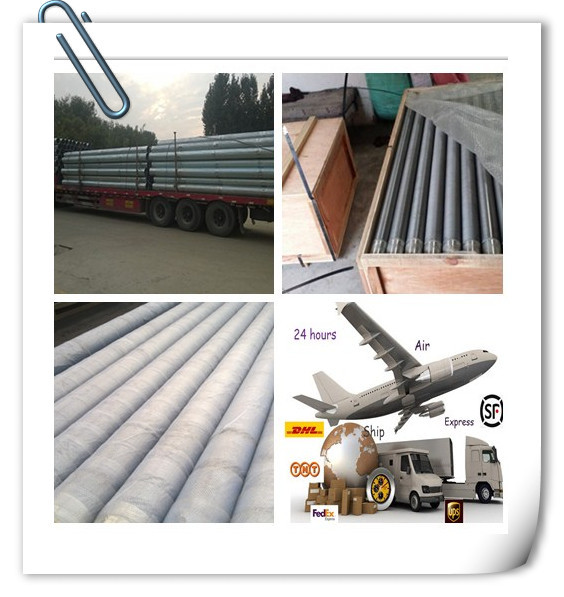 You may also be interested in the following product(s)