stainless steel Wedge Wire sieve bend screen
| | |
| --- | --- |
| Category: | Sieve Bend Screen |
| Material: | stainless steel |
| Properties: | sieve bend screen |
| Application: | sewage treatment, laundry wash water clean-up, poultry, fish, fruit and vegetable wastewater processing, minerals processing, coal preparation |
if you are interested in receiving more information or have a question regarding any of our products please fill out the form above and we will contact you within 24-48 hours.

Email:sales@ubowedgewire.com
Details of stainless steel Wedge Wire sieve bend screen
A sieve bend consists of a concave curved profile wire screen (also known as wedge wire / v / vee / wire screen) mounted in a frame with the screen openings perpendicular to the flow. A curved screen has greater capacity than a flat screen due to forces exerted as material flows against the curved surface.
Sieve bends are also known as DSM screens, after Dutch State Mines, who introduced the sieve bend as a static sizing screen having ten times greater capacity than conventional vibrating screens.
Used for stainless steel Wedge Wire sieve bend screen:
Typical uses are sewage treatment, laundry wash water clean-up, poultry, fish, fruit and vegetable wastewater processing, minerals processing, coal preparation, paper production, textile plants, and many more.
Advantages for stainless steel Wedge Wire sieve bend screen :
1. High opening rate, big filter area, fast filtering speed.
2. Good corrosion resistance and wear resistance.
3. Low using cost and long life span
4.Homogeneous slot size, smooth surface, strong permeability, minimum gap precision can be up to 8 microns.
Features for stainless steel Wedge Wire sieve bend screen :
1.Compact construction, heat resistant, rust-resistant, good mechanism performance,long working life, wear-resistant
2.well-proportioned screen aperture, not prone to jam, increase quality and efficiency of refined powder.
3. Proper construction, saving time and strength during installation and replacement, i.e. reducing time for installation, examination and maintenance, decreasing labor strength.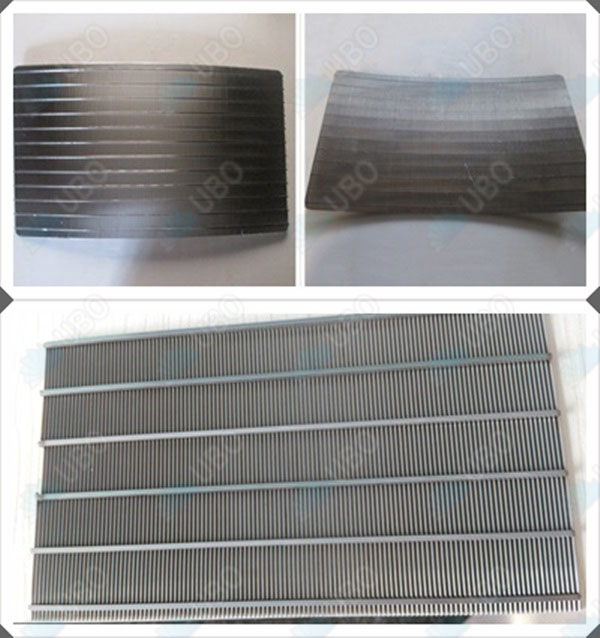 Specifications of stainless steel Wedge Wire sieve bend screen: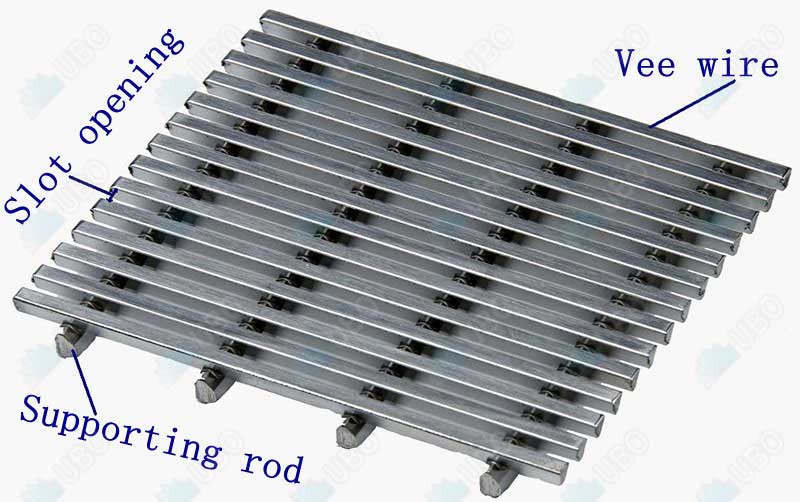 | | | | | | | | | |
| --- | --- | --- | --- | --- | --- | --- | --- | --- |
| Profile Wire | | | | | | | | |
| Width(mm) | 1.5 | 1.5 | 2.3 | 2.3 | 1.8 | 3.0 | 3.7 | 3.3 |
| Height(mm) | 2.2 | 2.5 | 2.7 | 3.6 | 4.3 | 4.7 | 5.6 | 6.3 |
| | | | | | | |
| --- | --- | --- | --- | --- | --- | --- |
| Support Rod | | | | | | Round |
| Width(mm) | 2.3 | 2.3 | 3.0 | 3.7 | 3.3 | Ø2.5~Ø5mm |
| Height(mm) | 2.7 | 3.6 | 4.7 | 5.6 | 6.3 | |
Packaging and Transportation of stainless steel Wedge Wire sieve bend screen:
Single with bubble bag and then in wooden case(fumigation certificate). Each case is clearlymarked with:
Name & identification mark of manufacturer
Batch number
Date of manufacture
Material
Safe heating & application temperature
You may also be interested in the following product(s)