AISI 304 slot water filter screen nozzle strainer
| | |
| --- | --- |
| Category: | Filter Nozzle |
| Material: | stainless steel 304,304L,316,316L,321,430 or as per your request. |
| Properties: | filter nozzle |
| Application: | water-treatment,beer brewing,water well drilling ,oil well drilling ,mineral processing, coal-cleaning plant, refining & petrochemical |
if you are interested in receiving more information or have a question regarding any of our products please fill out the form above and we will contact you within 24-48 hours.

Email:sales@ubowedgewire.com

Author: Maria
Details of AISI 304 slot water filter screen nozzle strainer
AISI 304 slot water filter screen nozzle strainers are made during simultaneous winding of specially profiled working wires on a spiral and welding them to carrying wires placed along the tube. This technology allows the production of wedge wire screen when very high gap precision and screen resistance are required. Due to using the newest welding technology we can obtain various distances between carrying wires, very accurate and repeatable gap and therefore produce screens according to customer's particular requirements.

Features of AISI 304 slot water filter screen nozzle strainer
Great mechanical strength
Highly resistant to abrasivity and vibration.
It can hold more pressure and temperature compared to the perforated sheet screen.
Longer screen life.
Larger useful area than that of the standard perforated sheet screen.
The wedge wire screen can be used in any of INOXPA filters.
The wedge wire screen is assembled to the filter body by clamp, this allows an easy and quick disassembling for cleaning.

It is possible to clean the wedge wire screen with a reversed flow (back flushing).
Application of AISI 304 slot water filter screen nozzle strainer
The product is especially suitable for fluids containing wax, asphalt and high viscosity. Widely used in coarse and fine filtration of water treatment of power oil wells, gas wells, wells, chemical, mining, paper making, environmental protection, metallurgy, food, sand, Decoration and other industries.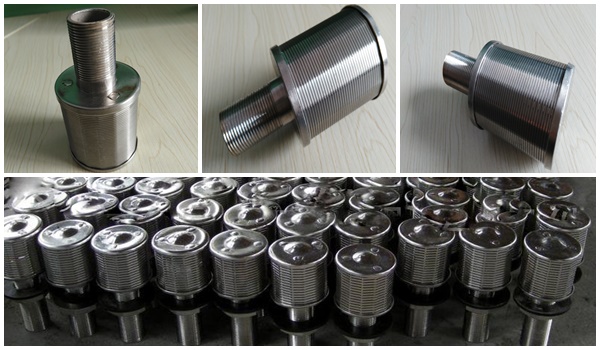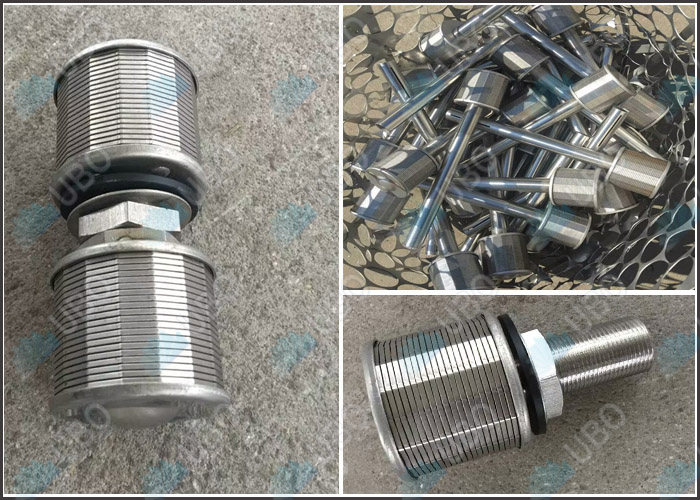 Specifications of AISI 304 slot water filter screen nozzle strainer:
Slot

(mm)

Dimension

Flow Rating

(M3/H)

D(mm)

H(MM)

L(MM)

Thread

Fittings

UBO-0.5

0.25

45

45

90/request

M,NPT, G, PT(BSPT),Z,BSP, request

SS Gasket,

Rubber gasket,

Nut, request

0.5

UBO-1.0

0.25

53

45

90/request

1.0

UBO-1.5

0.25

57

45

90/request

1.5

UBO-2.0

0.25

57

55

100/request

2.0

UBO-2.5

0.25

70

55

100/request

2.5

UBO-3.0

0.25

70

70

120/request

3.0

* All the above size are the normal size. Customized size is possible.

* UBO could help to design according to the application and requirement.

* The nozzles customized range as below:

1. Slot range: 0.05-2mm

2. Dimension: Diameter, Screen Height, Length could produce according to actual requirement and application

3. Thread according to requirement
Packaging and Transportation of AISI 304 slot water filter screen nozzle strainer: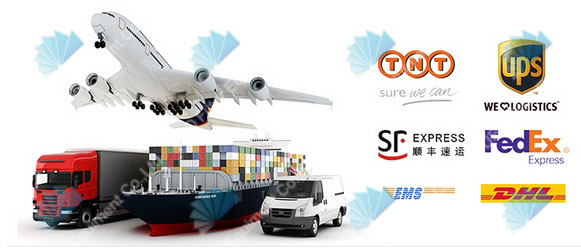 You may also be interested in the following product(s)