Advantage of Wedge Wire Screen in Centrifugal Dewatering Equipment
Welcome to UBO International Co.,LTD
Wedge wire screen basket is a key component of centrifugal dewatering equipment that is mainly used for centrifugal dewatering. It is widely used in coal, chemical, metallurgy, and other fields. It is a high-speed rotating part. The wedge wire screen in working not only needs to withstand vibration but also withstands the severe impact of coal and water. Therefore, its requirements for strength and accuracy are higher.
Now, the most commonly used component of centrifugal dewatering equipment is wedge wire screen basket.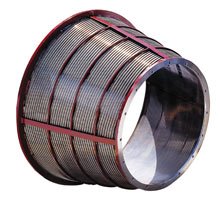 What are the unique advantages of wedge wire screen baskets?
1. Wedge Wire Screen baskets provide more filtration area and can withstand greater pressure.
2. Ring welding technology is the most advanced welding technology in wedge wire screen production, which makes the welding between the wedge wire and the support bar stronger, without stripping or deformation.
3. There are multiple longitudinal and transverse support bars on the outside of the wedge wire screen baskets, which greatly enhances the compressive strength of the wedge wire screen baskets.
4. Wedge wire screen basket has a unique continuous slotted structure, which guarantees more stable filtration and separation capabilities.
The unique structure and characteristics of the wedge wire screen basket have been widely used in centrifugal dewatering equipment. In addition, with continuous customer feedback and continuous improvement in the process of wedge wire screen basket manufacturing, we believe that our wedge wire screen baskets will play a greater role in centrifugal dewatering equipment.
And please contact us or leave a message to us if you are looking for the centrifugal dewatering equipment.
Who We Are?
UBO Company is the professional supplier in China. It is always committed to study, design and produce wedge wire screen products for industry filter.Now its products include wedge wire screen panel, filter nozzle, cylinder,basket,pipe, Sieve Bend Screen,Profile Screen Laterals,etc.
What Is wedge wire screen
Wedge Wire Screens is a sieve made from looped wires formed into a deep wedge-shaped section. The wedge wire screens can be supplied in various shapes and forms as FLAT PANELS, CURVED SIEVE BENDS, CONICAL BASKETS, CYLINDERS, TROUGHS DISKS either in one one piece or in segments.
our advantages
Professtional, we have our Engineering designers
We are the factory
Quality is our cluture and soul
Customized. We produce and design according to your need
Low cost and high efficient