Wedge Wire for Filtration
Wedge wire
Wedge wire, or as it's sometimes known, profile bar, is mostly used in the manufacture of screens. It is classified as a type of screen wire as it is associated with a family of shapes that are utilized in the manufacture of screens, which are situated in a wide range of applications.
Construction Profiles
We offer numerous combinations of profile wires and support rods. Wedge Wire Screen is created by wrapping a profile wire cylindrically around longitudinally placed support rods. The wide range of apertures between the wires and rods allows us to design a screen according to our customers' technical or structural specifications.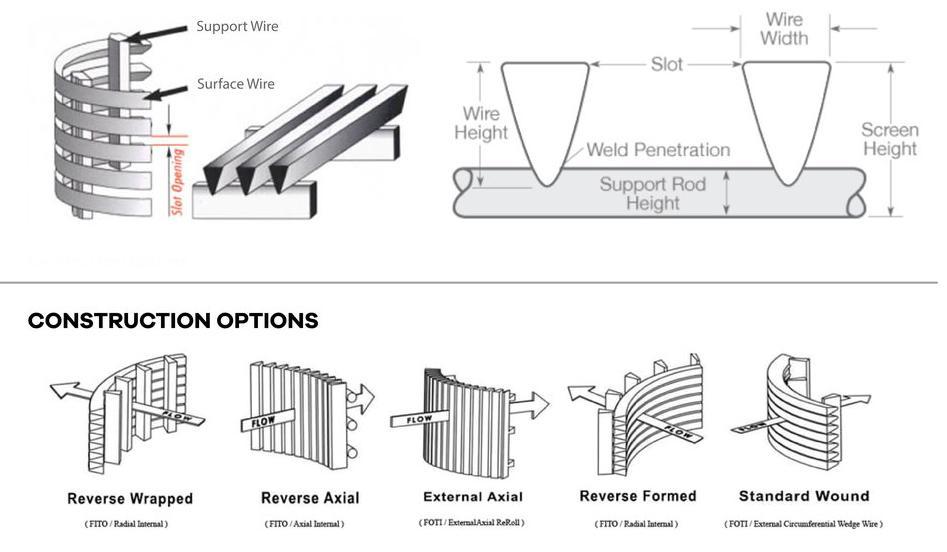 Quality is tested throughout the product life cycle to ensure our mission: Customer Satisfaction.
Benefits of using wedge wire:
1. Slot during abrasive operation on the screen surface does not change
2. Capability to withstand heavy loads
3. Less prone to clogging
4. High precision of execution Increased capacity and more precise separation
5. Low pressure loss
6. Permanence of exploited resources
WHAT WE DO?
Wedge wire screens are manufactured either by loop or welded technology presently in China, in our endeavour for maintaining high standards of wedge wire screen the actual process begins with the highest quality raw wire then is made into screen tube,panel, nozzle, basket, resin traps,etc.