Introduction and feature of UBO filtration nozzles
UBO filtration nozzles for water treatment have been manufactured for over many years. Applications include: treatment of drinking water, demineralised water production, urban and industrial waste water treatment, filtration of river/well water for irrigation, water for swimming pools, steel works, food production, etc.

A comprehensive knowledge base and experience of nozzle application in a wide range of fields has resulted in extensive choice of differentiating nozzles and accessories. We can offer expert advice in designing, sizing and selecting the ideal drainage and distribution systems of pressure filters and gravity filters, using various filtering materials, from sand to ion exchange resins.

Nozzles can be produced in an infinite combination of stem lengths, stem diameter, thread, air holes air slots and strainer slotted widths due to a flexible system of moulds. Nozzles are normally produced in stainless steel.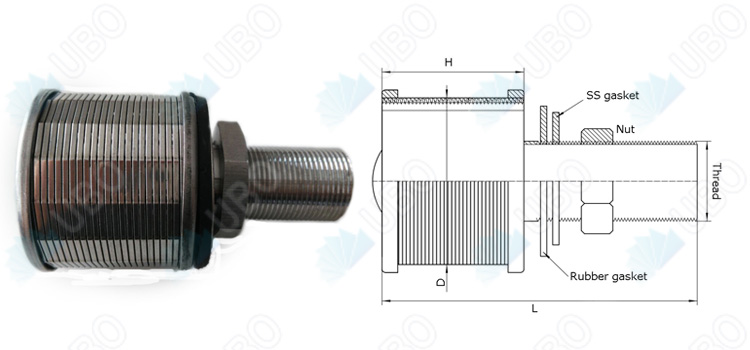 Feature
Excellent roundness
Very good slot width precision
High mechanical load capacity
No form closure connection that would allow vibration of the profiled bars V-shaped wire around the twin tube water cap for metallurgical industry
Automated welding process for high-precision manufacturing
Perfectly adjusted screen basket profiles
Available for all screens
Surface finishing as required