Wedge Wire screen mash tun panel
| | |
| --- | --- |
| Category: | Wedge Wire Screen Panel |
| Material: | stainless steel 304,304L,304HC,316,316L,321,430 or as per your request. |
| Properties: | lauter tun screen |
| Application: | beer brewery,water-treatment , water well drilling ,oil well drilling |
if you are interested in receiving more information or have a question regarding any of our products please fill out the form above and we will contact you within 24-48 hours.

Email:sales@ubowedgewire.com

Author: Maria
Details of Wedge Wire screen mash tun panel
UBO manufacture wedge wire mash tun screens are ideal for use in micro-brewing and distillery applications. The screen restricts grains from being collected with the wort when it is drawn from the mash in preparation for the boil. The screen offers a high open area, providing optimum extraction.
Wedge Wire mash tun panel can be manufactured as a single unit or with removable sections for easy installation or removal through service doors and manways.Wedge wire false bottom are used in the craft beer brewing process between the mash tun and the brew kettle. The lauter tun separates the barley husks from the clear liquid wort. The barley husks provide a natural filter bed through which the wort is strained and drains out of the lauter tun as a clear liquid.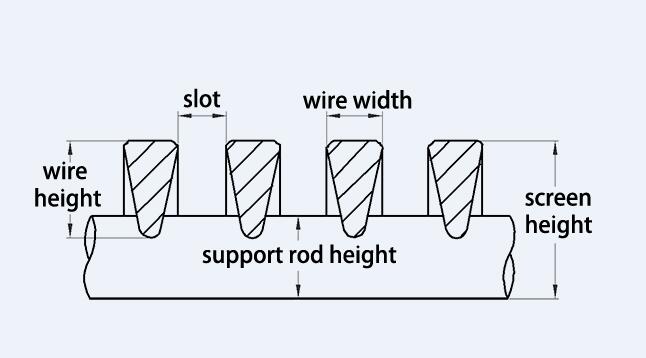 Applications of Wedge Wire Screen Mash Tun Panel
False bottoms are widely used in Lauter tun, mash tun, boiling kettle, whirlpool, fermentation tank, bright tank, hot water tank, beer brewery, beer equipment, sugar industry, chemical and potassium industry, breweries, food industry (extraction of coffee or tea).
Wedge Wire wedge wire screen mash tun floorsused in mash tun,lauter tuns in breweries. On the mash hot water is applied to create the wort. The false bottom consists out of segments, which can pas through the manhole. The V-shaped (wedge wire) solution has a larger open area then the conventional milled plate false bottom.
Features of Wedge Wire Screen Mash Tun Panel
1) Wedge wire screen style isn't easy to be locked
2) Due to the different pressure between inside from outside, it could be very easily to clean the plugging material.
3) UBO factory promise the best quality to have a high filtering accuracy, high strengh and durability.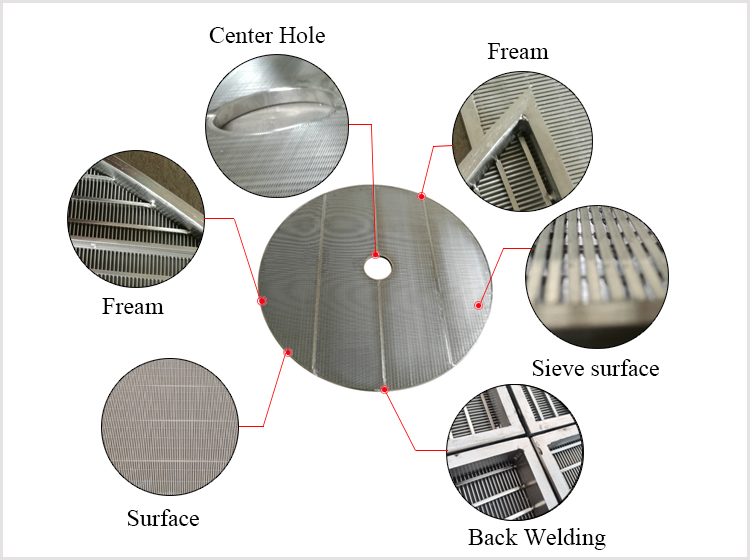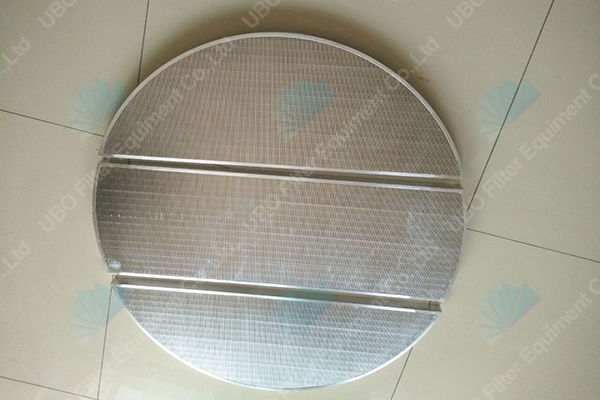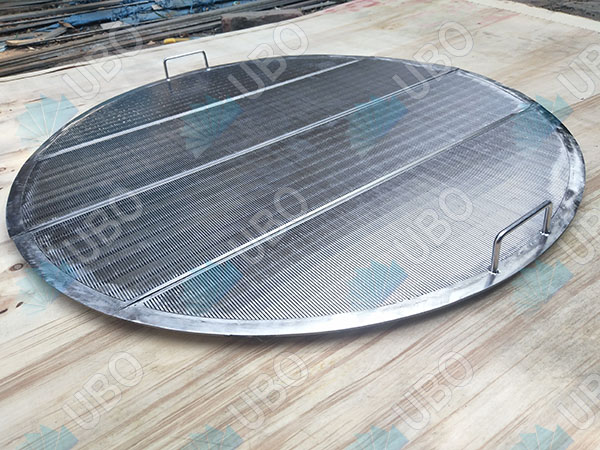 Specifications of Wedge Wire screen mash tun panel: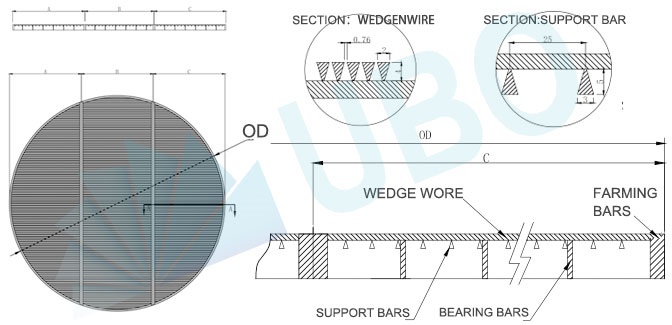 Normal Name

Lauter Tun Screen, Mash Tun Screen, False Bottom Screen, Etc.

Diameter Range

(MM)

200mm To 2500mm. Diameter Customized

Normal Diameter

(MM)

29", 30", 35", 37", 40", 45", 47", 59", 63", 74", Etc

Normal Slot

(MM)

0.7mm, 0.75mm, 0.8mm, 1.0mm, customized

Normal Thickness (MM)

8.5mm, 20mm. 25mm, 30mm, 40mm, 50mm, Customized.

Sections & shape

1 Cycle, 2 PCS, 3 PCS, 4 PCS, 6 PCS, 8 PCS. Customized

Wedge wire

(MM)

2x4MM Wedge Wire, 3x5MM Wedge Wire

Support Rod

(MM)

3x5MM V shaped Support Rod, 3x5mm Square Support Rod

Strengthen Rod

(MM)

Thickness and Height according to the diameter and screen thickness

Note

Usually customized.
Packaging and Transportation of Wedge Wire screen mash tun panel: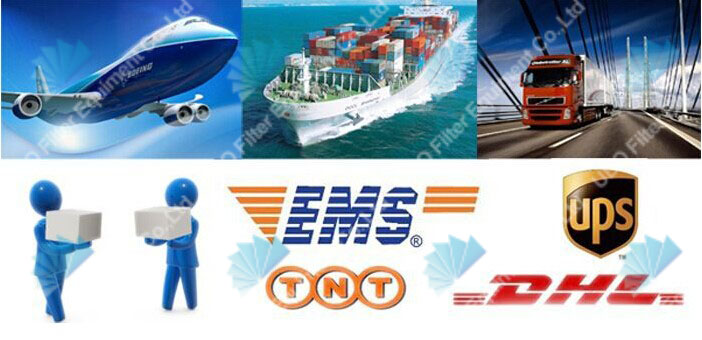 You may also be interested in the following product(s)