Industrial Wedge Wire Screens Cylindrical
| | |
| --- | --- |
| Category: | Wedge Wire Screen Basket |
| Material: | stainless steel 304,304L,304HC,316,316L,321,430 or as per your request. |
| Properties: | wedge wire screen |
| Application: | water-treatment , water well drilling ,oil well drilling ,mineral processing, coal-cleaning plant |
if you are interested in receiving more information or have a question regarding any of our products please fill out the form above and we will contact you within 24-48 hours.

Email:sales@ubowedgewire.com
Details of Industrial Wedge Wire Screens Cylindrical
Industrial Wedge Wire Screens Cylindricals are are high Technology Wedge Wire Screen Cylinders For Filtration Industrial Screens With 300 Micron Filtering Slot. It has high strength, stiffness and load-bearing capacity. Wedge Wire Screens provide a unique combination of the most important features required for maximum screening efficiency.
Feature of Industrial Wedge Wire Screens Cylindrical
1. Free Clearance
The wedge-shaped sections of the wire form apertures that become progressively wider in a
downward direction, thus ensuring rapid flow of material through them. Clogged and blinded apertures are reduced to an absolute minimum.

2. Lateral Strength
In our opinion no form of screening surface with apertures as fine as those of wedge wire screens, can compare with the mechanical strength and working efficiency of wedge wire.

3. Percentage Open Area
For a given aperture size, wedge wire screens have a much larger percentage of open area than conventional sieves.

4. Wearing Life
Owing to a greater wearing area being provided by flat top surfaces, wedge wire screens retain their aperture for a longer duration than round wire screens.
* Some other advantages of Looped type of wedge wire screens over other type of screens and also other type of wedge wires are
a) Self Supporting
b) High Abrasition resistance
c) Low pressure drop
d) High resistance to Vibration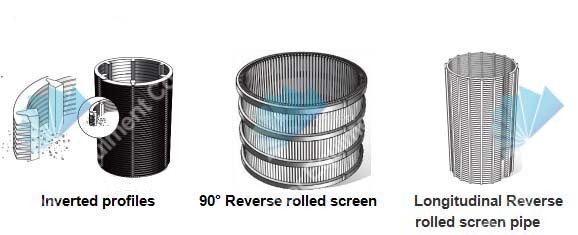 Characteristics of Industrial Wedge Wire Screens Cylindrical
Easy to leak,wear and corrosion resistance.Net wire cross section is trapezoidal.
Sieve made of stainless steel wire cold rolled section,shall support the use of automation production equipment sieve welded seam screen uniformity,welding quality and stability,opening rate,long life,has high strength,stiffness and carrying capacity,can be molded into the shape of rigid screening filter.
Usage of Industrial Wedge Wire Screens Cylindrical
Be suitable for all kinds pressure screen in pulp making system and paper making system.
Our Industrial Wedge Wire Screens Cylindrical has been exported to India, Bangladesh, Iran and other countries. All the customers satisfy with our products with a high quality and competitive price. We also can produce the products according to your detailed requirements with drawings.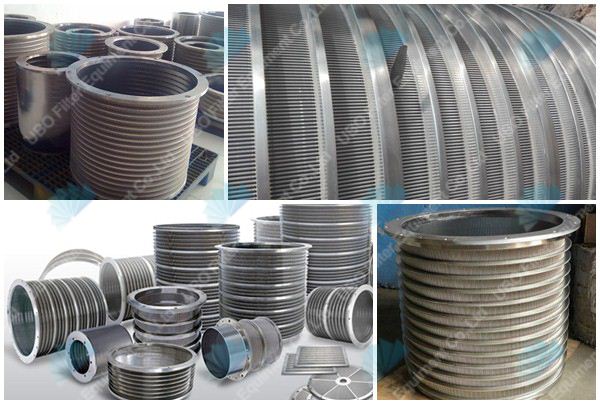 Specifications of Industrial Wedge Wire Screens Cylindrical: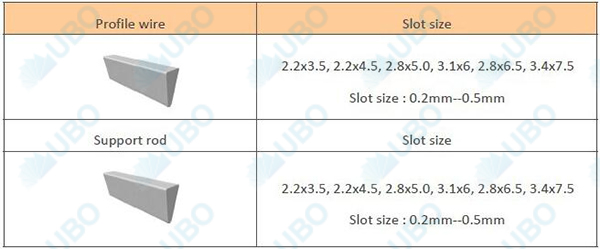 Industrial Wedge Wire Screens Cylindrical
Material
stainless steel 304,316,316Letc
Width of slot
0.02mm
Size
Min
Max
Inside Diameter
305mm
1900mm
Height of screen
267mm
1650mm
Thickness of screen plate
5mm
10mm
Packaging and Transportation of Industrial Wedge Wire Screens Cylindrical: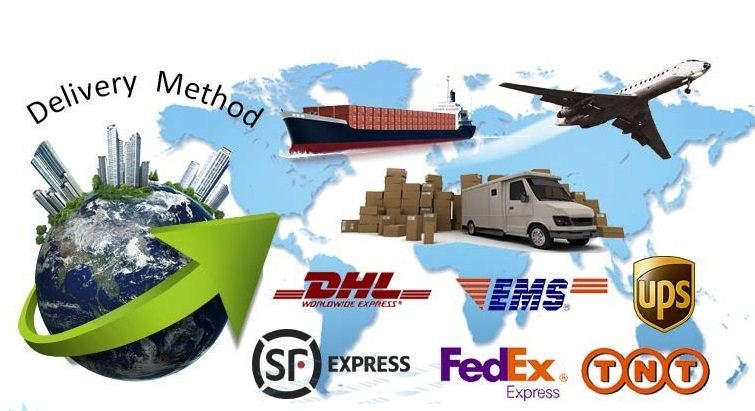 You may also be interested in the following product(s)