Wedge Wire Screen Filter Pipe for Oil Well
| | |
| --- | --- |
| Category: | Wedge Wire Application |
| Material: | SS 304,316,316L, Stainless steel and carbon steel. |
| Properties: | Wedge wire screen |
| Application: | oil exploitation,water wells, water supply system,waste gas, high-temperature gas |
if you are interested in receiving more information or have a question regarding any of our products please fill out the form above and we will contact you within 24-48 hours.

Email:sales@ubowedgewire.com
Details of Wedge Wire Screen Filter Pipe for Oil Well
V-wire Screen is manufactured with V-shaped profile wire, which is spirally wound around a cage of longitudinal support rods. Each intersection point of these wires if fusion welded. The pitch of winding gives different spacing between two adjacent turns of wire. This spacing gives passage for water to enter. The entire process is completed on fully computerized machines.
Application for Wedge Wire Screen Filter Pipe for Oil Well:
Wedge wire screen pipe is applied to the sand prevention in the oil exploitation. For instance, it can be used to the sand anchor. It is also applicable for the water wells and water supply system. Besides that, you can use it to handle waste gas, high-temperature gas.
Features for Wedge Wire Screen Filter Pipe for Oil Well:
Welded stainless steel wire wrapped pipe screen pipe is made up of rods and profile wire. The rod can be round wire, triangular wire or trapezoid wire. The profile wire is triangular wire (V-shaped wire). This type of pipe screen has a structure and high open area, as well as accurate slot dimension. At the same time, stainless steel pipe screen has heat-resisting, anti-corrosive, good machine capability, last long, safety and reliability and so on characteristics. It can be used in many kinds of medium filtering.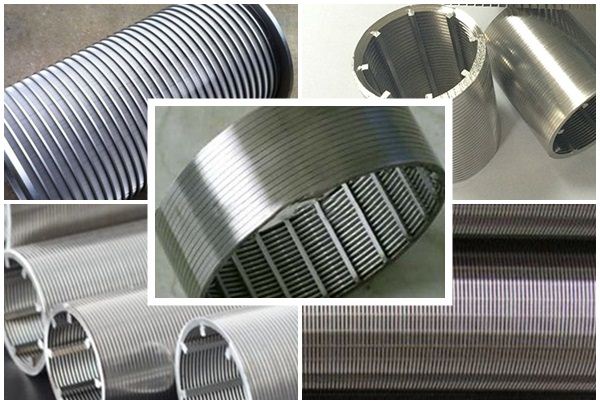 Specifications of Wedge Wire Screen Filter Pipe for Oil Well: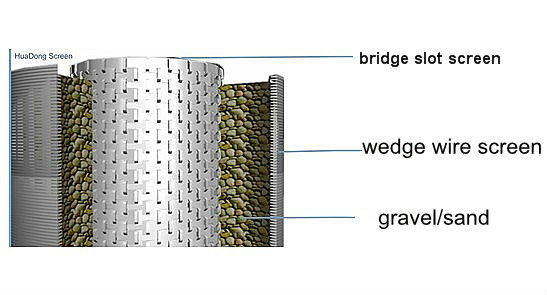 Screen Area

(m2)

Sieve hole size (mm)

Seam Size (mm)

Screen Hole (T/D)

Screen Slot (T/D)

Inlet pulp consistency (%)

Motor Power (Kw)

0.3

Φ1.6~Φ3.5

0.1~0.55

50~80

30~50

1~4

22~55

0.6

Φ1.6~Φ3.5

0.1~0.55

90~160

60~100

1~4

30~75

0.9

Φ1.6~Φ3.5

0.1~0.55

135~250

90~150

1~4

37~90

1.2

Φ1.6~Φ3.5

0.1~0.55

180~320

120~190

1~4

45~110

1.5

Φ1.6~Φ3.5

0.1~0.55

200~380

140~230

1~4

55~132

2

Φ1.6~Φ3.5

0.1~0.55

260~500

220~300

1~4

75~160

3

Φ1.6~Φ3.5

0.1~0.55

400~700

300~450

1~4

90~220

4

Φ1.6~Φ3.5

0.1~0.55

500~1000

350~730

1~4

132~280
Packaging and Transportation of Wedge Wire Screen Filter Pipe for Oil Well: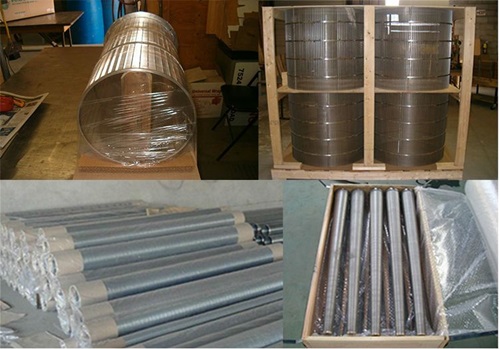 You may also be interested in the following product(s)