Sieve bend screen
| | |
| --- | --- |
| Category: | Wedge Wire Application |
| Material: | stainless steel304,316,316L |
| Properties: | wedge wire screen |
| Application: | filtration, industry filtration, food filtration |
if you are interested in receiving more information or have a question regarding any of our products please fill out the form above and we will contact you within 24-48 hours.

Email:sales@ubowedgewire.com

Author: Maria
Details of Sieve bend screen
The dewatering capacity of a wedge wire cross flow sieve bend screen is primarily influenced by the screen width, the slot opening, and the wire size (width). The chart below shows typical dewatering capacities in US gallons per minute (GPM) per foot of screen width. Actual capacity varies depending on the feed content and desired efficiency.
The dewatering capacity of cross flow dewatering screens such as the sieve bend can be greatly increased by tilting the wedge wires. The wedge wires are tilted 2 to 7 degrees depending on the wire size and slot opening.

The effective range of slot openings for a gravity-fed cross flow sieve bend screen is generally considered to be .015" to 1/8". The installation angle of a sieve bend screen is usually 50 to 60 degrees from the horizon.
The point of size separation is approximately 50% of the slot opening size.
Advantages of Sieve Bend Screen
-- High strength;
-- Good resistance to abrasion and corrosion;
-- High rigidity;
-- Good in filtration and fluidity;
-- Flat panel surface;
-- Fairly well precision and roundness;
-- Long work time.
-- Easy to clean and back wash;
-- Uniform gap.
Application of Sieve Bend Screen
-- Mineral processing
-- Sugar industry
-- Starch industry
-- Food processing
-- Brewing industry
-- Sewage water treatment
-- Dewatering of granular material in general
-- Liquid and solid sep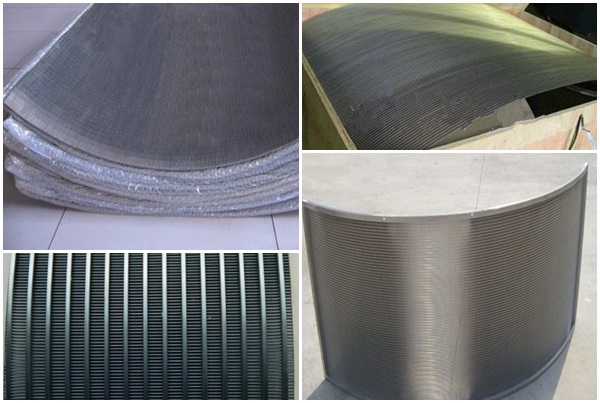 Specifications of Sieve bend screen:
| | | | | |
| --- | --- | --- | --- | --- |
| | Wire Width | Wire Height | Relief Angle | Typical Support Rods |
| 30V | .030" | .06" | 10 | .125" round |
| 45V | .045" | .09" | 10 | .125" round |
| 63V | .063" | .11" | 13 | .156" round |
| 69U | .069" | .17" | 8 | .075" x 1" bar |
| 93V | .093" | .15" | 13 | .25" round or .075" bar |
| 93U | .093" | .17" | 5 | .25" or .38" round |
| 125V | .125" | .20" | 13 | .38" round |
Packaging and Transportation of Sieve bend screen: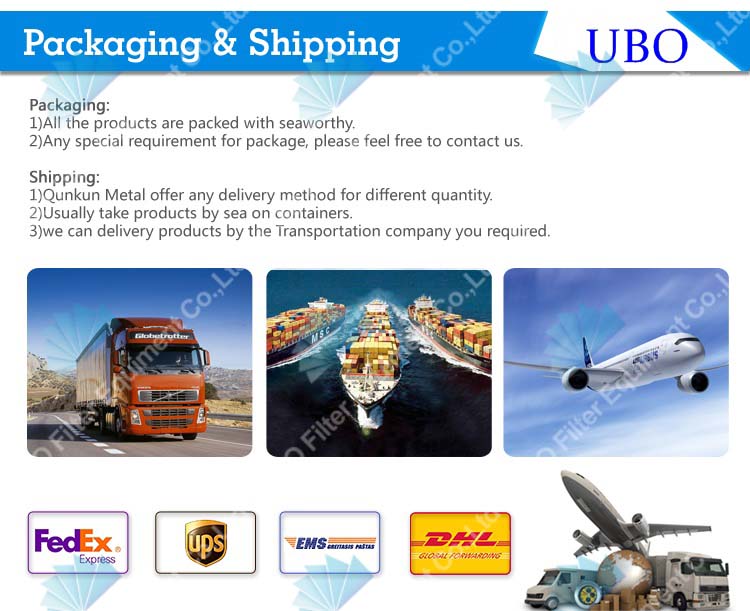 You may also be interested in the following product(s)