SUS316 wedge wire well screen filter baskets used as Rotary drum Screens
| | |
| --- | --- |
| Category: | Wedge Wire Application |
| Material: | SS 304,316,316L, Stainless steel and carbon steel. |
| Properties: | Wedge Wire Pipe |
| Application: | food processing, waste water filtration, pulp and paper as well as mineral processing applications |
if you are interested in receiving more information or have a question regarding any of our products please fill out the form above and we will contact you within 24-48 hours.

Email:sales@ubowedgewire.com
Details of SUS316 wedge wire well screen filter baskets used as Rotary drum Screens
Drum Sieve used to separate materials by size, for example, separating the biodegradable fraction of mixed municipal waste or separating different sizes of mulch or crushed stone. Production rates can vary from 20 to 30 yards an hour to several hundred yards of material an hour based on number of factors described in this article.Drum Sieve is widely used for grading and screening materials in the fields such as coal-selecting, mining-selecting, building materials, electrical power and chemical industry, etc. And we supplies suitable type according to customers' demands.
Applications for SUS316 Wedge Wire Well Screen Filter Baskets for Rotary Drum Screens:
Trommel drum screen can be used in food processing, waste water filtration, pulp and paper as well as mineral processing applications. Wedge wire or profile screen half cylinders can be added to an auger or screw press to separate solids from liquids in food, waste water, minerals and industrial grit/chips from coolant.
Features for SUS316 Wedge Wire Well Screen Filter Baskets for Rotary Drum Screens:
1) Low cost, for alluvial gold plant.
2) Includes the washing function and separating function, very high efficiency,pay back very soon.
3) Small Volume,Easy Movable,Support Wheels.
4) Diesel enigne/electric motor available.
5) Easy and convinient operation.
6) Strong body, our engineer has redesigned the frame, use thicker and stronger material for all the part.
7) The size and capacity can be customized.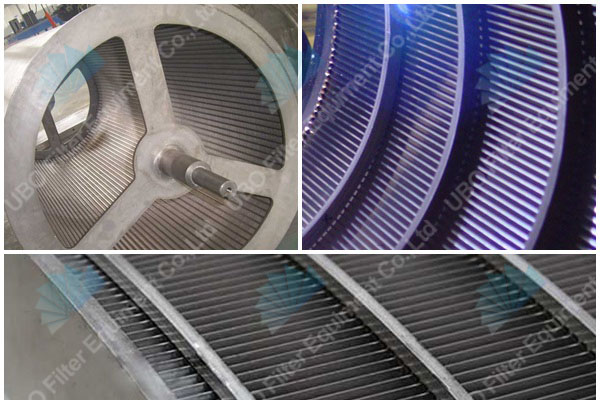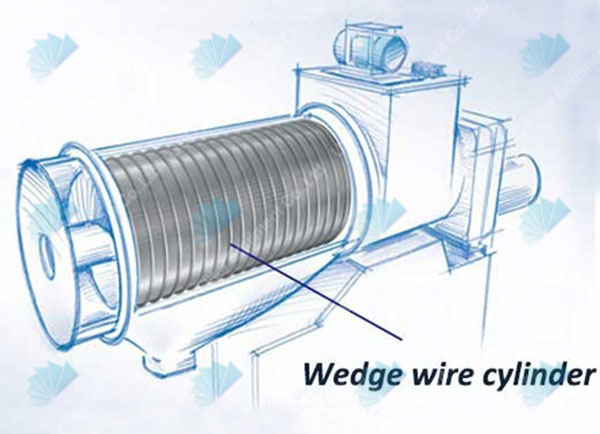 Specifications of SUS316 wedge wire well screen filter baskets used as Rotary drum Screens: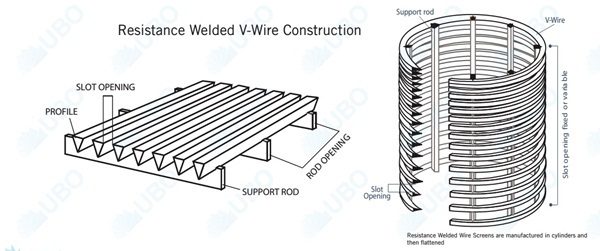 Specification (wedge wire):

Width(mm): 1.50 1.80 2.30 3.00 3.30 3.70

Height(mm): 2.20 2.50 2.70 3.60 4.30 4.70 5.60 6.30 7.00

Specification (support rod):

Width(mm): 2.30 3.00 3.30 3.70

Height(mm): 2.70 3.60 4.70 5.60 6.30

Round: From 2.50mm to 6.0mm

Note: other specifications available as per request

Slot size

0.10, 0.15, 0.20, 0.25, 0.30…… 6.00mm also achieved upon request.

Material:

galvanized low carton (LCG), stainless steel (304,316 etc.)

Length

up to 6 meters.

Diameter

from 25mm to 1200mm.

End connection

Plain beveled ends, flanged or threaded couplings
Packaging and Transportation of SUS316 wedge wire well screen filter baskets used as Rotary drum Screens: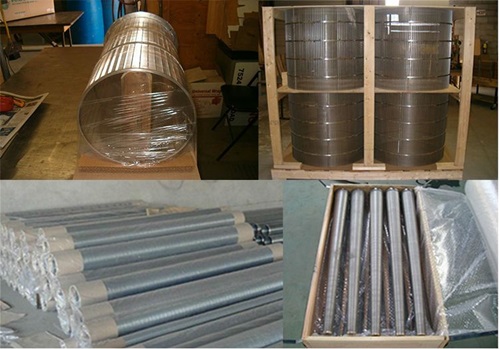 You may also be interested in the following product(s)