Reversed Stainless Steel Drum Screen Basket for Food Plants
| | |
| --- | --- |
| Category: | Wedge Wire Application |
| Material: | SS 304,316,316L, Stainless steel and carbon steel. |
| Properties: | Wedge Wire Cylinder |
| Application: | food processing, waste water filtration, pulp and paper as well as mineral processing applications |
if you are interested in receiving more information or have a question regarding any of our products please fill out the form above and we will contact you within 24-48 hours.

Email:sales@ubowedgewire.com
Details of Reversed Stainless Steel Drum Screen Basket for Food Plants
Screw presses are used in a wide variety of dewatering applications, often in the same applications as belt presses, centrifuges, and filter presses. The screw press is a simple, slow moving mechanical device. Dewatering is continuous and is accomplished by gravity drainage at the inlet end of the screw and then by reducing the volume as the material being dewatered is conveyed from the inlet to the discharge end of the screw press.
Application of Wedge Wire Pressure Screen Basket for Paper Making:
Our products are widely used for wine-making, malting, paper-making, mining, crement-producing, food-processing, oil-refining, painting as well as the industries of cigarette, sugar, foodstuff, noise-sliencer, environmental protection, agricultural machine, chemical industry and pharmacy industry.
Advantages of Wedge Wire Pressure Screen Basket for Paper Making:
1) Economical and efficient solution for screening;
2) Heavy duty trommel drum with lifters at the front to facilitate material break up;
3) Screen replaceable for different mesh sizes;
4) Multilayer screens;
5) Easily change screen plates;
6) High efficiency and big capacity;
7) Unique screen design, result in higher capacities, longer screen life and no material clogging;
8) Heavy duty feed hopper;
9) Discharge chute;
10) Gear drive mechanism.
Features of Wedge Wire Pressure Screen Basket for Paper Making:
A continuous slot opening which significantly increases the available open area, thus providing a greater access to the water bearing zone.
Wedge wire which avoids clogging and ensures uninterrupted flow.
Ladder-like wire welded screens have the features of easy backwashing, last long, safety and reliability as well as low comprehensive cost.
The rod can be round wire, triangular wire or trapezoid wire. The warp is triangular wire (V-shaped wire).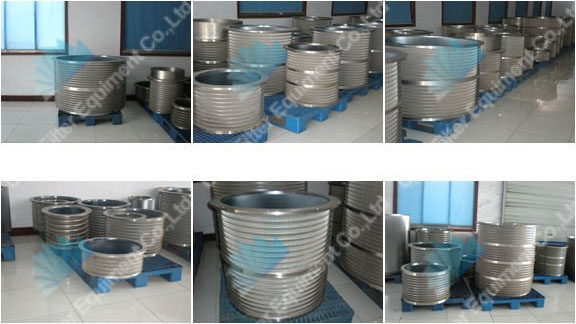 Specifications of Reversed Stainless Steel Drum Screen Basket for Food Plants: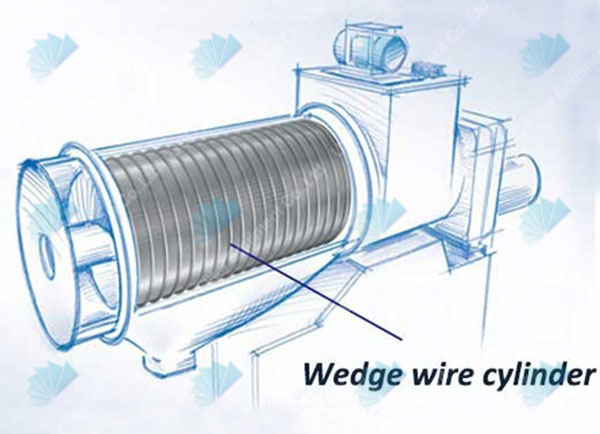 Screen Area

(m2)

Sieve hole size (mm)

Seam Size (mm)

Screen Hole (T/D)

Screen Slot (T/D)

Inlet pulp consistency (%)

Motor Power (Kw)

0.3

Φ1.6~Φ3.5

0.1~0.55

50~80

30~50

1~4

22~55

0.6

Φ1.6~Φ3.5

0.1~0.55

90~160

60~100

1~4

30~75

0.9

Φ1.6~Φ3.5

0.1~0.55

135~250

90~150

1~4

37~90

1.2

Φ1.6~Φ3.5

0.1~0.55

180~320

120~190

1~4

45~110

1.5

Φ1.6~Φ3.5

0.1~0.55

200~380

140~230

1~4

55~132

2

Φ1.6~Φ3.5

0.1~0.55

260~500

220~300

1~4

75~160

3

Φ1.6~Φ3.5

0.1~0.55

400~700

300~450

1~4

90~22
Packaging and Transportation of Reversed Stainless Steel Drum Screen Basket for Food Plants: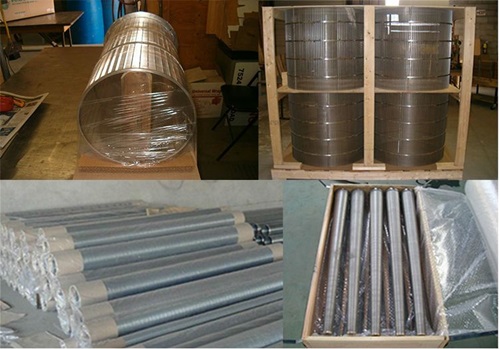 You may also be interested in the following product(s)