ASTM316HC Oilfield Solids Control System Basket Centrifuge
| | |
| --- | --- |
| Category: | Wedge Wire Application |
| Material: | SS 304,316,316L, Stainless steel and carbon steel. |
| Properties: | Wedge Wire Cylinder |
| Application: | waste water filtration, pulp and paper as well as mineral processing applications. Wedge wire or profile screen half cylinders can be added to an aug |
if you are interested in receiving more information or have a question regarding any of our products please fill out the form above and we will contact you within 24-48 hours.

Email:sales@ubowedgewire.com

Author: Jane
Details of ASTM316HC Oilfield Solids Control System Basket Centrifuge
We have approached scientifically to screening and separating of fiber, and made the utility maximized. In addition,with the superior technology with surface treatment, we're adding the nice look to the screen basket, and make the life of the screen basket much longer. Screen basket of Sinostar guarantees progressive lowering production cost, elevation of productivity improvement of quality for your company. UBO wire is selected optionally considering the length of fiber, dissociation or separation, type of paper, productivity, efficiency on elimination of foreign substance, and durability of screen Basket.
Application for ASTM316HC Oilfield Solids Control System Basket Centrifuge:
Our products are widely used for wine-making, malting, paper-making, mining, crement-producing, food-processing, oil-refining, painting as well as the industries of cigarette, sugar, foodstuff, noise-sliencer, environmental protection, agricultural machine, chemical industry and pharmacy industry.
Features for ASTM316HC Oilfield Solids Control System Basket Centrifuge:
1) Low cost, for alluvial gold plant.
2) Includes the washing function and separating function, very high efficiency,pay back very soon.
3) Small Volume,Easy Movable,Support Wheels.
4) Diesel enigne/electric motor available.
5) Easy and convinient operation.
6) Strong body, our engineer has redesigned the frame, use thicker and stronger material for all the part.
7) The size and capacity can be customized.
Working Principle for ASTM316HC Oilfield Solids Control System Basket Centrifuge:
Roller device tilt installed on the rack. Motor by the reducer with roller device through shaft coupling, drive roller device around its axis of rotation. When the materials enter the cylinder device, due to tilt and turn the drum unit, make the material on the surface of the screen to flip and rolling, the qualified materials (undersize) after roller end at the bottom of the discharging mouth eduction, unqualified material (product) on the screen by the cylinder at the end of the discharging mouth eduction. Due to the flip, rolling material inside the drum, the card in the mesh material can be pop up, prevent the mesh plug. Sand screen drum, drum screen, and the principle of the drum screen is almost the same structure, is people's understanding of it and call it.

Specifications of ASTM316HC Oilfield Solids Control System Basket Centrifuge: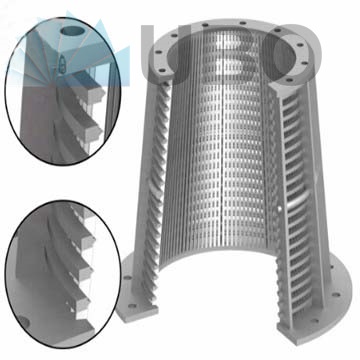 Specification (wedge wire):

Width(mm): 1.50 1.80 2.30 3.00 3.30 3.70

Height(mm): 2.20 2.50 2.70 3.60 4.30 4.70 5.60 6.30 7.00

Specification (support rod):

Width(mm): 2.30 3.00 3.30 3.70

Height(mm): 2.70 3.60 4.70 5.60 6.30

Round: From 2.50mm to 6.0mm

Note: other specifications available as per request

0.10, 0.15, 0.20, 0.25, 0.30…… 6.00mm also achieved upon request.

galvanized low carton (LCG), stainless steel (304,316 etc.)

Plain beveled ends, flanged or threaded couplings
Packaging and Transportation of ASTM316HC Oilfield Solids Control System Basket Centrifuge:
You may also be interested in the following product(s)