Stainless Steel filter slot wedge wire screen cylinder
| | |
| --- | --- |
| Category: | Wedge Wire Pipe&Cylinder |
| Material: | SS 304,316,316L, Stainless steel and carbon steel. |
| Properties: | Wedge wire screen cylinders |
| Application: | ood processing, waste water filtration, pulp and paper as well as mineral processing applications |
if you are interested in receiving more information or have a question regarding any of our products please fill out the form above and we will contact you within 24-48 hours.

Email:sales@ubowedgewire.com
Details of Stainless Steel filter slot wedge wire screen cylinder
The Wedge Wire Screen Cylinder is composed of rod strips and V shaped wires through manufacturing on specialized welding machine.The rib strips and V shaped wires will be welded by resistance welding, has enough welding strength, equally slot gap, high corrosion resistance, large filter area, good permeability, simple structure
Application for Stainless Steel Wedge Wire filter continuous slot wedge wire screen cylinder:
Our stainless steel cylinders can be used in food processing, waste water filtration, pulp and paper as well as mineral processing applications. Wedge wire or profile screen half cylinders can be added to an auger or screw press to separate solids from liquids in food, waste water, minerals and industrial grit/chips from coolant.
Introduction for Stainless Steel filter slot wedge wire screen cylinder:
Wedge Wire wedge wire screens are manufactured by a v or wedge shaped wire around an internal array of longitudinal support rods. Each intersecting point of these wire is fusion welded.The v or wedge shaped profile wire wraps around the support rods over the full length of the screen creating a continuous slot opening, hence the screen allows water (oil) to enter your well freely in ample quantities,while at the same time keeps the majority of sand and gravel out of the well.
Features for Stainless Steel filter slot wedge wire screen cylinder:
• A continuous slot opening which significantly increases the available open area, thus providing a greater access to the water bearing zone.
• Wedge wire which avoids clogging and ensures uninterrupted flow.
• Ladder-like wire welded screens have the features of easy backwashing, last long, safety and reliability as well as low comprehensive cost.
• The rod can be round wire, triangular wire or trapezoid wire. The warp is triangular wire (V-shaped wire).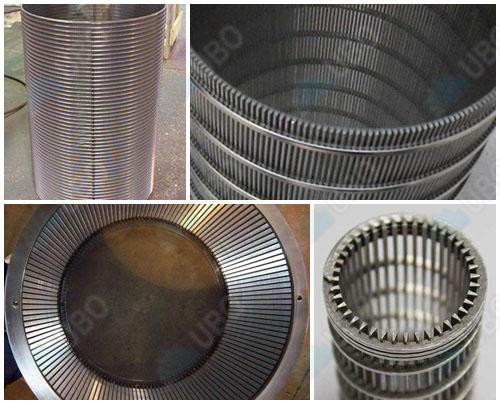 Specifications of Stainless Steel filter slot wedge wire screen cylinder:

Specification (wedge wire):

Width(mm): 1.50 1.80 2.30 3.00 3.30 3.70

Height(mm): 2.20 2.50 2.70 3.60 4.30 4.70 5.60 6.30 7.00

Specification (support rod):

Width(mm): 2.30 3.00 3.30 3.70

Height(mm): 2.70 3.60 4.70 5.60 6.30

Round: From 2.50mm to 6.0mm

Note: other specifications available as per request

Slot size

0.10, 0.15, 0.20, 0.25, 0.30…… 6.00mm also achieved upon request.

Material:

galvanized low carton (LCG), stainless steel (304,316 etc.)

Length

up to 6 meters.

Diameter

from 25mm to 1200mm.

End connection

Plain beveled ends, flanged or threaded couplings
Packaging and Transportation of Stainless Steel filter slot wedge wire screen cylinder: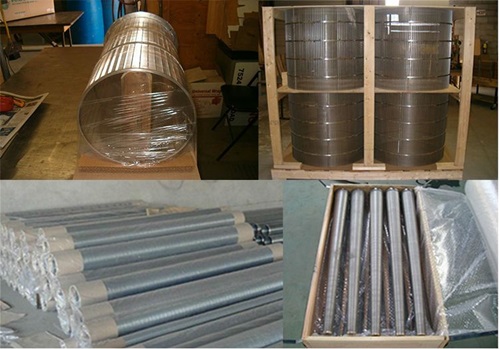 You may also be interested in the following product(s)