SS Wedge Wire All-welded Wire Wrapped Screen
| | |
| --- | --- |
| Category: | Wedge Wire Pipe&Cylinder |
| Material: | SS 304,316,316L, Stainless steel and carbon steel. |
| Properties: | Wedge Wire Pipe |
| Application: | Sugar, Coal Mining & Quarrying, Mineral Processing, Cement, and Industrial & Urban Effluent Treatment etc |
if you are interested in receiving more information or have a question regarding any of our products please fill out the form above and we will contact you within 24-48 hours.

Email:sales@ubowedgewire.com

Author: Jane
Details of SS Wedge Wire All-welded Wire Wrapped Screen
Wedge wire screen are very effective in wells of this type since they can be manufactured with very small slot size and yet still maintain the necessary open area to minimize friction head loss. Most continuous wire wrap screen is manufactured from stainless steel rather than carbon steel in order to avoid problems which often leads to accelerated corrosion.

Application for Wedge Wire SS wedge wire all-welded wire wrapped screen:
Used in industries such as Sugar, Coal Mining & Quarrying, Mineral Processing, Cement, and Industrial & Urban Effluent Treatment etc.
Used as a pre-filter in urban & industrial waste treatment plants to improve the performance of the clarifier by dramatically reducing the load.
Used for fiber removal in Starch industry.
Advantages for Wedge Wire SS wedge wire all-welded wire wrapped screen:
The Wedge Wire Screen is composed of rod strips and V shaped wires through manufacturing on specialized welding machine. The rib strips and V shaped wires will be welded by resistance welding, has enough welding strength, equally slot gap, high corrosion resistance, large filter area, good permeability, simple structure
Product Characteristics for Wedge Wire SS wedge wire all-welded wire wrapped screen:
1. It has high mechanical strength, can bear large pressure drop.
2. It has equal slots for filtering, can form equally distributed filter cake, easy to clean for reuse.
3. The wedge type slot can improve backflushing and regeneration performance.
4. It has resistance to pressure, temperature, aging, corrosion, can be applied for different kinds of fluid.
Customized design forWedge Wire SS wedge wire all-welded wire wrapped screen:
The design is customized to your demands;
Slot opening from 50 micron up to 2000 micron
All API and ANSI pipe sizes are available
Customized construction:
Lower V-wires for reduced OD
Higher support rods for more standoff
Customized end-fittings and threaded connections
Fixation of screen by welding or shrink fitting of end-rings to the base-pipe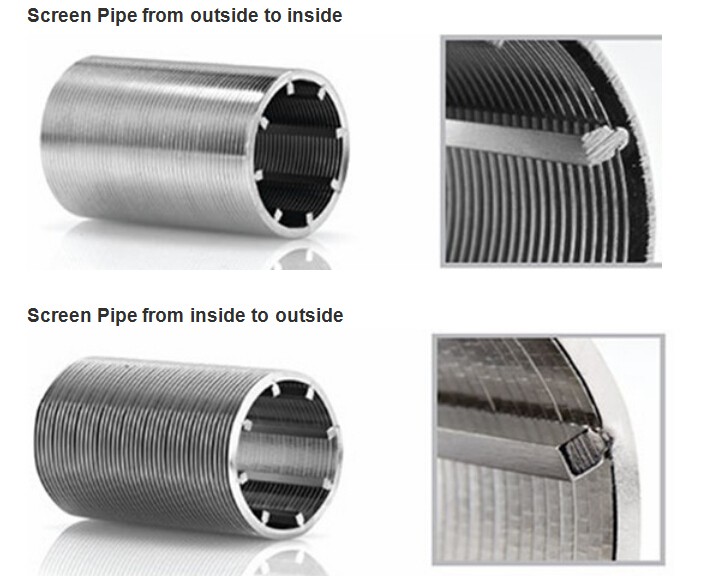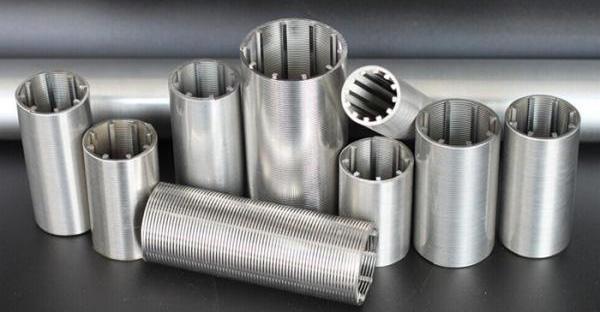 Specifications of SS Wedge Wire All-welded Wire Wrapped Screen: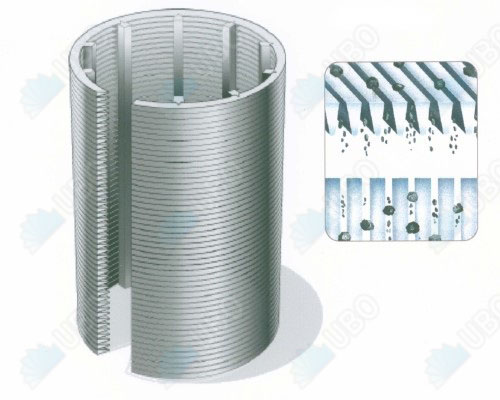 Outside Diameter

Profile wire

Rod wire

Rod quantity

Slot size

Length

DN

Inch

mm

mm

mm

mm

mm

20

3/4

26.9

1.5*2

2*3

12

0.1~0.25

45~3000

25

1

33.7

1.5*2

2*3

14

0.1~0.25

45~3000

32

1-1/4

42.4

1.5*2

2*3

16

0.1~0.25

45~3000

40

1-1/2

48.3

1.5*2

2*3

16

0.1~0.25

45~3000

50

2

60.3

1.5*2

2*3

18

0.1~0.5

45~3000

65

2-1/23

76.1

1.5*2

2*3

20

0.1~0.5

45~3000

80

3

88.9

1.8*2.5

2*3

24

0.1~0.5

1000~6000

100

4

114.3

1.8*2.5

2*3

30

0.5~2

1000~6000

125

5

139.7

2.3*2.7

2*3

36

0.5~2

1000~6000

150

6

168.3

2.3*2.7

3*5

44

0.5~2

1000~6000

200

8

219.1

3.3*3.5

3*4.7

56

0.5~2

1000~6000

250

10

273

3.3*3.5

4*6

66

0.5~2

1000~6000

300

12

323.9

3.3*4.7

4*6

72

0.5~2

1000~6000

350

14

355.6

3.7*5

4*6

80

0.5~2

1000~6000

400

16

406.4

1.5*2

2*3

94

0.1*2

1000~6000

450

18

457

2*3

4*5

112

0.1*2

500~400

500

20

508

2*3

4*5

124

0.1*2

500~400

550

22

559

2*3

4*5

140

0.1*2

500~400

600

24

610

2*3

4*5

156

0.1*2

500~400

Siot:0.1mm~2mm Tolerance:0.05
Packaging and Transportation of SS Wedge Wire All-welded Wire Wrapped Screen: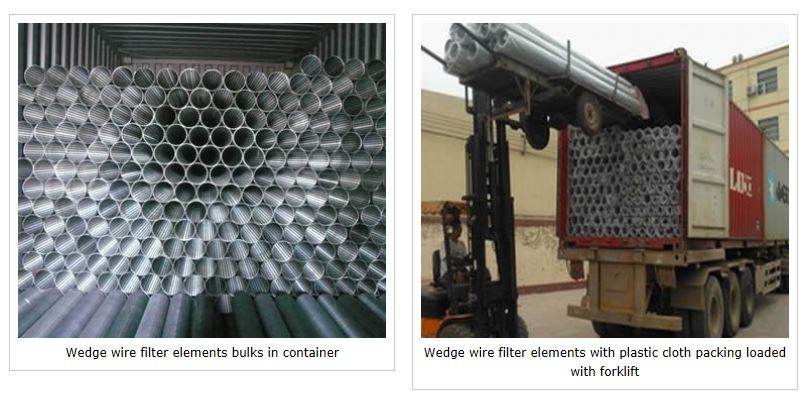 Picking: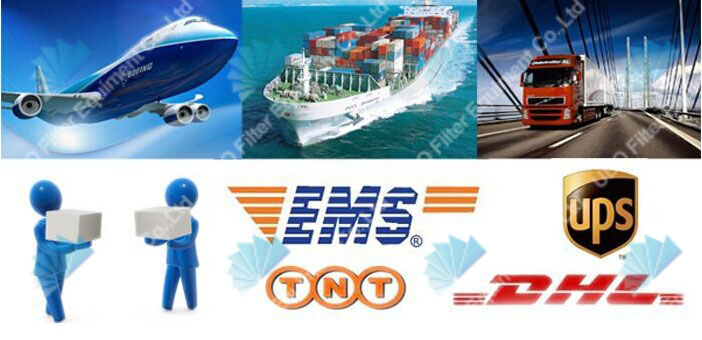 You may also be interested in the following product(s)