what does stainless steel lauter tun do
Welcome to Hebei YUBO Filtration Equipment Co.,Ltd.
Wedge wire lauter tun screen is a key part of a mash tun for brewing equipment, generally made of stainless steel material. It plays an important role in beer making process.




What does stainless steel lauter tun do?
First, the wedge wire lauters tun screen is located at the bottom of the mash tun, just like a stainless steel false bottom. Then it will play its own role. Mainly has two effects:
1. Support grain. Separating the wort from the solids of the mash.
2. Filter wort. Make sure the wort goes through it smoothly.

The whole process is like this:
Mashing occurs in a separate mash mixer, in which case the mash must be transferred by a pump to the lauter tun. At the moment, the SS lauter tun screen comes into play.
At the beginning of the run-off, the wort is usually recirculated through the grain bed as a filter mass, until the run-off appears clear through a sight glass in the recirculation plumbing.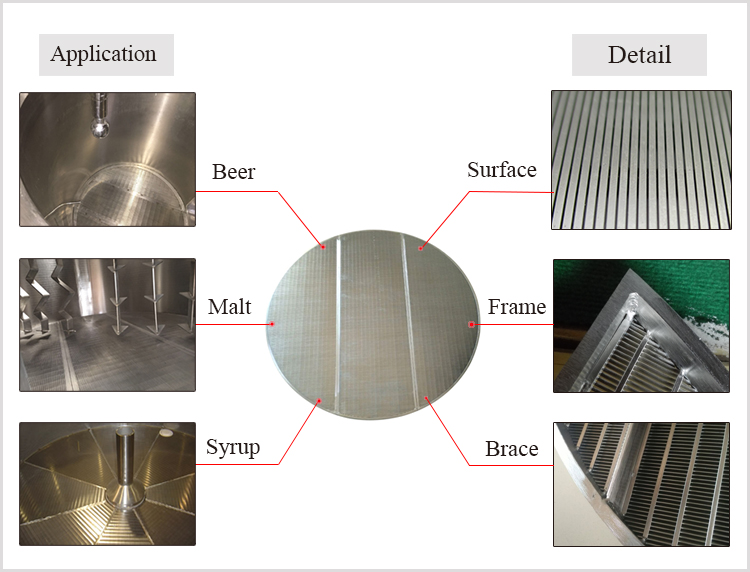 We can offer various custom solutions for wedge wire lauter tun screens. If you or your company is looking for a professional manufacturer, contact us at any time!

Email: sales@ubowedgewire.com
WhatsApp/skype: +86 136 5328 5589
WeChat: +86 173 6301 0656
Who We Are?
YUBO Company is the professional supplier in China. It is always committed to study, design and produce wedge wire screen products for industry filter.Now its products include wedge wire screen panel, filter nozzle, cylinder,basket,pipe, Sieve Bend Screen,Profile Screen Laterals,etc.
What Is wedge wire screen
Wedge Wire Screens is a sieve made from looped wires formed into a deep wedge-shaped section. The wedge wire screens can be supplied in various shapes and forms as FLAT PANELS, CURVED SIEVE BENDS, CONICAL BASKETS, CYLINDERS, TROUGHS DISKS either in one one piece or in segments.
our advantages
Professtional, we have our Engineering designers
We are the factory
Quality is our cluture and soul
Customized. We produce and design according to your need
Low cost and high efficient