tower internal for the chemical industry
Welcome to Hebei YUBO Filtration Equipment Co.,Ltd.
Tower internal is one of the important internal components in petrochemical, chemical, petroleum, and other industries. The tower internals includes Liquid Distributor, Bed Limiter, Support Plate, Collector Tray, Feed Devices, Liquid - Liquid Extraction Internals, Non-Metallic Internals, etc.

The operation of the tower is to intermingle liquid and gas. The tower internal can make gas (steam) liquid or liquid-liquid two-phase complete contact, to achieve the purpose of heat and mass transfer between phases.

The purpose of tower internals is to increase the efficiency of the process and ensure that the chemical product is of the highest quality. Moreover, tower internals can minimize overall production costs by optimizing the flow of materials or fluids within the system.

YUBO can provide a wide range of tower internals for the chemical industry.
1. Liquid Distributor
Liquid distributors are used to evenly disperse the liquid in the tower to specific parts of the packing material. This process facilitates more efficient and dense mass transfer between the different stages and also helps to prevent maldistribution.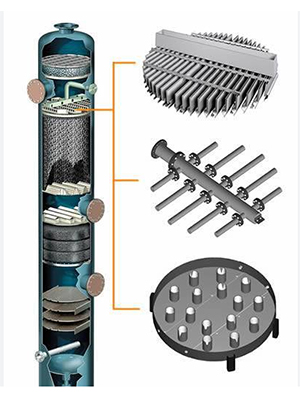 2. Support Plate
Support Plates are also called packing support plates. The main function of these devices is to support the tower packing bed structurally.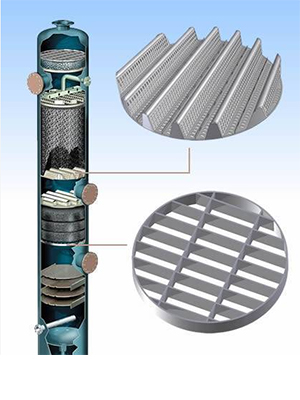 The use of tower internals in the chemical industry is essential to ensure the highest levels of safety, efficiency, and cost savings. For more tower internals contact us to get a free quote! Email: sales@ubowedgewire.com
Related Reading:support grid in the oil refining industry
Who We Are?
YUBO Company is the professional supplier in China. It is always committed to study, design and produce wedge wire screen products for industry filter.Now its products include wedge wire screen panel, filter nozzle, cylinder,basket,pipe, Sieve Bend Screen,Profile Screen Laterals,etc.
What Is wedge wire screen
Wedge Wire Screens is a sieve made from looped wires formed into a deep wedge-shaped section. The wedge wire screens can be supplied in various shapes and forms as FLAT PANELS, CURVED SIEVE BENDS, CONICAL BASKETS, CYLINDERS, TROUGHS DISKS either in one one piece or in segments.
our advantages
Professtional, we have our Engineering designers
We are the factory
Quality is our cluture and soul
Customized. We produce and design according to your need
Low cost and high efficient