Stainless Steel Wedge Wire Screen Filter Nozzle
Filter nozzle
also named
screen nozzle
is a kind of metal filter nozzle which is made of stainless steel and other materials. This filter nozzle adopts the wedge wire which is welded with support rods. It is a new generation of water treatment equipment that helps users solve the worries of original plastic filter nozzle. It solves the problems that plastic filter nozzle is poor in strength, pressure resistance, temperature, aging resistance. Besides, it is safe, reliable, integrated and costs low, used widely in filter industry. Our filter nozzle is ideal choice based on their combination of high strength, high open area and non-plugging slot design, it includes single head V wire tube flowing filter nozzle, double head V wire tube flowing filter nozzle, long hand flowing pipe type filter nozzle, large long flowing pipe type filter nozzle and plate type flowing filter nozzle which features single flow velocity and double flow velocity, and all filter nozzles meet the ISO9001:2000 standard.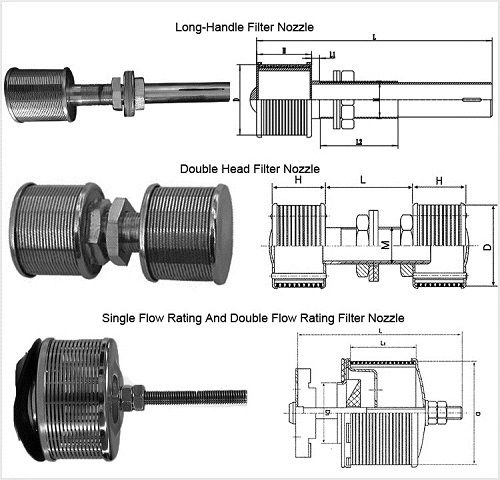 Type
Slot
(mm)
Dimension
Flow Rating
(M3/H)
D(mm)
H(MM)
L(MM)
Thread
Fittings
UBO-0.5
0.25
45
45
90/request
M,NPT, G, PT(BSPT),Z,BSP, request
SS Gasket,
Rubber gasket,
Nut, request
0.5
UBO-1.0
0.25
53
45
90/request
1.0
UBO-1.5
0.25
57
45
90/request
1.5
UBO-2.0
0.25
57
55
100/request
2.0
UBO-2.5
0.25
70
55
100/request
2.5
UBO-3.0
0.25
70
70
120/request
3.0
Note
* All the above size are the normal size. Customized size is possible.
* UBO could help to design according to the application and requirement.
* The nozzles customized range as below:
1. Slot range: 0.05-2mm
2. Dimension: Diameter, Screen Height, Length could produce according to actual requirement and application
3. Thread according to requirement
Feature:
Metal construction.
Excellent roundness.
Great flow area.
High mechanical load capacity.
High precision slot width.
Pressure and temperature resistance.
Anti-corrosion, anti-aging.
Safe, reliable.
Environment friendly.
Easy installation.
Long service time.
Application:
This filter nozzle can be used at the filter equipment for the filtration of water, petrol resin and other medium. It can be also used in water treatment, water soft, conversion of sea water into fresh water, the filter of food chemistry and other filter industry.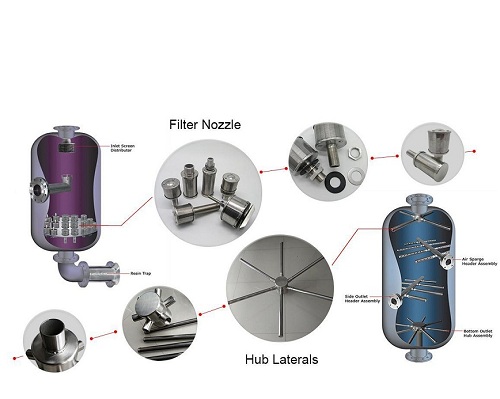 You may also be interested in the following product(s)