Stainless Steel Filter Nozzles Supplier
Welcome to Hebei YUBO Filtration Equipment Co.,Ltd.
Hebei YUBO Filtration Equipment Co., Ltd. is a professional stainless steel filter nozzles supplier. YUBO stainless steel filter nozzles are consist of stainless steel V-shape wire spirally wound in a certain equal slot. Each wedge wire and support rod adopts spot welding technology to increase the mechanical strength of the filter nozzles. Our filter nozzles are widely popular at home and abroad.

YUBO stainless steel filter nozzles are composed of a pedestal, a cover plate, a trapezoidal screen with ribs, and a diversion tube. There is each cover for both ends of the nozzle. The material of the filter nozzle is 304/316/321stainless steel or as your requirements. It can make up for the poor strength of the plastic nozzle filters, poor pressure resistance, temperature resistance, aging resistance, and easy-to-break.

The features of YUBO stainless steel filter nozzles
1. It has a large flow area. In the process of liquid collection or gas distribution, the number and distribution of the filter nozzles can be designed to meet specific flow requirements.
2. Not affected by temperature.
3. It is pressure-resistant, corrosion-resistant, and has a long service life.
4. More environmentally friendly.

YUBO specialized in custom producing and supplying stainless steel filter nozzles. Our filter nozzles can be widely used for power plants, petroleum, chemical, pharmaceutical, food, and beverage, etc. If you are interested in our products, welcome to contact us at any time.

E-mail: sales@ubowedgewire.com
WhatsApp/skype/WeChat: +86 135 2283 8175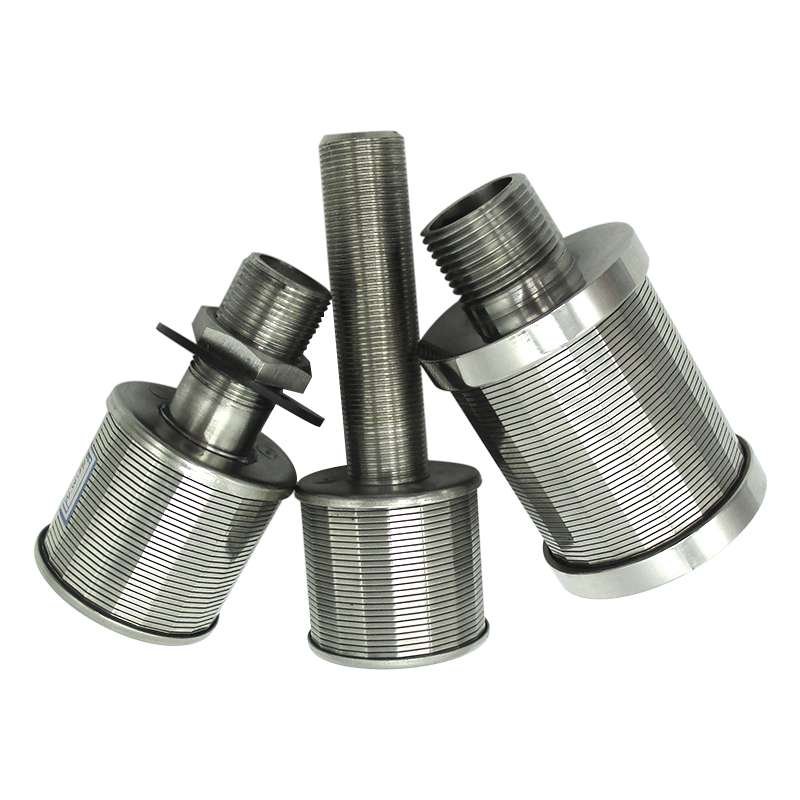 Who We Are?
YUBO Company is the professional supplier in China. It is always committed to study, design and produce wedge wire screen products for industry filter.Now its products include wedge wire screen panel, filter nozzle, cylinder,basket,pipe, Sieve Bend Screen,Profile Screen Laterals,etc.
What Is wedge wire screen
Wedge Wire Screens is a sieve made from looped wires formed into a deep wedge-shaped section. The wedge wire screens can be supplied in various shapes and forms as FLAT PANELS, CURVED SIEVE BENDS, CONICAL BASKETS, CYLINDERS, TROUGHS DISKS either in one one piece or in segments.
our advantages
Professtional, we have our Engineering designers
We are the factory
Quality is our cluture and soul
Customized. We produce and design according to your need
Low cost and high efficient