wedge wire filter for industry filtration system
wedge wire screen
At a glance wedge wire, may appear to be a very simple and straightforward product. This couldn't be further from the truth.
Wedge Wire Screen is a multi-functional screen that we are uniquely positioned to supply.
Wedge wire, or as it's sometimes known, profile bar, is mostly used in the manufacture of screens. It is classified as a type of screen wire as it is associated with a family of shapes that are utilized in the manufacture of screens.
The product has a triangular shape that has various ranges in height, width and radius on both the nose and corners. Alloys, temper and surface requirements vary depending on the application the screen will be used in.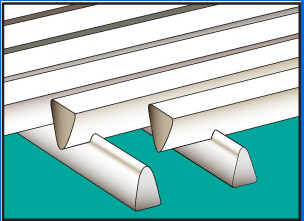 This is a multipurpose screen are formed by arranging "wedge wires" with a triangle shape at equal intervals. They can be used for filtration, solid-liquid separation, classification, dewatering, concentration, etc. regardless of industry or location.

Wedge wire screens are manufactured by resistance welding V-shaped wire on support rods. Begins with the raw wire then is made into screen that is cut, shaped, fabricated and cleaned.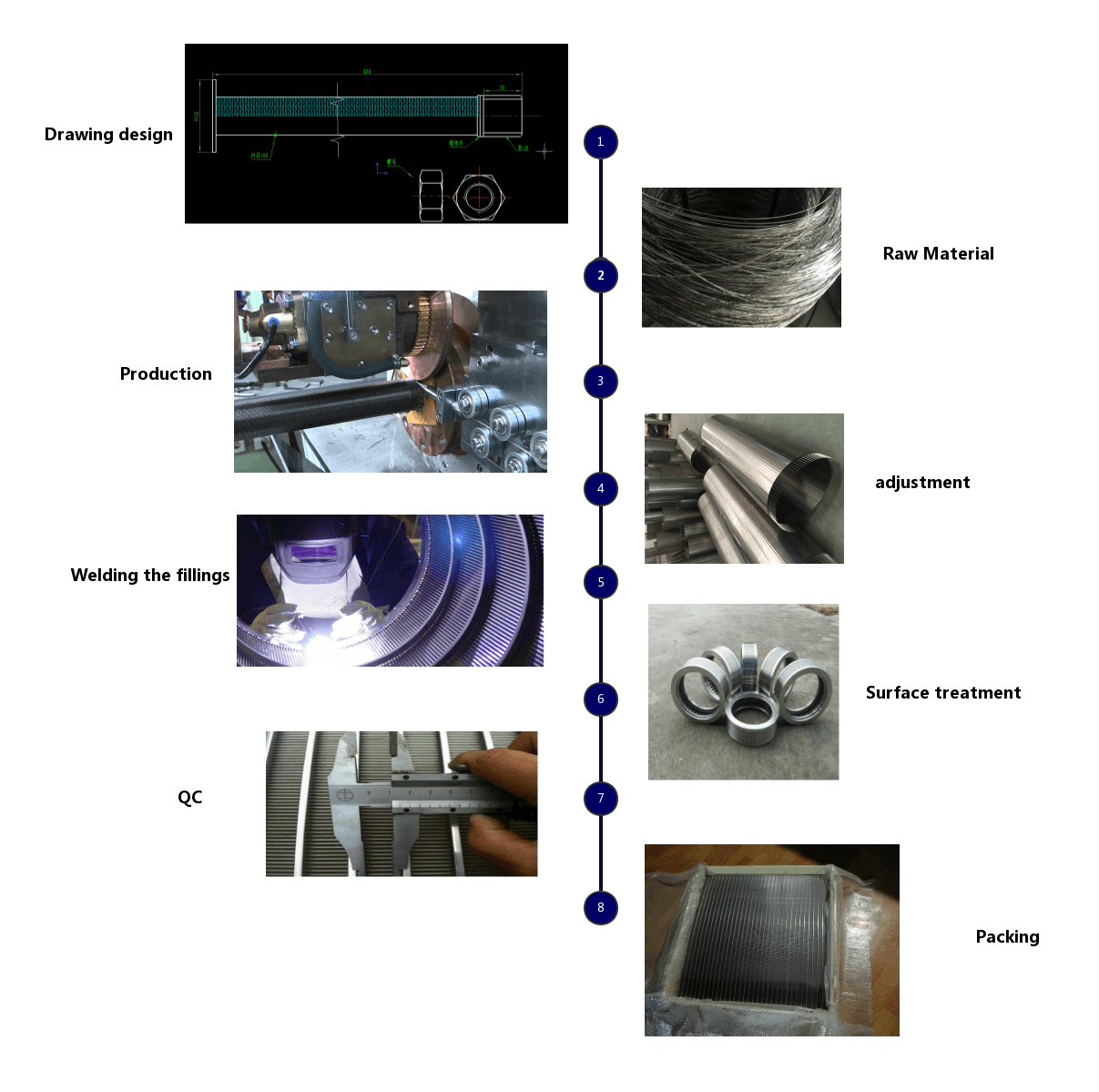 The wedge wire screen consists of surface profiles and support profiles. Surface profiles, usually v-shaped wires, are wrapped and welded onto support profiles. The distance between the surface profiles is controlled very accurately, as it forms the slot through which the filtrate flows.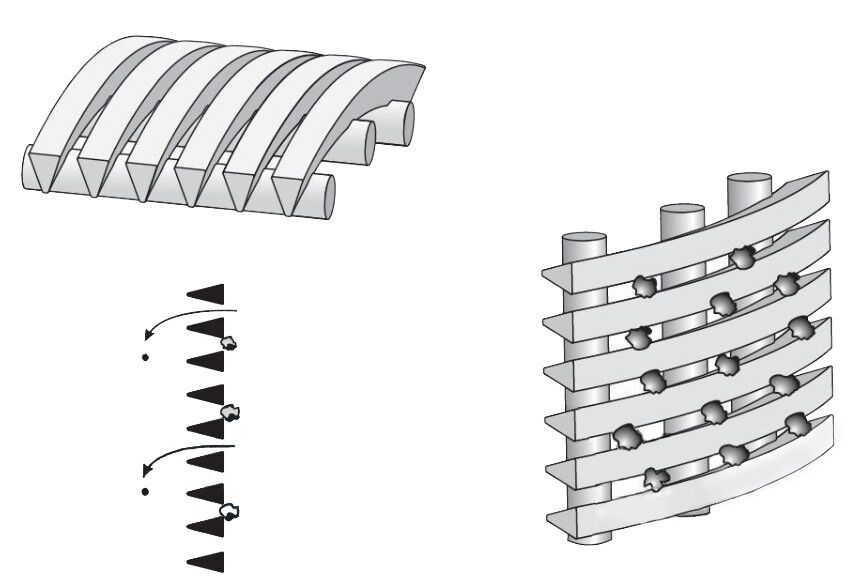 Wedge wire can be ordered as raw screen material or fabricated to a finished product to suit your application requirements. Screen forms may differ as well, coming in cylindrical, flat and basket form depending on functionality of the end use.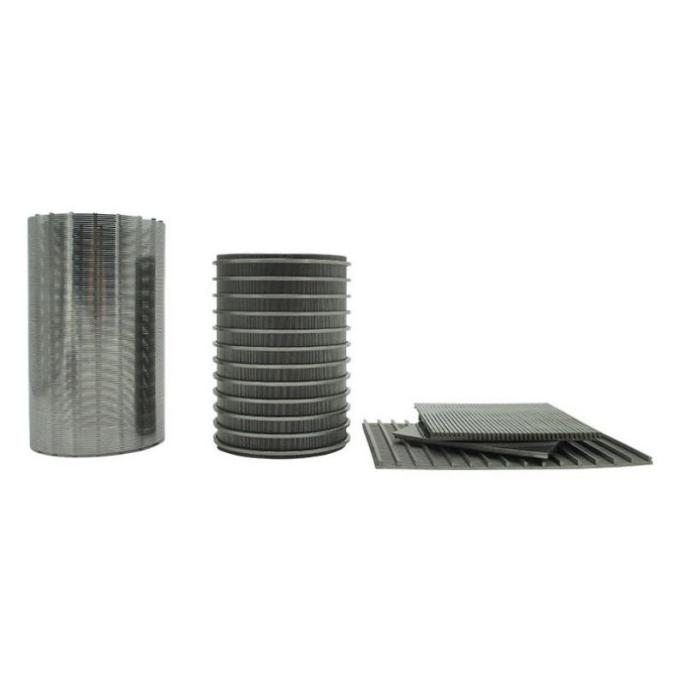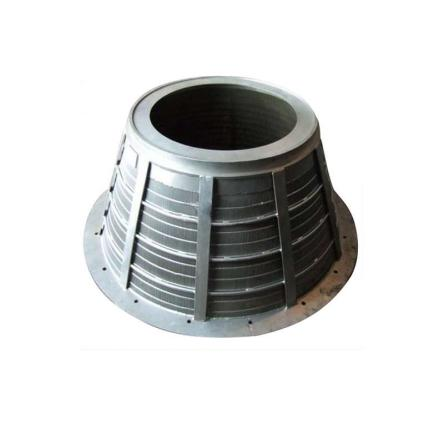 Extreme care and attention must be taken when designing a specification for wedge wire.
Wedge Wire Screen is designed to control various processing conditions including volumetric flow rate, minimum dimensional media retention, minimum open area and fluid pressure capabilities.
The direction of the flow is determined by the position of V-shaped wires (surface profiles) in relation to the support profiles. Wedge wires screens are either flow-out-to-in or flow-in-to-out.
Construction Profiles
We offer numerous combinations of profile wires and support rods. Wedge Wire Screen is created by wrapping a profile wire cylindrically around longitudinally placed support rods. The wide range of apertures between the wires and rods allows us to design a screen according to our customers' technical or structural specifications.
Wedge Wire can be crucial in numerous settings, but depending on the kind of application, require the different alloy and materials required.
Selection of an alloy may also depend on manufacturing processes and additional elements that may need to be added to the wire before it is ready for use. In some instances, welded wedge wire is required, while in others, the profile supplied just needs to be placed on the support rod.
Wedge wires are manufactured out of carbon steel, red metals, stainless steels, aluminum, duplex grades and various other high performance alloys, including Inconel.
There are several options for alloys. These include:
· 300 Series Stainless Steel
· 400 Series Stainless Steel
· 2205 Duplex Stainless Steel
· 904L
· Nitronic
· Nickel alloys such as Hastelloy, Inconel and Monel 400
· Titanium
The fabricated and welded construction makes for durable quality vessel internals and media retention products. Wire mesh and perforated pipe may be less expensive initially, but wedge wire screens offer easier installation and long-term operating and cost benefits. Any process or vessel requirements can be accommodated, such as vertical or horizontal vessels.
Where and How is Wedge Wire Used?
After the wedge wire itself is fabricated, it will have to lie on a support,, can include round or screen wire or even strip/sheet.
Screen wire and wedge wire screen is often manufactured in two, at times three, types of screens: Flat screen and Cylindrical screen are the most dominant types, but within cylindrical, there can be round and basket screens.
If necessary, cylindrical screens can but cut and rolled flat into a flat screen configuration, and flat screens can also be roll formed into cylindrical screens. Each of these will depend on the application.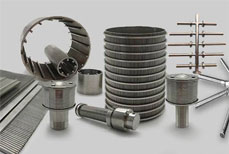 Features
Less clogging, good dewatering : The " triangle shape," which is the biggest feature of the Wedge Wire Screen, means that as solids pass through, the contact points are small and the tips of the slits are widened, such that solids are less likely to clog, and even they do clog, there is a strong backwashing effect, resulting in excellent maintainability.
High strength, high durability:
①Screen formation with wire diameter larger than the slit is possible.
②Because the screen surface is smooth, the degree of wear is constant.
③The standard material is stainless steel (SUS304, 316L).
Therefore, Wedge Wire Screen feature higher strength and durability than filters such as wire mesh, perforated plates or filter cloths, and depending on the usage environment and material, they can be used almost indefinitely without replacement, reducing running costs. In addition, we are also able to produce Wedge Wire Screen using special materials such as titanium or duplex stainless steel.
Broad flexibility in design: Because many processing variations are possible, Wedge Wire Screen can be manufactured in various shapes such as flat, cylindrical or conical.
Applications
· Architectural Applications
· Food Processing
· Microbrewery Beer Tanks
· Mineral Processing
· Oil and Gas - Well Screens
· Pulp and Paper Manufacturing
· Water Reservoir Intakes
Machine parts such as filtration equipment, centrifugal separators, dewatering machines and vibration sieve machines, intake of river water / seawater, retention of activated carbon / ion exchange resin / catalysts / filter material, etc., prevention of outflow of carrier, strainer elements, etc.
Purpose

It's crucial for screen manufactures to situate themselves who strictly adheres to the guidelines set by them and the screen designers.
The critical control points in the production process to consider include managing the radius of both the corner and the nose of the shape. because they will establish the screen's filter performance and how it separates undesired material, which immediately impacts flow rates (how fast fluids pass through the screen).
Through our factory annealing, wire drawing, flat wire rolling, wire shaping processes, the end product can be delivered in a final shape that meets the print requirements exactly.