Techology datas of wedge wire lauter tun screen
The wedge wire lauter tun screen can be used in a variety of applications ranging from classifying to recovering usable products that would end up in sewer line to capturing solids from effluents.

A wedge wire lauter tun screen gives you a great amount of open area, is significantly more affordable and requires less maintenance than vibrating or rotary drum options.

It's made of support rod and wire , wire shape is normally triangle wire ,support rode shape could be triangle wire, round wire , cuboid wire .Also it could be as per your requirement.
Features of wedge wire lauter tun screen
Self Supporting;
High Abrasion resistance;
Low pressure drop;
High resistance to Vibration.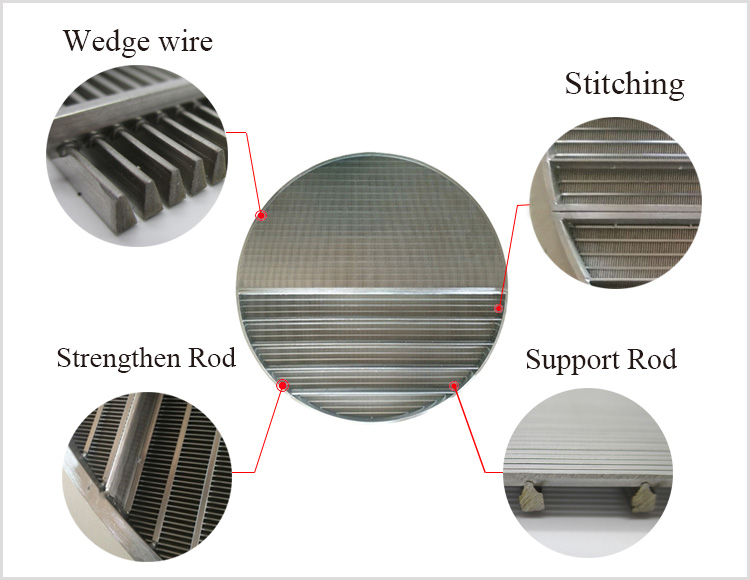 Normal Name

Lauter Tun Screen, Mash Tun Screen, False Bottom Screen, Etc.

Diameter Range

(MM)

200mm To 2500mm. Diameter Customized

Normal Diameter

(MM)

29", 30", 35", 37", 40", 45", 47", 59", 63", 74", Etc

Normal Slot

(MM)

0.7mm, 0.75mm, 0.8mm, 1.0mm, customized

Normal Thickness (MM)

8.5mm, 20mm. 25mm, 30mm, 40mm, 50mm, Customized.

Sections & shape

1 Cycle, 2 PCS, 3 PCS, 4 PCS, 6 PCS, 8 PCS. Customized

Wedge wire

(MM)

2x4MM Wedge Wire, 3x5MM Wedge Wire

Support Rod

(MM)

3x5MM V shaped Support Rod, 3x5mm Square Support Rod

Strengthen Rod

(MM)

Thickness and Height according to the diameter and screen thickness

Note

Usually customized.