ASTM 316 Mining oil solids control system Wedge Wire Screen pipe
| | |
| --- | --- |
| Category: | Wedge Wire Application |
| Material: | stainless steel 304,304L,304HC,316,316L,321,430 or as per your request. |
| Properties: | wedge wire screen pipe |
| Application: | oil well , water well , geothermal well , sewage and industrial wastewater disposal plants, food equipment |
if you are interested in receiving more information or have a question regarding any of our products please fill out the form above and we will contact you within 24-48 hours.

Email:sales@ubowedgewire.com

Author: Jane
Details of ASTM 316 Mining oil solids control system Wedge Wire Screen pipe
Screen Pipe Wedge Wire consist of V-shape profile wire and the longitudinal support rods. each intersecting point of these wires is fusion welded. So Wedge Wire screen pipe has sturdy constriction and good mechanical property. The V-shape section plane can avoid blockage, and make sure of the unimpeded water. The continuous slot have more open area, and it can reduce the speed of the water entering to avoid the sand entering the screen under the great pressure, so water well screen pipe can filter sand better. Meanwhile ,the slot size can be changed according to the real condition of the earth.
Applications of Wedge Wire Screen Pipe for Mining Oil Solids Control System
Wedge Wire screen pipes are used in oil well , water well , geothermal well , sewage and industrial wastewater disposal plants, food equipment, liquids filtration,cleaning treatment
Advantage of Wedge Wire Screen Pipe for Mining Oil Solids Control System
1) A continuous slot opening which significantly increases the available open area, thus providing greater access to the water bearing zone
2) A V-shaped profile wire which avoids clogging and ensures an uninterrupted flow.
3) A uniform and efficient well development due to the continuous slot opening.
4) Ladder-like wire welded screens have a strong structure and high open area, as well as accurate slot dimension.
5) Ladder-like wire welded screens have the features of easy backwashing, last long, safety and reliability as well as low comprehensive cost.
Production Process of Wedge Wire Screen Pipe for Mining Oil Solids Control System
With the advanced contour welding technology, the wedge wire water screen is made by welding the specially-made trapezoid wrapping wire onto the supporting wires, all of which are in circumferential arrangement. This welding method allows the ideal seam size as well as the maximum bearing capacity. In the whole production process, all the dedicated and up-to-date machines are operated by our professional personnel.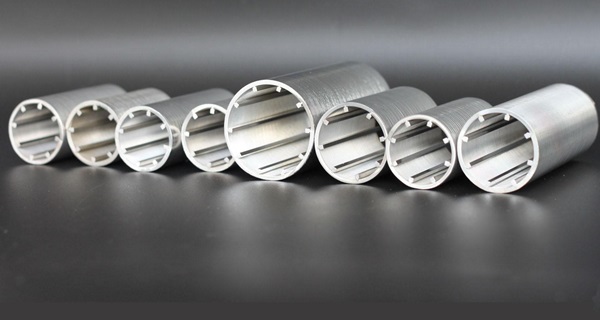 Specifications of ASTM 316 Mining oil solids control system Wedge Wire Screen pipe: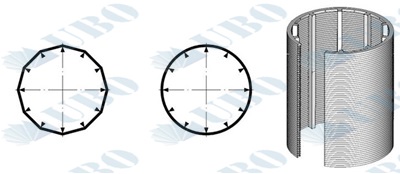 | | | | | | | |
| --- | --- | --- | --- | --- | --- | --- |
| Basepipe OD (in) | Perforations per foot | Basepipe Hole Size (in) | Open Area of Basepipe Holes (in2/ft) | Wrap Wire Size Keystone (in) | Rib Wire Size Round (in) | Maximum OD (in) |
| 1.05 | 54 | 0.312 | 4.14 | 0.09*0.09 | 0.125 | 1.489 |
| 1.315 | 66 | 0.312 | 5.06 | 0.09*0.09 | 0.125 | 1.726 |
| 1.66 | 78 | 0.312 | 5.98 | 0.09*0.09 | 0.125 | 2.126 |
| 1.90 | 42 | 0.375 | 4.63 | 0.09*0.09 | 0.125 | 2.387 |
| 2.063 | 42 | 0.375 | 4.63 | 0.09*0.09 | 0.125 | 2.55 |
| 2.375 | 54 | 0.375 | 5.96 | 0.09*0.09 | 0.125 | 2.86 |
| 2.875 | 66 | 0.375 | 7.28 | 0.09*0.09 | 0.125 | 3.362 |
| 3.25 | 78 | 0.375 | 8.61 | 0.09*0.09 | 0.125 | 3.737 |
| 3.50 | 78 | 0.375 | 8.61 | 0.09*0.09 | 0.125 | 3.987 |
| 4.00 | 90 | 0.375 | 9.94 | 0.09*0.09 | 0.125 | 4.487 |
| 4.50 | 102 | 0.375 | 11.26 | 0.09*0.09 | 0.125 | 5.001 |
| 5.00 | 114 | 0.375 | 12.59 | 0.09*0.09 | 0.125 | 5.506 |
Packaging and Transportation of ASTM 316 Mining oil solids control system Wedge Wire Screen pipe:
Each product is packed with bubble bag and then few bags to a wooden case (fumigation certificate)

You may also be interested in the following product(s)