Stainless Steel Hub Lateral Screen
| | |
| --- | --- |
| Category: | Profile Screen Laterals |
| Material: | stainless steel |
| Properties: | wedge wire screen |
| Application: | industry,filtration |
if you are interested in receiving more information or have a question regarding any of our products please fill out the form above and we will contact you within 24-48 hours.

Email:sales@ubowedgewire.com

Author: zhaozhao
Details of Stainless Steel Hub Lateral Screen
Stainless steel hub lateral screen can replace the traditional laterals.
With the advantage of the wrap wire screens pipe, large flow area, uniform water distribution, high mechanical strength, temperature resistance, pressure resistance, aging resistance, corrosion resistance have been greatly improved. Even if the branch pipe bending occurs, the resin still can't flow out. Stainless steel wire slot size can be designed according to the resin size.
Features of Stainless Steel Hub Lateral Screen
1) Screens with high open area are more suitable for the construction of high-quality water wells, oil wells and gas wells.
2) Low cost operation.
3) Reduce the abrasion of the pump.
Applications of Stainless Steel Hub Lateral Screen
Wedge wire screen hub lateral consist of a series of screen laterals connected to either a central-header pipe or a hub, they are important components of ion exchange units, media filters, sand filters, carbon strip vessels, carbon towers, clay filters and in many water and waster water treatment applications.

Specifications of Stainless Steel Hub Lateral Screen:
| | |
| --- | --- |
| Header lateral pipe Diameter (mm) | Φ20, Φ50, Φ53, Φ57, Φ60, Φ65, Φ70, Φ75, Φ80, Φ100, Φ125, Φ200, Φ245, Φ300, Φ320, Φ360, Φ400, Φ450, Φ500, Φ550, Φ600, max. 1200 |
| Hub lateral pipe length(mm) | 100-6000 |
| Slot (mm) | 0.010, 0.015, 0.02, 0.05, 0.1, 0.15, 0.2, 0.25, 0.3, 0.5......15 …… |
| Branch lateral pipe Length (mm) | 50~6000 |
| Distance of | accordig to you request |
| Branch lateral pipe diameter | Φ20, Φ50, Φ53, Φ57, Φ60, Φ65, Φ70, Φ75, Φ80, Φ100,as your request |
| Material | stainless steel (AISI 304, 316, 316L...), low carbon steel, low carbon steel galvanized zinc, steel treated with plastic spraying |
| Connection | Thread or flange |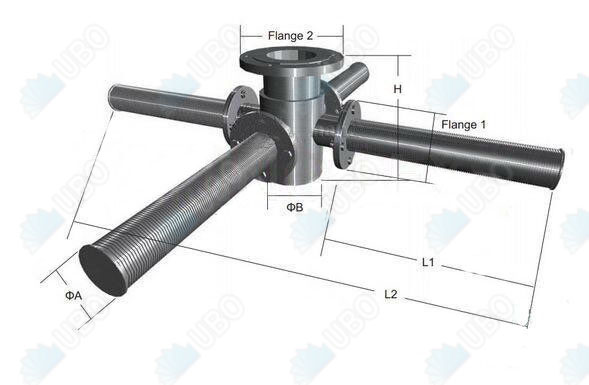 Packaging and Transportation of Stainless Steel Hub Lateral Screen:
Packing:the header lateral are packed in wooden boxes

Delivery time: the delivery time depend on the order quantity
You may also be interested in the following product(s)