v wedge wire screen panel filters
Welcome to Hebei YUBO Filtration Equipment Co.,Ltd.
The ultimate guide for v wedge wire screen panel filters

V wedge wire screen panel filters also called wedge wire flat panel screens are the most advanced product of modern technology used in many industries for screening, filtration, dewatering, drying, and cleaning.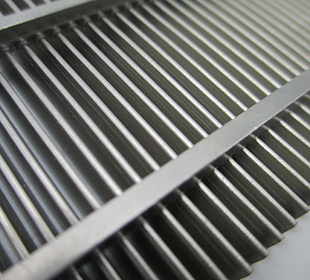 Basic introduction of v wedge wire screen panel filters
Structure: wedge wire screens.
Materials: stainless steel 304, 316, or other alloys. Or with a polyurethane frame.

Features of v wedge wire screen panels
1. High-precision slot size meets filtration requirements.
2. For surface filtration, wedge wire can be easily cleaned by mechanical scraping or backwashing.
3. Can customize according to various applications.
4. Guaranteed size of the slot tight tolerance to ±0.015mm.
5. The surface is smooth, and the triangular structure makes the contact point small when the solid passes through, and the slit tip is widened, so that the solid is not easy to pass through and block.

Where do v wedge wire screen panel filters use?
Widely used in food, chemical, petrochemical, papermaking, liquid-gas-solid separation, classification, dehydration, oil well screening, water well, wastewater/process water treatment, quarry screening, mine screening, and other liquid filtration process industrial screening.

YUBO is a professional v wedge wire screen panel filter manufacturer&supplier&whosaler in China. We provide wedge wire screen OEM service.



Contact us:
WhatsApp: 86 13653285589
Email: sales@ubowedgewire.com
Who We Are?
YUBO Company is the professional supplier in China. It is always committed to study, design and produce wedge wire screen products for industry filter.Now its products include wedge wire screen panel, filter nozzle, cylinder,basket,pipe, Sieve Bend Screen,Profile Screen Laterals,etc.
What Is wedge wire screen
Wedge Wire Screens is a sieve made from looped wires formed into a deep wedge-shaped section. The wedge wire screens can be supplied in various shapes and forms as FLAT PANELS, CURVED SIEVE BENDS, CONICAL BASKETS, CYLINDERS, TROUGHS DISKS either in one one piece or in segments.
our advantages
Professtional, we have our Engineering designers
We are the factory
Quality is our cluture and soul
Customized. We produce and design according to your need
Low cost and high efficient