wedge wire false bottom for mash tun
Welcome to Hebei YUBO Filtration Equipment Co.,Ltd.
Wedge wire false bottom for mash tun also called false bottoms screens filter or lautering equipment false bottom is placed at the bottom of the mash tun. It acts as a strainer, supporting the grain while allowing the wort to pass through.

This is also the reason why a wedge wire false bottom is needed for the brewing process.

YUBO is a professional wedge wire false bottom for mash tun manufacturer&supplier in China. Our wedge wire filter factory is located in the hometown of wire mesh in China - Anping County, Hebei. We have more than 10 years of experience in manufacturing wedge wire filters. We are your trusted partner.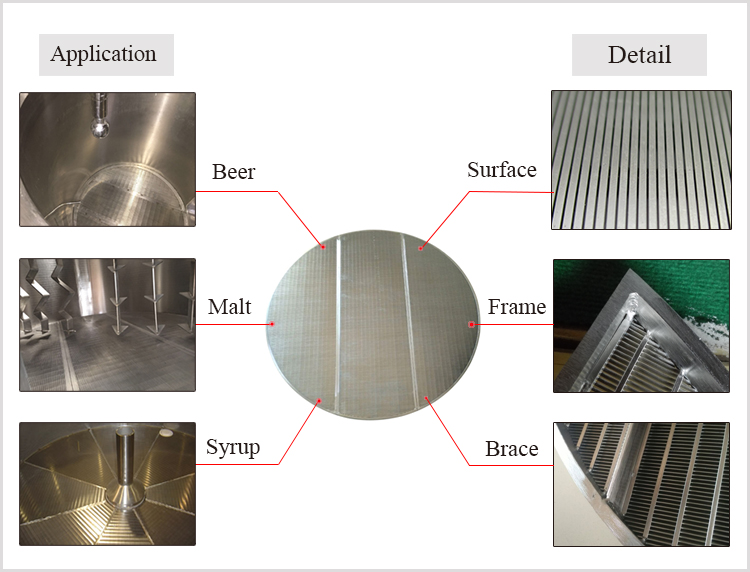 Production method and structure of wedge wire false bottom
Wedge wire false bottoms are manufactured in a unique way. The wires are V-shaped, with the wider end at the top, providing exceptional support for the mash bed. As the wire narrows toward the bottom (effectively providing a greater open area) it allows more wort to pass. During wedge wire manufacturing, parallel support rods are welded to the wire. This leaves only two contact points on the wire, which reduces clogging. Plus, the smooth, flat surface of the wire makes cleaning easy.

How do you install a wedge wire false bottom for a mash tun?
Wedge wire mash tun false bottom advantages
1. Continuous slotted gap, large opening area, high filtration efficiency.
2. Higher mechanical strength to support the grain better.
3. Self-cleaning function, easy maintenance.
4. Long service life.

What is the material of wedge wire mash tun false bottom?
A: Stainless steel 304, 316, 316L, 321, 904L, 2205, 2507, ECT. Food-grade stainless steel.

If you have any questions about wedge wire false bottoms for a mash tun, you can contact us at any time! We offer free quotes!

WhatsApp: 86 18032153916
Email: sales@ubowedgewire.com

Who We Are?
YUBO Company is the professional supplier in China. It is always committed to study, design and produce wedge wire screen products for industry filter.Now its products include wedge wire screen panel, filter nozzle, cylinder,basket,pipe, Sieve Bend Screen,Profile Screen Laterals,etc.
What Is wedge wire screen
Wedge Wire Screens is a sieve made from looped wires formed into a deep wedge-shaped section. The wedge wire screens can be supplied in various shapes and forms as FLAT PANELS, CURVED SIEVE BENDS, CONICAL BASKETS, CYLINDERS, TROUGHS DISKS either in one one piece or in segments.
our advantages
Professtional, we have our Engineering designers
We are the factory
Quality is our cluture and soul
Customized. We produce and design according to your need
Low cost and high efficient