Wedge wire filter nozzle strainer manufacturer
| | |
| --- | --- |
| Category: | Filter Nozzle |
| Material: | stainless steel 304,304L,316,316L,321,430 or as per your request. |
| Properties: | filter nozzle |
| Application: | water-treatment,beer brewing,water well drilling ,oil well drilling ,mineral processing, coal-cleaning plant, refining & petrochemical |
if you are interested in receiving more information or have a question regarding any of our products please fill out the form above and we will contact you within 24-48 hours.

Email:sales@ubowedgewire.com

Author: Maria
Detailed description of the Wedge wire filter nozzle strainer manufacturer
The Wedge wire filter nozzle strainers are used in liquid/solid or gas/solid separation. The wedge wire screen design of each nozzle and the exact quantity will be proposed in order to obtain a perfect distribution or collection of flow thus almost eliminating the channeling, wall effects or dead zones. The wedge wire strainer nozzle can also be used as collectors at the bottom of the vessels by installing a number of strainers uniformly across a tray plate.The combination of high open area and a non-plugging slot design makes this nozzle /collector application pupilar.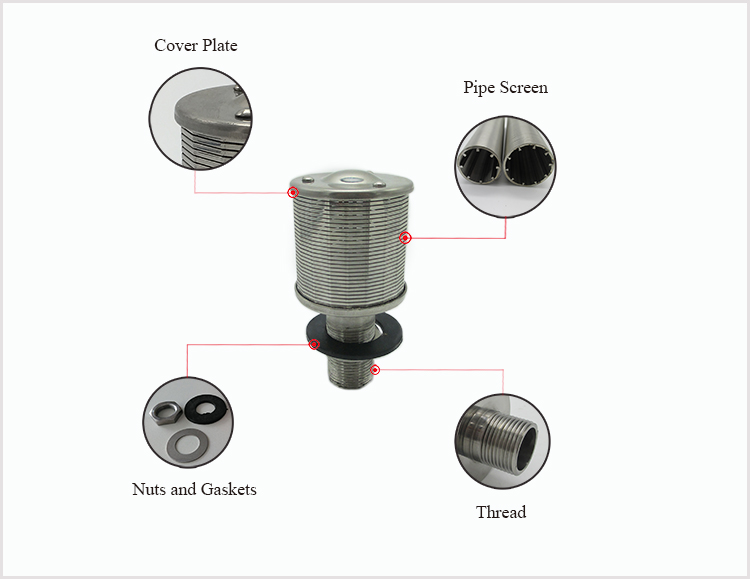 Application of Wedge wire filter nozzle strainer
Widely used in coarse and fine filtration of water treatment of power oil wells, gas wells, wells, chemical, mining, paper making, environmental protection, metallurgy, food, sand, Decoration and other industries.
Feature of Wedge wire filter nozzle strainer
The wedge wire nozzle can help the user to solve the worries of the original plastic water cap. The water products include: tubular single head filter nozzle, tubular double head filter nozzle, wrench single head filter nozzle, wrench double head water cap, long handle filter nozzle, deck type single head filter nozzle. filter nozzle, double flow filter nozzle, flat caps and many other water caps. The product has a large circulation area (about 2-3 times of the same size plastic gap type water cap), anti-aging, good pressure resistance, long service life, almost no damage, safe and reliable, low comprehensive cost, water treatment equipment A new generation of products in the industry.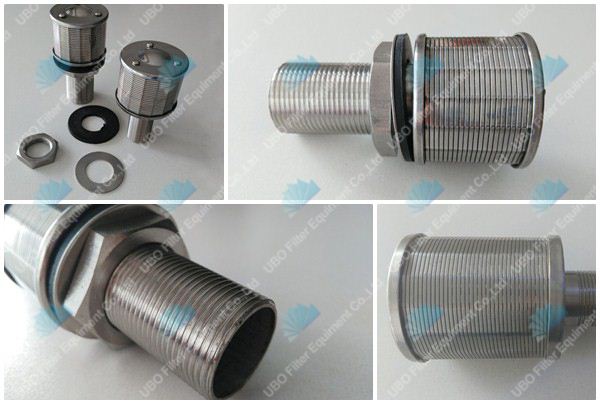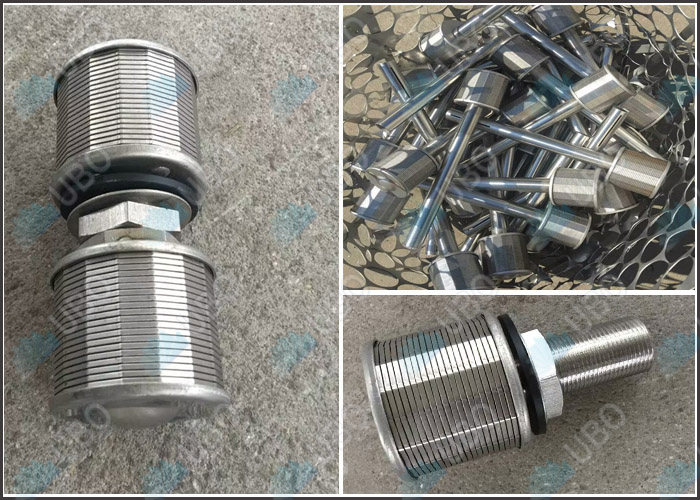 The specifications of the Wedge wire filter nozzle strainer manufacturer: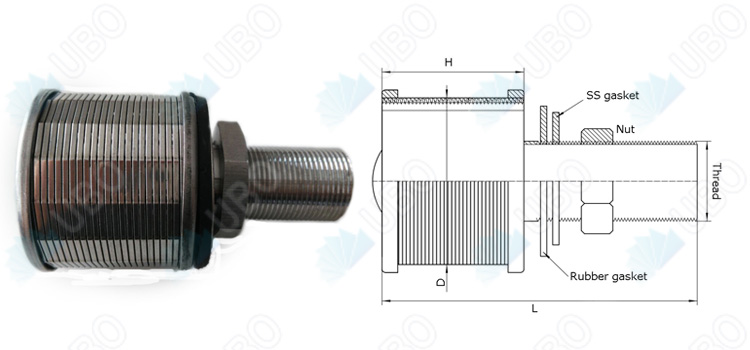 type
Slot
(mm)
Dimension
Flow Rating
(M3/H)
D(mm)
H(MM)
L(MM)
Thread
Fittings
UBO-0.5
0.25
45
45
90/request
M,NPT, G, PT(BSPT),Z,BSP, request
SS Gasket,
Rubber gasket,
Nut, request
0.5
UBO-1.0
0.25
53
45
90/request
1.0
UBO-1.5
0.25
57
45
90/request
1.5
UBO-2.0
0.25
57
55
100/request
2.0
UBO-2.5
0.25
70
55
100/request
2.5
UBO-3.0
0.25
70
70
120/request
3.0
Note
* All the above size are the normal size. Customized size is possible.
* UBO could help to design according to the application and requirement.
* The nozzles customized range as below:
1. Slot range: 0.05-2mm
2. Dimension: Diameter, Screen Height, Length could produce according to actual requirement and application
3. Thread according to requirement
The Packaging and Transportation of the Wedge wire filter nozzle strainer manufacturer: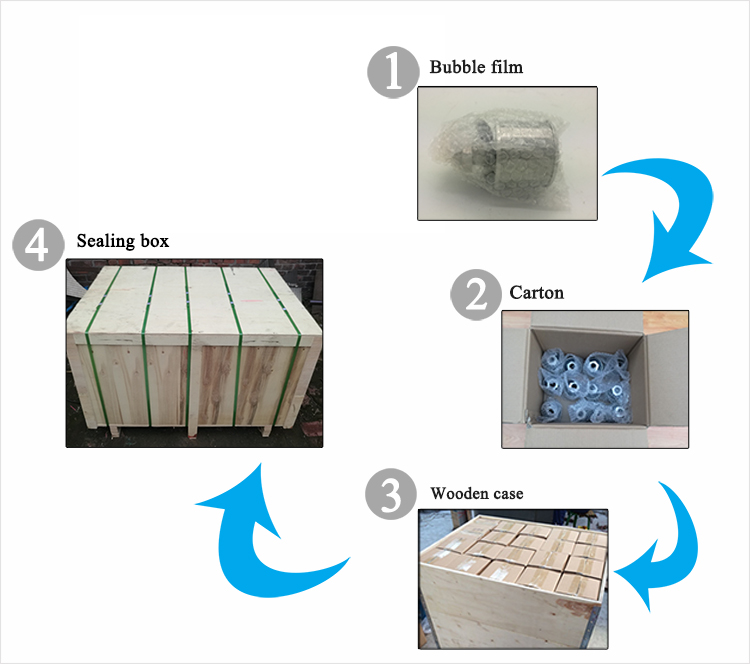 You may also be interested in the following product(s)